Great USA Horse Trails- Equitrekking 50 State Trail Riding Project
Equitrekking's 50 State Trail Riding Project highlights great horse trails in every U.S. state contributed by the equestrian community... you! Find great riding destinations across the USA where you can bring your horse and sometimes also ride with local outfitters. Get inspired to get outdoors and horseback ride, because the more we horse lovers utilize our trails, the better chance we'll have in keeping them open to horses. Contact us to contribute and share your favorite trails and scroll down to see what states we're still missing.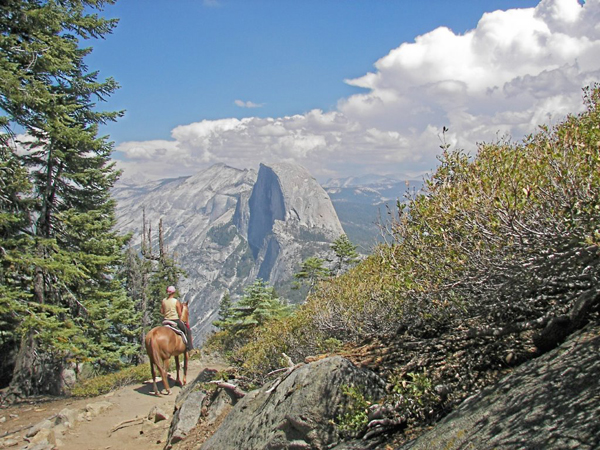 • Alabama–– Rock Bridge Canyon- Hodges, Alabama Horse Trails, Horseback Riding at Shel Clair Farms in Vincent, Alabama
• Alaska–– Alaska Horse Trails- Anchorage's Ruth Arcand Park and Beyond
• Arizona–– Horseback Riding Scottsdale's McDowell Sonoran Preserve in Arizona, Horseback Riding McDowell Mountain Park Trail in Arizona, Horseback Riding Arizona's Tonto National Forest
• Arkansas–– Arkansas Horseback Riding Pedestal Rock- Ozark National Forest, The Best State Parks in Arkansas for Equestrians
• California–– Horse Riding the Pacific Crest Trail in San Diego County, Horseback Riding California's Central Sierras, Horseback Riding in Yosemite National Park
• Colorado–– Horseback Riding Dome Rock State Wildlife Area, Colorado
• Connecticut–– Horseback Riding in Connecticut's Sprague Land Preserve
• Delaware–– Favorite Horseback Rides in Delaware
• Florida–– Horseback Riding in the Tallahassee Area of Florida, Horseback Riding the Florida Greenway– Shangrila, Horseback Riding Princess Place Preserve in Florida
• Georgia–– Horse Riding Bussey Point Recreation Area in Lincolnton, Georgia
• Hawaii–– Best Places to Trail Ride on Oahu Island in Hawaii
• Idaho–– Horseback Riding Idaho's Panhandle National Forest & Heyburn State Park
• Illinois–– Equestrian Tips for Trail Riding Illinois' Shawnee National Forest, Midewin National Tallgrass Prairie in Illinois
• Indiana–– Trail Riding Indiana- Horse Trails in the Hoosier National Forest
• Iowa–– The Best Horse Trails In Iowa
• Kansas–– Kansas Trails for Horseback Riding- Kanopolis and Beyond
• Kentucky–– Kentucky Horse Trails at Shaker Village of Pleasant Hill, Horseback Riding Kentucky's Green River Lake State Park, Mammoth Cave National Park's First Creek Trail in Kentucky
• Louisiana–– Louisiana's Best Horse Trails
• Maine–– Horseback Riding in Maine- Kennebunkport, Popham Beach and Beyond, Horseback Riding in Acadia National Park
• Maryland–– Horseback Riding in Maryland's Spectacular Rocky Gorge Trail


• Massachusetts- Horseback Riding Mount Toby in Massachusetts, Massachusetts Trails Roundup: Top 10 Places to Ride in the Bay State
• Michigan–– Michigan Shore to Shore Riding Trail
• Minnesota–– Horseback Riding in Minnesota- Great Places for Trail Riding, Zumbro Bottoms Horseback Riding
• Mississippi–– Horseback Riding the Natchez Trace in Mississippi
• Missouri–– Missouri Horse Trails- Mark Twain National Forest and Beyond
• Montana–– Riding and Packing in the Beautiful Bitterroot Valley in Montana
• Nebraska–– Horseback Riding in the Nebraska National Forest to Support 4-H, Nebraska's Top State Parks for Horseback Riding, Trail Riding in Nebraska: Fort Robinson State Park
• Nevada–– Experience Nevada's Diversity Riding The American Discovery Trail
• New Hampshire–– New Hampshire on Horseback
• New Jersey–– Great New Jersey Horse Trails- Paulinskill Valley Rail Trail
• New Mexico–– Riding in Lincoln County's White Mountain Wilderness, New Mexico, The Argentina Trail Loop
• New York–– Favorite Horseback Rides in New York, Horseback Riding in New York's Otter Creek Horse Trail System
• North Carolina–– Horseback Riding Western North Carolina's Pisgah Ranger District
• North Dakota–– Horseback Riding in Little Missouri State Park
• Ohio–– Horseback Riding Hocking Hills in Ohio
• Oklahoma–– Horseback Riding in Oklahoma at Lake Stanley Draper, Cedar Lake Equestrian Camp in the Oklahoma Ouachita Mountains
• Oregon–– Riding the Metolius-Windigo Trail in Central Oregon
• Pennsylvania–– Pennsylvania Horse Trails Through the Seasons, Pennsylvania Trail Riding Adventures
• Rhode Island–– Great Places for Horseback Riding in Rhode Island
• South Carolina–– Equestrian Trail Riding in South Carolina
• South Dakota–– Horseback Riding in South Dakota- The Badlands and Beyond
• Tennessee–– Horseback Riding Eastern Tennessee's Cherokee National Forest, Trail Riding at Big South Fork Recreation Area in Tennessee, Horse Camping at Buffalo River in Tennessee, Three of the Best Tennessee State Parks for Horseback Riding
• Texas–– Riding in Texas at Big Bend Ranch is Not For the Timid– Or Rookies, Top Texas State Parks for Horseback Riding
• Utah–– Horseback Riding Zion National Park in Utah-La Verkin Creek
• Vermont–– Trail Riding in the Green Mountain State—Vermont
• Virginia–– Trail Riding Virginia's Northern Shenandoah Valley and Beyond, Sky Meadows State Park, Trail Riding Shenandoah River State Park in Virginia, The State Arboretum of Virginia – Blandy Experimental Farm, An Equestrian Weekend in Lexington, Virginia, Exploring Virginia's George Washington National Forest on Horseback
• Washington–– Trail Riding the Cascade Mountain Range in Washington State, Exploring Washington's Riverside State Park on Horseback, Riding in the Pacific Northwest
• West Virginia–– Horseback Riding in West Virginia from Shalimar Farm, Horseback Riding the George Washington National Forest in West Virginia, Horseback Riding Around the Monongahela National Forest in West Virginia, Horseback Riding in West Virginia's Camp Creek State Park and Forest
• Wisconsin–– Narrow Gauge Trails in Barron County, Wisconsin, Riding the Southern Kettle Moraine State Forest in Wisconsin, Ride Wisconsin: Halls Creek and Bush Lake Flats, Trail Riding the Kickapoo Valley Reserve in Wisconsin
• Wyoming–– Riding the Alaska Basin-Buck Mountain Pass
Have a great trail to share? Contact us and connect with us on Facebook, Twitter and Pinterest.