Enjoying New Hampshire on Horseback
Equitrekking contributor and trail riding expert Susan St. Amand visits some New Hampshire's best trail riding destinations.
While traveling with my horse through the Northeast recently, I spent a few days in New Hampshire exploring Bear Brook State Park and riding on Hampton Beach.
Bear Brook State Park contains 10,000 acres of recreational space and is the largest of New Hampshire's state parks. Besides horseback riding, other activities available are hiking, biking, fishing, boating, swimming, and two archery ranges. Overnight recreational camping is also available. Bear Brook State Park and its affiliated supporters are currently in the process of planning for overnight horse camping facilities in the future. Forty miles of multi-use trails traverse through the area's marshes, ponds, and brooks. Trail maps are available and trails are well marked. Park staff were very helpful during my visit.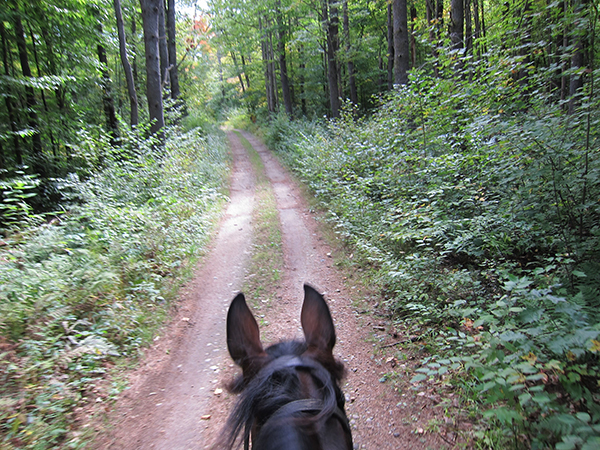 Bear Brook Trail. Photo courtesy Susan St. Amand.
My favorite trail was riding along Bear Brook. The trail followed the brook very closely and on the opposite side of the trail was a steep hillside so that you had no place to travel but forward. Luckily my horse did not misstep – otherwise, I would have been swimming!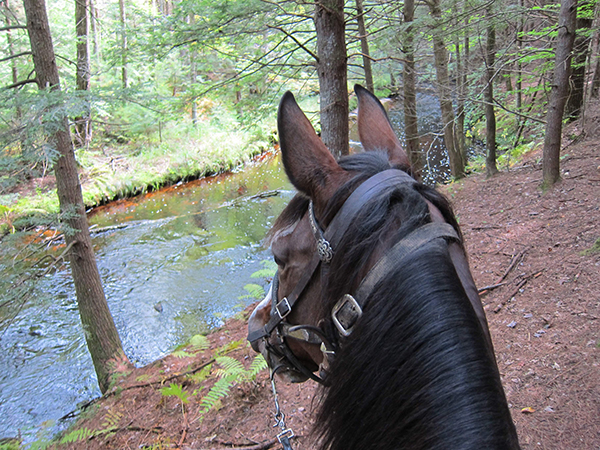 Beautiful view of Bear Brook. Photo courtesy Susan St. Amand.
Another trail I explored was Catamount Trail, which is difficult in the sense that it is very rocky and should be deemed for experienced riders and horses that are well shod. Catamount Hill is 721 feet in elevation and when leaves have fallen off the trees, I would suspect that there are awesome views to be seen.
Hayes Marsh area was picturesque during this time of the year with tree stumps sticking out of the marsh and the changing colors of the leaves on the trees in the background.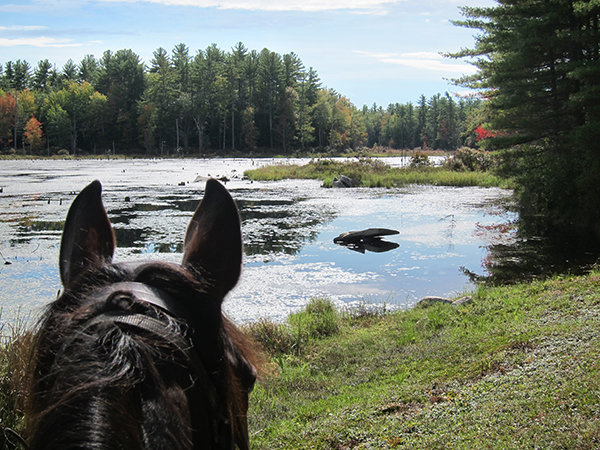 Taking in the scenery at Hayes Marsh. Photo courtesy Susan St. Amand.
On the other end of the spectrum, I also spent a morning riding on Hampton Beach. The cool ocean breeze and an empty beach with no tourists in sight made for an exhilarating and refreshing atmosphere for a beach ride. Beach riding is open to equestrians between October 1st and April 30th. Trailer parking and access to the beach is centered at the Hampton Beach State Park facility at the south end of Ocean Boulevard of Hampton Beach area. Please check with local authorities on beach riding criteria as ordinances continually change.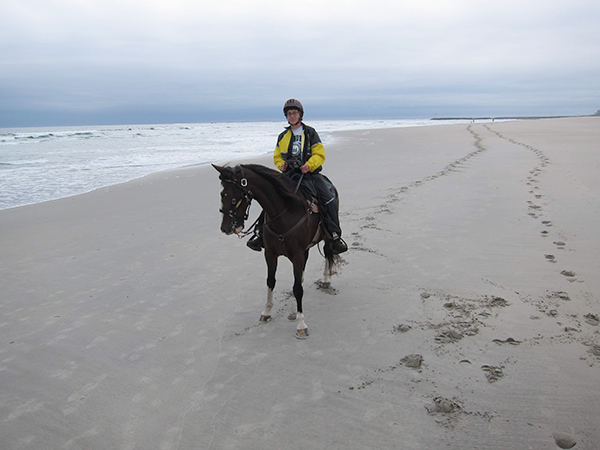 Horseback riding on Hampton Beach. Photo courtesy Susan St. Amand.
While exploring New Hampshire, I enjoyed my stay at Rileys Farm, which is a 30-acre boarding facility near the seacoast of New Hampshire. The farm contains several indoor and outdoor arenas, obstacle and jump courses, and offers full care of your equines and caters to all disciplines. The staff is excellent and dedicated.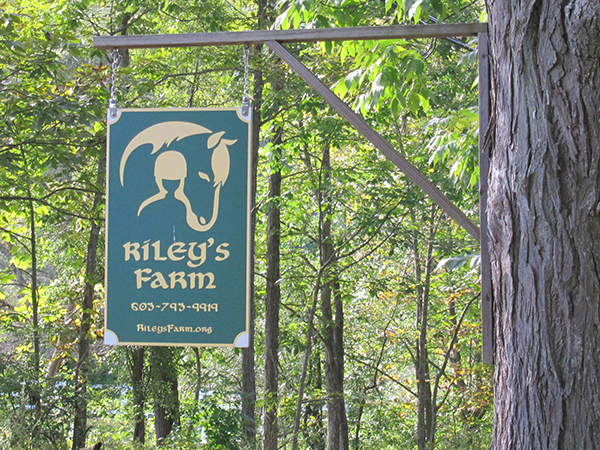 Riley's Farm entrance. Photo courtesy Susan St. Amand.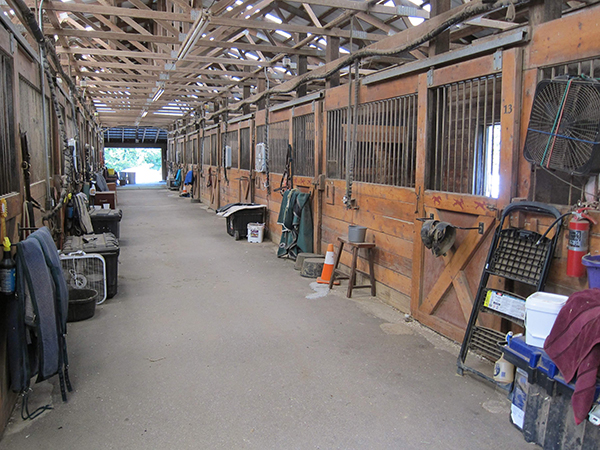 Riley's Farm barn accomodations. Photo courtesy Susan St. Amand.
About the Author: Susan St. Amand is a board member of the Shenandoah Trail Riding and Horseman's Association in Shenandoah County, Virginia. She grew up in Northern Maine with horses on a farm and has been a transplant to Virginia for the past 26 years. A retired Youth Education Technician, she enjoys planning horse vacations with friends and has currently completed many rides in Maine, New Hampshire, Pennsylvania, New York, West Virginia, Tennessee, North Carolina, as well as Virginia, trailering her own horse.