Cincinnati's Bed and Breakfast with Horses
Ride and Rest at First Farm Inn in Ohio.
Visitors to the Bluegrass State interested in equestrian culture are known to flock toward Louisville and Lexington, the respective homes of Thoroughbred breeding and racing. However, some of the friendliest, coziest, and most interesting places can be found far from these commercial capitals, among the gentle hills the state is known for. In Kentucky's northwest corner sits First Farm Inn, a relaxing bed and breakfast that offers a vintage, homey charm to horsemen and non-horsemen alike, as well as being a haven for animal lovers. Cats abound and Odo the old herding dog loves attention.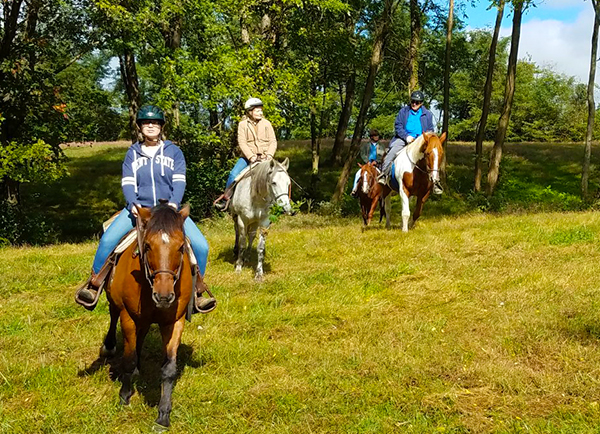 First Farm Inn is located on 21 acres in western Boone County, Kentucky. Owner Jen Warner purchased the property for the express purpose of creating a vintage B&B experience for visitors to the area. Jen wanted her then-toddling child to grow up on a farm, and also harbored a dream of running her own B&B. She has now been doing so for 20 years. In those 20 years she has hosted honeymoons, business trips, family vacations, and girlfriend getaways, and can talk at length about all the interesting people that have spent a night, or several, at the inn. Her B&B has also been a finalist for the Northern Kentucky Chamber of Commerce's Small Business "SUCCESS" Award five times.
If you schedule a horseback ride, you can expect an experience that includes prepping your horse – guests groom and tack their own horses while Jen freely answers any questions they have about her horses, or horses in general. For horse enthusiasts that have not yet taken the plunge that is horse ownership, Jen encourages all of your questions about buying, riding, and caring for a horse. If you're an equestrian yourself, you can swap stories instead.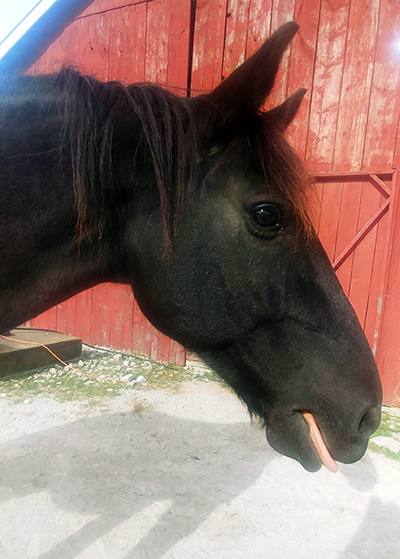 You then enjoy a short centered riding lesson in the fenced outdoor arena, focused on posture, balance, speed, turning, stopping and, perhaps the biggest challenge, sitting through your horse's trot in a way that keeps your seat incredibly secure while also putting minimal strain on your horse's back. Jen explains the physicality of riding as well as why centered riding is effective with regard to both human and horse physiology. She also invites you to silence her if she talks too much.
After this you take to the trails, hills, meadows and ponds that take up much of First Farm Inn's property. Trotting through a field in flower, with the blue sky above and the sun lighting up the grass under you, is a singular pleasure. Just be sure you catch your horse before he catches a mouthful of grass! At various points in the ride you can Jen loves taking pictures of her riders enjoying themselves, and before returning, she offers to take pictures of them in front of the barn, both as guest keepsakes and to share on social media.
Six horses currently call First Farm Inn home, from the 1,400 lb Paint Draft Bode to the compact bay Mustang Koda, so rides go out with Jen in the lead and a maximum of 5 guests. Riders as young as five years are welcome, as long as they can follow directions well. You don't have to stay overnight at the B&B to take a trail ride, however, and guests are welcome to bring their own horses as well. Spacious overnight stabling in the barn can be included in your reservation for an additional $25 (no stallions please.)
Both of the guest rooms at the farm have en-suite bathrooms, complete with towels, shampoos, body washes, and various other necessary sundries, in case you find your suitcase coming up short. My room also came equipped with even more essentials – 3 glass jars filled with candy, pretzels, and chocolate-drizzled shortbread cookies. Informational binders provide a history of the rooms and their furniture, which reflects the house's original time period as much as possible. The Treetops room, on the second floor, offers a view of the barn, while the first floor's 1870s room looks out into the front yard.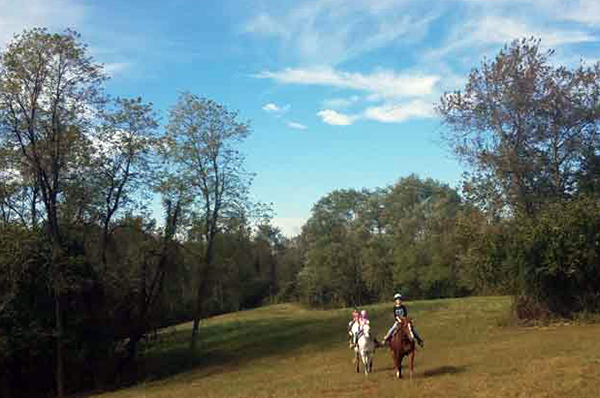 Breakfasts at the inn are homemade, served family-style, and, in my experience, downright decadent. There were four kinds of sweet bread, fresh fruit, coffee, tea, ice water, cider, and a variety of juice and milk options. For those of us who prefer our coffee white, there was a generously-sized bottle of French Vanilla creamer. Light from the chandelier overhead shone on the silverware and soft music played from some hidden speaker. A mouthwatering array of main course options are listed in the informational binder provided at check-in and include breakfast casserole, biscuits and gravy, and seven-grain pancakes. The Caramel Walnut French Toast served with sausage or bacon is highly recommended, being as warm and delicious as it sounds.
Eating breakfast with strangers is casual and relaxed. There was a delightful couple visiting from Indiana when I was there. Jen is happy to share the history of the house, as well as the artwork, furniture, and the musical instruments that make up much of the interior décor. Prints of Jen's watercolor paintings, which can be seen in the shared spaces on the first floor, are available for purchase, as well as maple and walnut jewelry, a quaint cookbook of recipes offered by family and former guests, and handmade soaps.
Ensuring that guests have a complete and full northeastern Kentucky experience is a top priority at First Farm Inn. Guests are provided with a surplus of pamphlets and extensive, specially made lists of things to do in and around Cincinnati. If you prefer specific recommendations or a particular type of diversion, Jen is more than happy to offer information, advice, and personal reviews of local restaurants, historic sites, family activities, and entertainment. The inn is situated in an area that is comfortably remote but also a reasonable drive from civilization. 15 minutes from Burlington, downtown Petersburg, and Lawrenceburg, Indiana, and 20 minutes from downtown Cincinnati (assuming you avoid rush hour.)
First Farm Inn is located just south of I-275, a cartwheel away from the Kentucky, Ohio, and Indiana borders. To reserve a room, a ride, or both, visit firstfarminn.com or call Jen Warner at 859-586-0199.
About the author: Sarah Mohler is a Cleveland-based editorial intern for Equitrekking. She has worked in hippotherapy and boarding facilities in Ohio, a horse rescue in Maryland, and a trail riding business in the Colorado Rockies, and holds a bachelor's degree in Equine Facility Management from Lake Erie College. She is currently pursuing her master's degree in Creative Writing from the NEOMFA program at Kent State University, and hopes to write her thesis on the evolution of man's relationship with horses. When not writing, reading, annotating, teaching, workshopping, or grading papers, she enjoys going for walks, eating sushi, and snuggling under a soft blanket with her boyfriend.