An Equestrian Weekend in Lexington, Virginia
Equestrian wanderer and trail riding expert Susan St. Amand visits the new Virginia Horse Center in Lexington, Virginia.
Recently I spent a multi-faceted weekend in Lexington, VA focusing on equestrian activities while volunteering as a 4-H All-Star at the Virginia Horse Center.
The Virginia Horse Center is conveniently located off Interstate 81 & 64 South. Comprised of 600 acres, a 4,000 seat coliseum, 8 barns, 19 show rings and two indoor arenas, it offers exciting equine events as well as other entertaining shows every weekend. Most events are free for the public to attend, so it is an interesting tourist stop for those visiting the Lexington, VA area to view beautiful horses in action.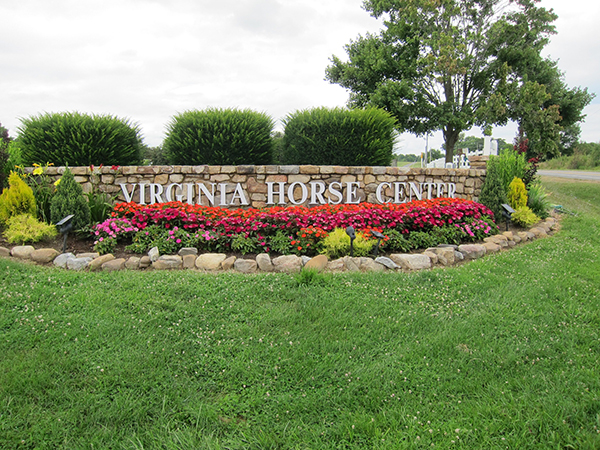 Photo courtesy Susan St. Amand.
On this particular weekend, a Western Reining competition was in progress. I especially enjoyed the sensational sliding stops as the dirt flew about, demonstrated by some of these competitors.
It was fitting that our Virginia 4-H All-Stars held their summer conference meeting and community service project at the horse center, as being the equine enthusiast that I am, this certainly served my interests well, even including tack shops for shopping therapy. As the center hosts the Virginia State 4-H Horse Show in the fall, we were delegated the task of creating directional signs out of recycled fence boards to be utilized for this event.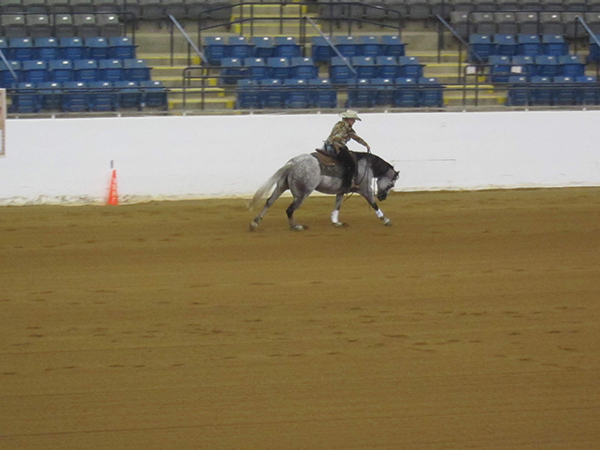 Photo courtesy Susan St. Amand.
In the evening, our business meeting was held in the upper-level mezzanine, which held a bird's eye view of the entire coliseum arena. John Nicholson, the current CEO of the Virginia Horse Center, gave a presentation on the history of the center. With Virginia boasting an ever-growing horse population, equine enthusiasts expressed the need for a large equestrian facility to host equestrian events and competitions. As a result, the center was opened over thirty years ago by the state of Virginia.
As the center grew and changed, the state relinquished the property and sold the property to a private non-profit organization. The center upholds a standard of morals and values similar to those embraced by 4-H. Mr. Nicholson noted that the majority of the current equine competitors began as youth 4-H competitors, and, currently exhibiting as adults, still reflect those learned values which make for a positive showing environment.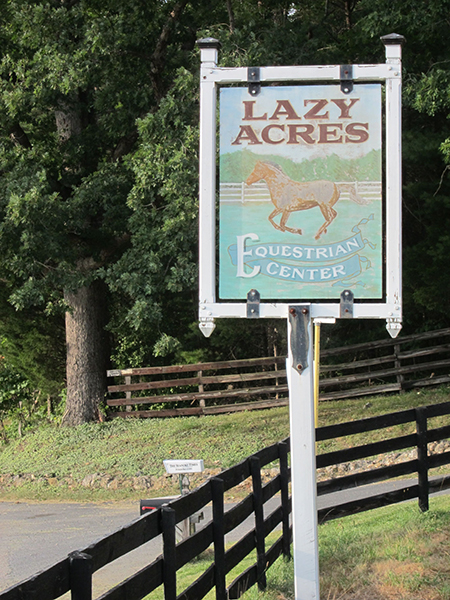 Photo courtesy Susan St. Amand.
Armed with the knowledge that the Virginia Horse Center has riding trails on the premises, I trailered my horse to accompany me two hours south of my home. I conveniently found an overnight horse stabling and camping facility two miles further down the road from the center called Lazy Acres Horse Hotel & Cabin Rentals. Lazy Acres contained multiple large paddocks, a covered outdoor arena, large stall barn, and horse wash area as well as quaint cabins for rent.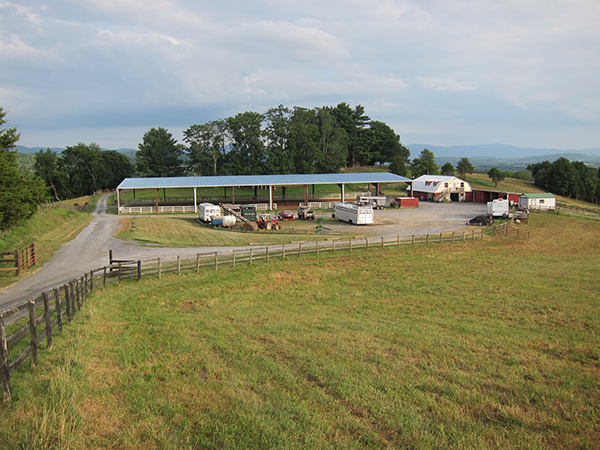 Photo courtesy Susan St. Amand.
The owners, David & Amanda Baxter, are very gracious hosts, and hail originally from England. Nestled in the foothills of the Jefferson National Forest district, they instantly fell in love with the Lexington, VA area years ago and left their high paced careers to enter the equine business. With their easy going, laid back air--even the dog displays a calm demeanor, true to the farm's namesake.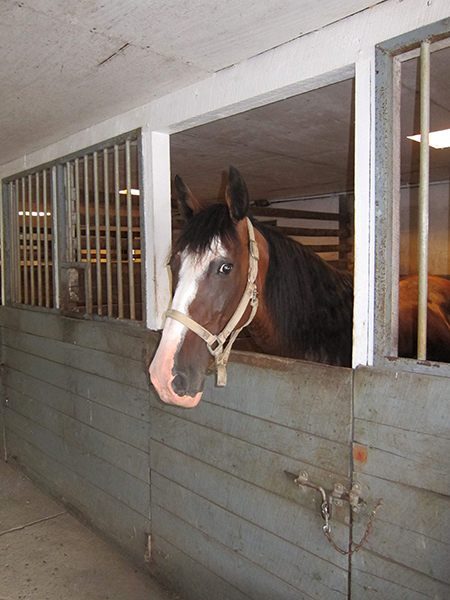 Photo courtesy Susan St. Amand.
On the day I arrived, they were accommodating approximately two dozen polo ponies for several days as one of the transport trucks experienced mechanical problems and needed emergency repairs. According to David, it is not unusual for transports of polo ponies to layover at his facility en route from south to north and vice versa to attend polo matches. Lazy Acres is conveniently equipped to handle large horse transportation rigs as well as large groups of horses, making it a desirable stop for this equestrian discipline as well as being close to the highway.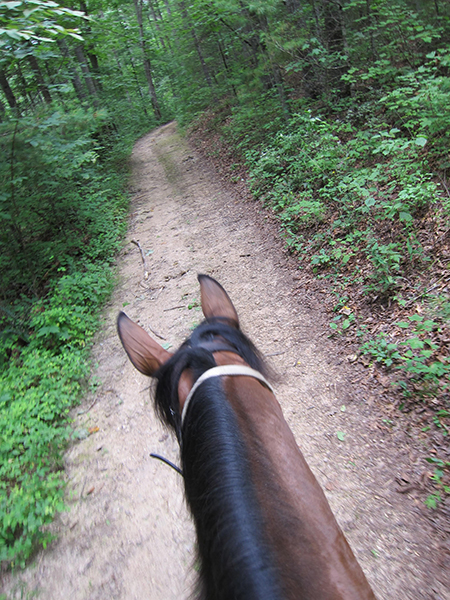 Photo courtesy Susan St. Amand.
The next afternoon, I was able to ride the trails on the grounds of the Virginia Horse Center. An unusual sight along the trail was an abandoned outhouse. One of the trails meandered along the Maury River and since the river was low, we were able to get my horse's hooves wet and observe the view downriver.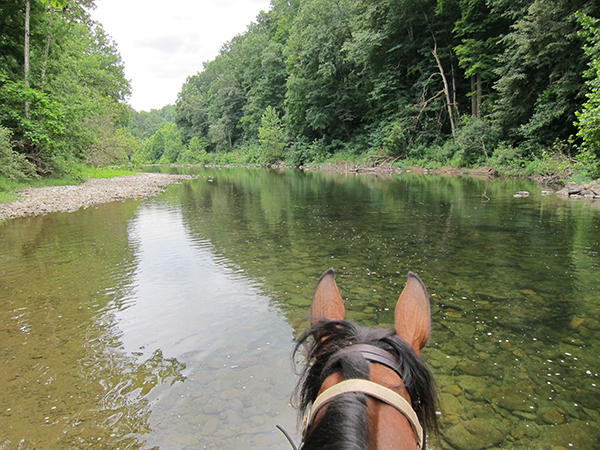 Photo courtesy Susan St. Amand.
Another interesting icon on the Virginia Horse Center premises near the entrance was the painted horse statue.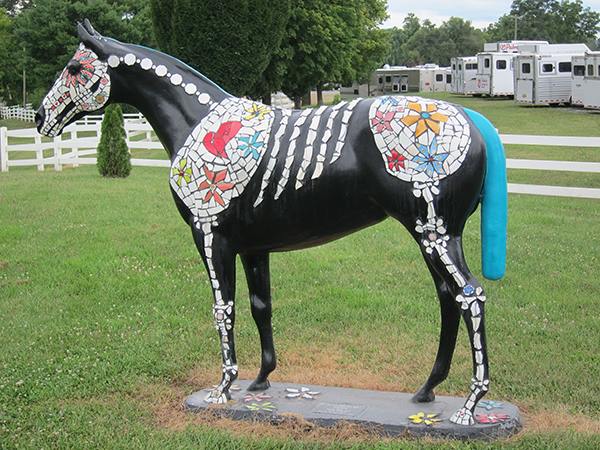 Photo courtesy Susan St. Amand.
All in all, this was a nice and quick weekend getaway to be able to mix business with pleasure in Lexington, VA. Bearing more time, this area boasts many local breweries as well as historic areas for tourists to tour.
About the Author: Susan St. Amand is a Board Member of the Shenandoah Trail Riding and Horseman's Association in Shenandoah County, Virginia. She grew up in Northern Maine with horses on a farm and has been a transplant to Virginia for the past 26 years. A retired Youth Education Technician, she enjoys planning horse vacations with friends and has currently completed many rides in Maine, Pennsylvania, New York, West Virginia, Tennessee, North Carolina, as well as Virginia, trailering her own horse.