Horseback Riding in New York's Otter Creek Horse Trail System
Equitrekking contributor and avid trail rider, Susan St. Amand shares her experience horseback riding through the Otter Creek Trail System in New York.
During one of my recent travels to New England, I was fortunate to stop in Lowville, New York for a couple of days and visit with an equestrian acquaintance. As it was, the weather was rainy but we managed to ride several hours on the Otter Creek Horse Trail System in-between the rains. This trail system is located in the beautiful Adirondack Mountain Reserve area and New York state forests. It is comprised of a series of intertwining trails totaling about 65 miles.
Horseback riding at Little Otter Lake. Photo courtesy Susan St. Amand.
The trails are mostly flat with sandy roads and wood trails. These trails are wide, well groomed and maintained by the Friends of Otter Creek Horse Trails. There are also several small ponds and lakes within the trail system. On this particular day, we rode by Little Otter Lake.
Within the Otter Creek Horse Trail system is an "assembly area" consisting of three parking lots and an additional overflow or day use parking area. In addition, it has 100 roofed tie stalls, two separate roofed stud stalls, manure pits, and water for the horses. Primitive toilets are also available. Overnight camping is permissible in the assembly area on a first come, first served basis.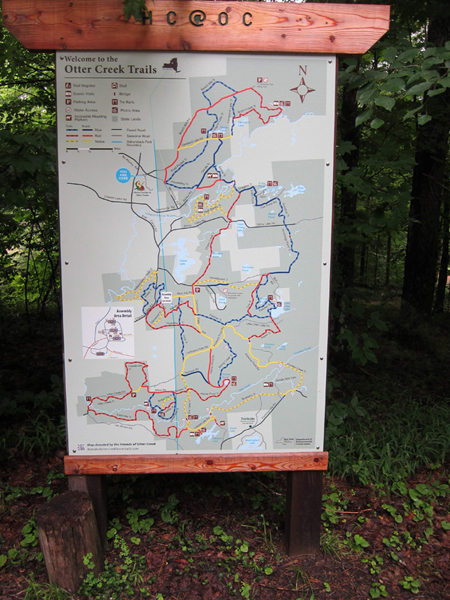 Otter Creek Trail map. Photo courtesy Susan St. Amand.
Surrounding the Otter Creek Horse Trail System is an equestrian community comprised of year-round residents or part-time residents. Community members also rent out their cabins and facilities to equestrian enthusiasts interested in taking a horseback riding vacation in the Adirondacks.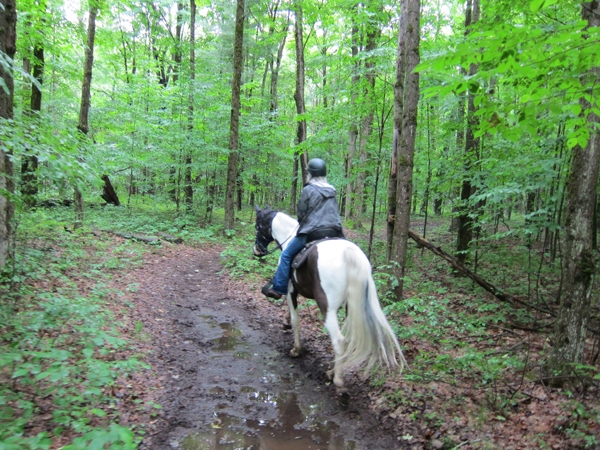 Exploring the forest trails in Otter Creek. Photo courtesy Susan St. Amand.
At the end of the day, we capped off our wonderful afternoon of horseback riding by relaxing at a local winery called Tug Hill Vineyards. The wine was excellent, served with a delicious platter of locally produced sausage, cheese, and bread. Sprawled throughout the Lewis County area, are Mennonite dairy farms that produce agricultural products, such as the cheese and sausage we enjoyed. It was like stepping back in time, witnessing the Mennonites farming and utilizing horse-drawn conveyances, just like in days of old.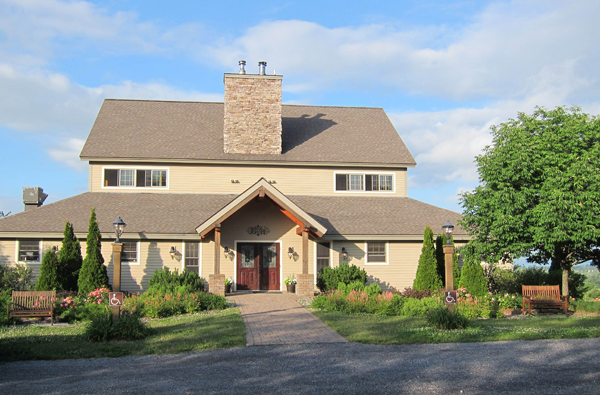 Tug HIll Vineyards. Photo courtesy Susan St. Amand.
On a more progressive note, large wind turbines dot the landscape throughout this farming area--like a field of flowers, producing much of the energy needed for the rest of the residents in the Adirondack area. All in all, it was a quick but exciting glimpse of a new equestrian riding area available in the New York state.
About the Author: Susan St. Amand is a Board Member of the Shenandoah Trail Riding and Horseman's Association in Shenandoah County, Virginia (website: [url=http://www.strha.net]http://www.strha.net[/url]). She grew up in Northern Maine with horses on a farm and has been a transplant to Virginia for the past 26 years. A retired Youth Education Technician, she enjoys planning horse vacations with friends and has currently completed many rides in Maine, Pennsylvania, New York, West Virginia, Tennessee, North Carolina, as well as Virginia, trailering her own horse.