Bedouin Meal Video in the Wadi Rum Desert, Jordan
Ever wonder what you'd eat on a desert trek with the Bedouin in the Middle East?
Saddle up with this Equitrekking video of our culinary adventures while riding in Jordan.
Even though I was there at the end of September, a cooler time to ride in Jordan's deserts, temperatures still soared midday. For our Jordan equestrian adventures, we would rise early to ride in the cool of the morning and break for many hours during the heat, finding refuge under the shade of a canyon.
The Bedouin are masters at finding shade. Whenever we had the chance, we would make for a canyon to ride among the shadows for our benefit and for our horses.
In the video above, check out our typical desert lunch. My Bedouin friends would lay out mats on the sand, light a fire and cook simple but delicious meals, followed by piping hot chai, tea with various herbs and spices.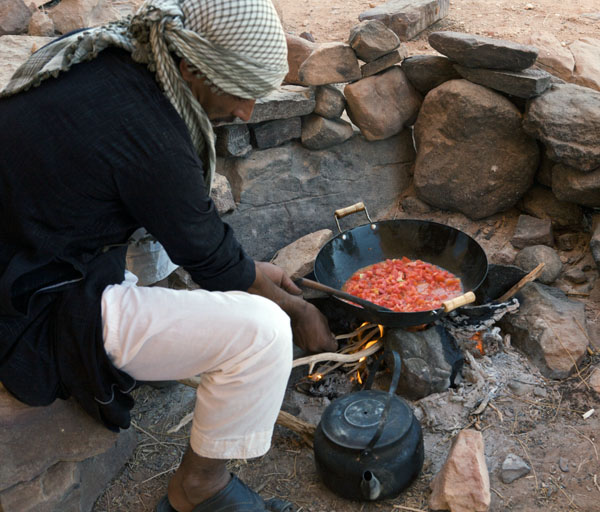 For lunch on our first day, our guide and translator Ibrahim Al-Wahsh made a dish called bazelleh that consisted of sliced tomatoes, onions and garlic sautéed with beans, oil and a multitude of spices. It may sound elementary, but it tasted wonderful.
We ate without silverware, using small pieces of pita bread as spoons. It was zesty and filling. I savored it, along with the water and hot chai. Then, everyone lay down and slept until it was cool enough to ride again.
Watch Equitrekking's two Jordan episodes, Jordan: Wadi Rum, Aqaba & Jerash and Jordan: Petra, Royal Stables & Dead Sea on Create TV. Take an EquitrekkingTravel.com equestrian vacation in Jordan and ride with the Bedouin.
Join us on Facebook for more great videos and Twitter @DarleyNewman and @Equitrekking