Equitrekking Exotic Food on the Road- Poutine, Chivito and more
Thinking of traveling somewhere new? Ever wonder what you'll eat on your travels?
Take a look at the culinary delights we've enjoyed on our adventures traveling the world filming Equitrekking. Learn about the exotic foods that you can expect to chow down on during your world travels.
You've seen me eating quite a bit on Equitrekking, because food is a major part of anyone's travel adventures, whether you are in or out of the saddle. From bazelleh with the Bedouin to macaroons in Montreal to ayran in Turkey, I've tried my share of exotic cuisine.
Here are some dishes that you might try as you travel the world on horseback, or enjoy watching us taste test on Equitrekking.
Uruguay- Meat, meat and more meat... and mate!
Chivito
What is this heaping helping of french fries and meat? It's called chivito and at La Pasiva, a restaurant on Avenida Gorlero in the popular beach resort area of Punta del Este, we ordered the chivito platter, a popular local's dish with loads of meat piled high over French fries, hard boiled eggs and Russian salad. Yes, it was good.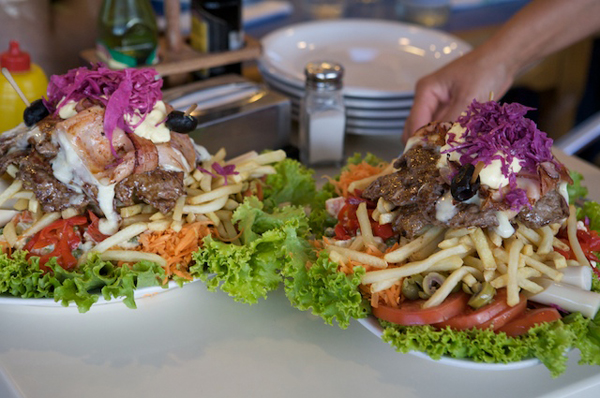 A typical Estanica meal
Dinner at many of the estancias that we visited consisted of a variety of lamb, chorizo and grilled pork, seasoned and charred on the giant asado (grill). Grilling is very popular in Uruguay, so many folks have large grills in their homes.
At La Salamora Estancia, we also had fresh tomatoes, along with onions and green peppers with eggs cooked inside and a lot of meat. Everything tasted so fresh and good.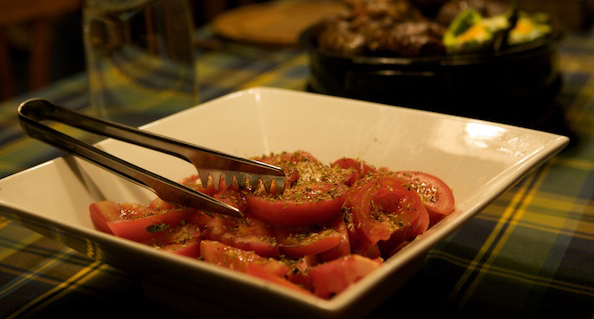 Our host Daniel said that the much of the beef in Uruguay is actually pretty lean, because the cows are grass fed. As I heaped another helping of beef on my plate, I was encouraged by this information.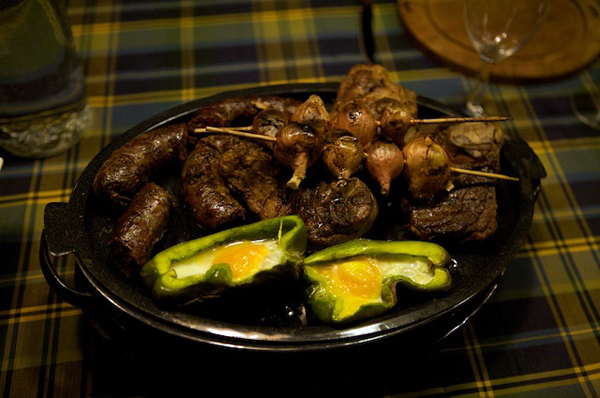 Mate
Mate (pronounced mah- tay) is like a tea and to me it tasted like an oolong or green tea. It is strong and is said to keep you alert and awake. Many gauchos in Uruguay drink it all day long.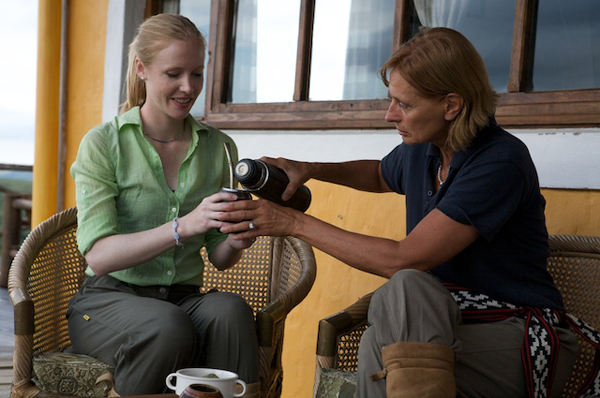 Mate is sipped through a metal straw called a bombilla. The straw has a sieve at the end and the cup is filled with leaves and then hot water is poured in. Because so many people drink mate, many gas stations are equipped with hot water dispensers that are made to fit thermoses.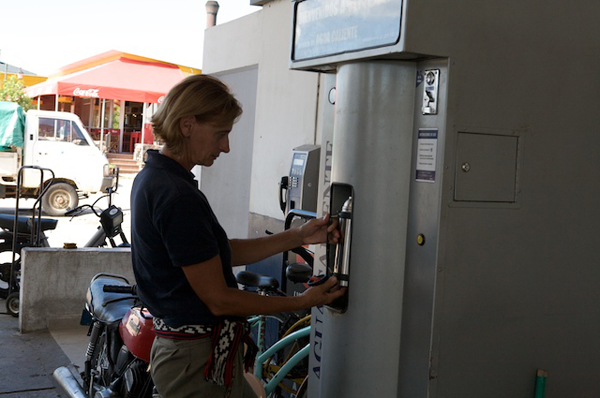 Turkey- From salty yogurt what!?!?! to the breakfast of champions
Turkey had some of best food that I've ever eaten on my travels. Everything had so much flavor, from juicy peaches to hot tea and ... interesting ayran. Here's a photo from a local market, where my Turkish hosts buy fresh, locally produced fruits and vegetables each week.
Ayran
My guide Ahmet described ayran as almost a national drink in Turkey, because it is so popular. To make ayran, you put yogurt in water and then shake it up and add a little bit or a lot of salt, depending on what you like. It's this salt that's helpful in replenishing the salts your body has lost after you sweat. If you are horse riding in Central Turkey in the summer, you will sweat. The climate is hot, but dry. In the summer, you'll find almost everybody drinking aryan to quench their thirst.
After horseback riding through the streets of Guzelyrt, a small, lesser visited village in Cappadocia, we stopped at a local family's home to meet them and try their homemade ayran. It was a little too tangy and salty for me, but some of my fellow crew members couldn't get enough of the ayran in Turkey.
Breakfast of Champions
We stayed at Kirkit Pension on our amazing equestrian adventure in Turkey and they had awesome breakfasts. Each morning, I had tea with hot bread from the village's communal oven with a thick slice of feta cheese and pekmez.
Pekmez
Pekmez is a thick molasses colored sweetener, like a jam, that is traditionally prepared in villages around Cappadocia after the fall grape harvest and then stored for the winter months. Pekmez was on my table every morning, and I ate plenty of it.
There are pockets of vineyards and fruit orchards throughout Cappadocia, set amid the fairy chimneys, cosmic rock formations that have been sculpted by the elements over time. The soil in Cappadocia is fertile and filled with minerals from past volcanic eruptions. It's this soil that's a key ingredient in making pekmez! Yes, dirt is used in the making of pekmez.

Pekmez definitely has a distinct flavor, and if you think about the dirt while you are eating it, you can probably taste it. I could, but I really liked it.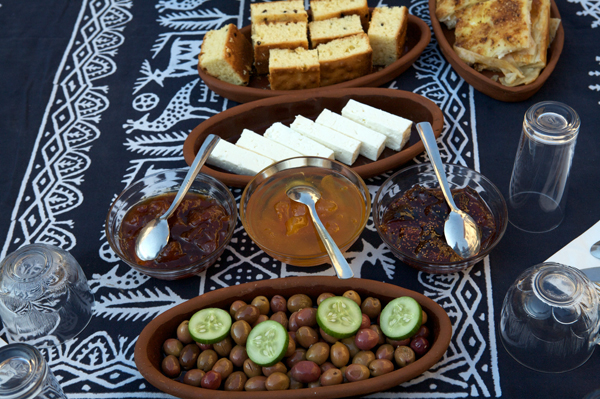 Testi Kebab
Think of putting all of the ingredients that you love from a kebab- the meat and vegetables- into a clay pot and cooking it over a fire or in a brick oven and you have this Anatolian speciality. In the village of Avanos, a pottery center in Cappadocia, we each had our own little pot of testi kabab, which I helped to make during a cooking lesson. Cooking it in this contained little pot, keeps everything really moist. It's really good.
The trick is that when it's served to you, you take a hammer or large knife and whack off the top of the pot. The pot has a special indented rim to allow you to make a clean break. Well, when I finally got up the courage to whack mine, it sort of shattered.
Quebec- Macaroons, markets and poutine
Macaroons
If you travel to Quebec to ride horses or just tour the cities, you are in for food with French flavor. In Montreal, we stopped in Café Europea, and tried these neon macaroons, which give a nice sugar boost in the afternoon. They were light, airy and tasty. I tried caramel apple whiskey, hazelnut and mint chocolate. Yum!
Poutine
We went horse riding, skiing and dog sledding around the village of Mont Tremblant. All of that activity can certainly help you work up an appetite. In the village of Mont Tremblant, my ski instructor Braham introduced me to a popular Quebec dish, poutine. Check out this video to see if you might like this decadent french fry dish.
A Vegetable Lovers Bounty
The Old Port Market in Quebec City, which houses regional products from throughout Quebec, is a food lovers paradise, especially if you are into locally sourced, organic foods. I basically ate my way through the market, sampling chocolate covered cranberries, maple flavored cranberries, orange cranberries, apples, a local wine, a maple cone and ground tomatoes, which tasted like a mixture of cherries, tomatoes, and nuts.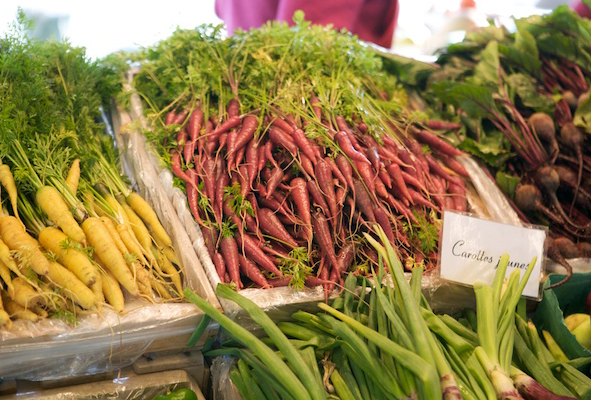 Jordanian Food- Middle Eastern Mezze

This is a photo of one of my first meals in Jordan. What a spread! In many places, you'll be served mezze, a variety of appetizers that you share with your table mates. Mezze may include a selection of dips, breads and vegetables, including hummus.
Bazelleh
I'll admit it. I do bring granola bars with me everywhere that I travel, just in case the food isn't so great, or I need an on the trail snack. I didn't need them on my desert ride with the Bedouin in the Wadi Rum Desert.
Check out this video of our meal. Over a wood fire, my Bedouin guide Haytem mixed together onions and garlic and sautéd peas, tomatoes and a multitude of spices, letting it reduce down to a thick stew. The vegetarian dish, called bazelleh, was really good. We eat without silverware, forming small pieces of pita bread into spoons.
American Classics
We've had awesome food throughout the United States in Texas, Arizona, Vermont and beyond. As we all know, you don't have to leave the USA to have a great "foodies" experience. Here are some of the best dishes we've eaten filming in our own backyard for Equitrekking.
Texas Sized Steak
After my cattle drive at Wildcatter Ranch, we hit the ranch's steak house to learn how to season a big Texas steak. We made a special seasoning by combining beef base, Spanish paprika, cornstarch, oregano, salt, onion powder, granulated and minced garlic, cinnamon, thyme, and pepper.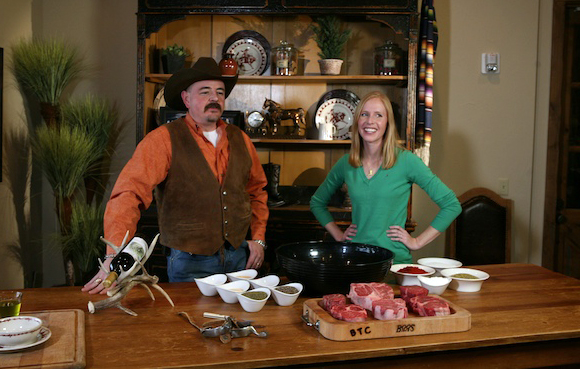 We seasoned the steaks and then grilled them with pineapple, asparagus and a baked potato. If everything is bigger in Texas, including your appetite after riding the range, then I like it!
Vermont Fresh

At the Mountain Top Inn, I enjoyed horse riding in the Green Mountains and driving two adorable Clydesdales by day and eating fresh foods prepared from local farm ingredients at night.
The restaurant at the Mountain Top is part of the Vermont Fresh network, meaning that many of the ingredients are grown locally in Vermont. The vegetables tasted really fresh and healthy, countering the effects of my triple scoop of chocolate ice cream with whipped cream.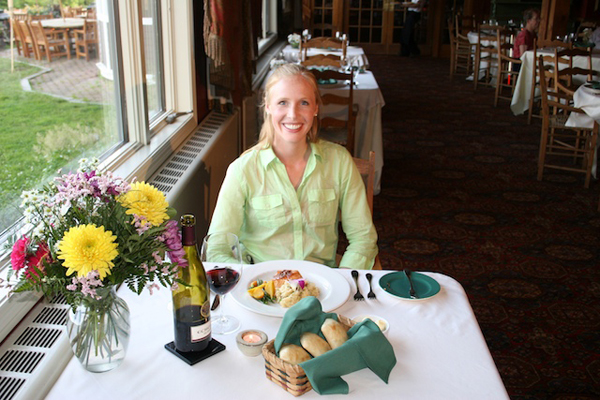 I had a salad drizzled with fresh berries, duck glazed with maple syrup and homemade chocolate ice cream.
Learn more about Equitrekking's new season on Create TV, where you can watch Darley ride, eat, hike and have great adventures in Jordan, Uruguay, Alberta and beyond.

Check out great horseback riding vacation destinations, where you can dine on some of the above dishes in Equitrekking.com's Vacation Guide and EquitrekkingTravel.com, Equitrekking's sister company, which features exceptional equestrian vacations.