Uruguay Eco-Friendly Estancia Ride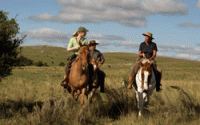 I enjoy finding hidden gems, places where I can ride that make me feel like I am stepping back to a simpler, more natural time.
At La Salamora, a family-run lodge powered entirely by wind power in the rocky, rolling grasslands of Lavalleja not too far from the resort area of Punta del Este, I discovered an eco-friendly, working ranch with wonderful Criollo horses, a colorful gaucho and beautiful historical sites to visit on horseback.
Alicia, who owns the ranch with her husband Daniel, a veterinarian, rode with La Salamora's gaucho, Gilberto, and me to discover a nearby valley teeming with vegetation. We hopped down from our horses to take a closer look a various medicinal plants. Without moving, we could touch about seven different plants with helpful uses, including a plant that the natives used to make ropes. If we walked or rode a step or two more, there would be countless others.
At La Salamora, they are working with the Uruguayan government to preserve and restore the native flora and forests in the area. We rode up and down the area hills to the Valle del Hilo de la Vida (the Valley of the Thread of Life), a sacred valley populated by stone cone formations, thought to have been constructed by ancient native people. The valley is supposed to radiate a special energy. I am not sure if it was the pull of the valley or my Uruguayan guide, but I felt energy standing amid the stone cones and throughout my time riding in Uruguay.
Learn more about how you can take an eco-friendly riding vacation in Uruguay on an all-inclusive estancia tour or flexible self-drive vacation.