Uruguay- Torta Frita Recipe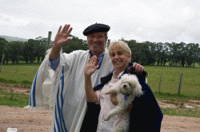 Learn how to make Torta Frita, a specialty of Uruguay
Estancia El Charabon is a lovely working ranch in Rocha owned by husband and wife couple Jorge and Graciela Zuasnabar. Graciela is an artist, whose work populates the walls inside the estancia, giving it a unique, eclectic feel.

We arrived in the rain to find Graciela, who gave us a tour and then presented us with a medley of decadent pastries and teas. We had one amazing pastry called Torta Frita, which I was told by several people in Uruguay is typically made on rainy days. It's like a light funnel cake sprinkled with powdered sugar or a big airy donut. Greg, our cinematographer, and I each had three!

Alicia from La Salamora has been so kind as to email us the recipe so that we can make this decadent pastry at home in the USA. Here it is for all you Torta Frita fans like me.

Ingredients
2 tbsp. butter or margarine
1 tbsp. vegetable shortening (or beef lard)
3/4 cup of milk or water
2 cups flour
1 tbsp. salt
1 tbsp. baking powder (Royal is suggested)
Approx. 2 cups shortening (or beef lard) for frying.

Preparation
Melt the 2 tbsp. butter or margarine and 1 tbsp. of shortening together in a pan or in the microwave. Heat the milk (or water) until hot, but not boiling. Combine the melted fat with the milk (or water).

In a bowl, combine the flour, salt and baking powder. Mix well. Make a hole in the mound and pour the liquid in the middle. Gradually incorporate the flour mixture. Once mixed thoroughly, turn the dough out onto a flat, clean surface and knead well. Separate into 12 equally sized balls. Roll out each ball into a circle 1/2 cm thick. With your finger, poke a hole in the middle of each circle. In a large frying pan, melt 1-2 cups of shortening or lard over medium high heat. Fry each circle to a golden color in the melted shortening or lard. You might need to lower the temperature to medium while fying the batch. Transfer tortas to a plate with paper towels or paper bags to remove excess oil. Eat while still warm with dulce de leche spread or mermelada. Enjoy with coffee, tea, or better yet, yerba mate.
Darley Newman is the host of the Emmy Award-winning Public Television series Equitrekking®, which takes viewers on horseback riding vacations around the world. Equitrekking is broadcast on PBS stations and on international networks.

Watch the Equitrekking video promos and purchase Equitrekking DVDs in our Store. Learn about equestrian vacations and book a Uruguay horseback riding vacation at EquitrekkingTravel.com.