YQA - Top 5 Most Extreme Horse Rides
Five Thrilling Horse Rides That Will Earn You Bragging Rights
We've taken and filmed a few "extreme" horse rides with Equitrekking. Here's my top five most extreme horse rides.
Want to challenge us to try an exciting horse ride? Email us and let us know about it or comment below.
5. Bison Round-Up
Try rounding up a herd of bison with two experienced cowboys. Then try taking an experienced cowboy and a not-so-experienced East Coast Hunter Jumper riding TV host and you've got the makings for a rollicking ride.
My bison round-up around the Great Salt Lake's Antelope Island was amazing, once I realized I could trust my mount, who had waaayyy more experience than I did.
It became even more challenging to film, because we had to do it a few times. We sometimes do.
This is not a ride for beginners, as you don't want to tangle with those horns, but for more experienced riders, it's a rush to herd bison and certainly an extreme adventure.

How you can participate: Antelope Island holds an annual bison round up that's open to the public. More information at the Utah State Parks website.
5. Iceland Horse Drive
It was my second day in Iceland and after a short lesson and introduction on how to ride an Icelandic horse, I was off leading a herd fifty horses with a group of crazy Icelandic farmers. Good thing those Icelandics are pony sized. I definitely would have felt better being close to the ground, minus the fact that the herd was at my heels!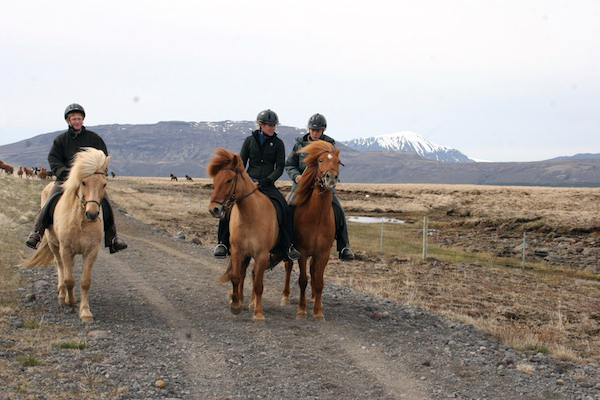 My Icelandic guide's advice, "Go fast!"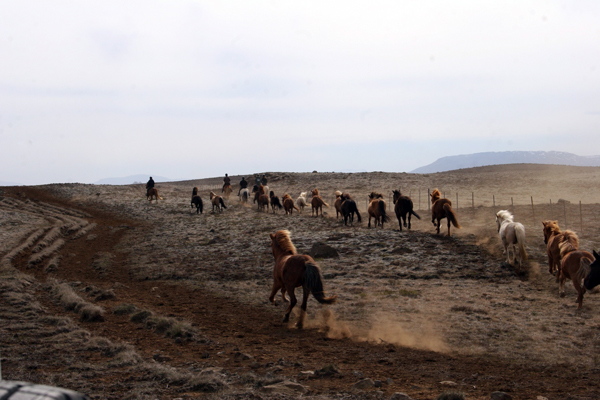 Horse drives are a great way to get to know the local culture in Iceland, which has historically depended on horses for survival. They will also prepare you for fast and fun riding experiences. Below is a short video on Icelandic horse culture.
How you can go: EquitrekingTravel.com, the sister company to Equitrekking's TV show that features exceptional equestrian vacations, offers a variety of riding holidays in Iceland, including two different fall horse drives.
4. Horse Riding in the Snow in Quebec
If you watched the Equitrekking Southern Quebec episode, you saw us hit the backcountry on horseback, ploughing through a snowy hill that hadn't been cleared for the snowmobiles and horses at Ranch Mont Tremblant.
I'd certainly give horse riding in the snow an extreme label because of the sometimes frigid temperatures and the extra measures you have to take to prepare your horse and yourself for the weather. With the right conditions, you're in for a treat when you go horseback riding in the snow.
Below is a behind the scenes video on how we filmed Equitrekking in snowy Quebec.
How you can go horse riding in snow: Vacation Destinations to Horse Ride in the Snow
2. Haleakala on horseback
This is one of the most unusual places that I've ever ridden a horse -- into the crater of Maui's Haleakala volcano on horseback. Be ready for changing elevations, quickly changing weather, intense sun and even more intense scenery. I absolutely loved it.
The round trip is 7.5 miles and takes around 4 hours. Prior riding experience is a must for this ride. You'll be traveling from about 9,870 feet to around 7,500 feet, so if you have issues with changes in elevations, this is not the ride for you.
If you go: We recently heard from a traveler who took the Equitrekking Travel Maui Horse Riding Vacation, which has the option to include this Haleakala horse ride, and she had this to say about the riding horses into Haleakala Crater:
I can simply say I'm glad I did it, and not sure I would choose to do it again! The scenery was incredible, the guide Ra was incredible, the horse was incredible, the food was great. But it was a very long ride and I was glad when we were done! I don't remember being that tired or that sore- ever!
Yes, this ride is a physical challenge, but well worth the adventure.
1. Costa Rica's Cabalgata
This gets my pick as the all time most extreme ride I've ever taken and if you watch the video below, you'll see why.
If riding horses amid motorcycles and trucks with music blaring or slightly or maybe fully inebriated Costa Ricans scares your boots off, then this is not the ride for you.
If you are interested in experiencing a true neighborhood block party on horseback and getting in touch with the laid back, carefree Costa Rican lifestyle and horse culture, then saddle up. Here again, I really liked the Cabalgata. A type A personality I am, but I guess I'm also chill at heart.
How you can go: Equitrekking Travel offers two different Costa Rica horse riding adventures. The Best of Costa Rica can include the Cabalgata.
YQA stands for Your Questions Answered. Every Monday, TV host and travel expert Darley Newman answers viewer questions right here in Darley's Blog. Contact us with questions.

Learn more about exploring your world on horseback through EquitrekkingTravel.com, which features horse riding vacations hand-picked by the Equitrekking team, including the some of the extreme rides featured above, and in Equitrekking.com's Vacation Guide, a comprehensive resource for dude ranches, riding holidays, cattle drives and equestrian escapes.