Spanish Vaquero Tack - What You Saw on Equitrekking
Integrating with the locals on our travels means riding horses with the local tack. In Spain, the traditional Vaquero style was often used.
One of the most recent questions emailed to us was regarding the unusal tack on the horses that we rode in the Equitrekking Spain episodes. When we travel, we work to understand world cultures and their traditions, riding their local breed of horses that are fitted with the indigenous tack.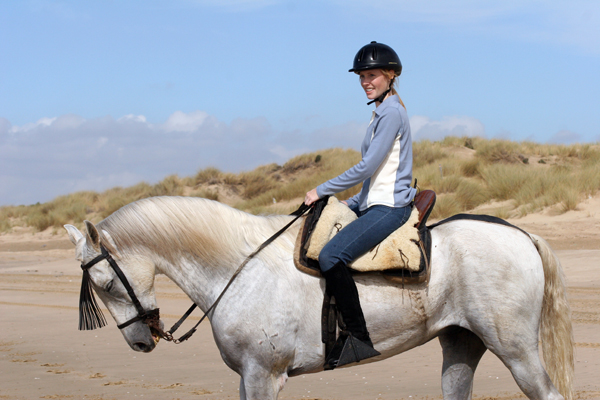 We made it to the beach, where we splashed through the water and I had the chance to really get used to cantering with these flat steel stirrups.
If you travel to Spain, you may find the traditional Vaquero bridles and saddles. This tack is used by the vaqueros, Spanish cowboys, for everyday cattle work. Today, many horsemen use vaquero tack for hacking out or working cattle, as well as for Doma Vaquera shows and competitions.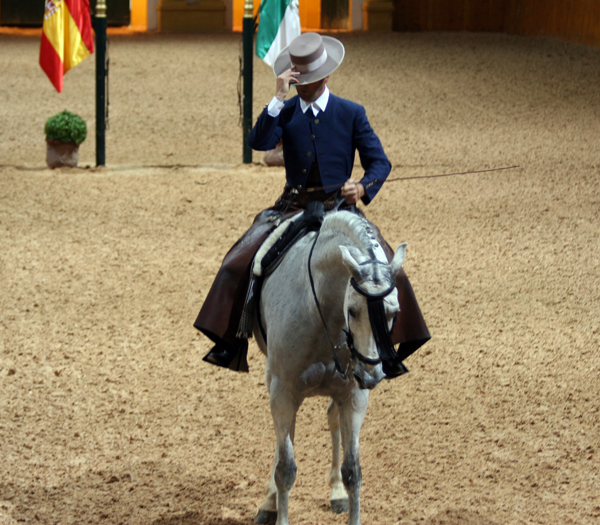 A rider at the Royal Andalusian School of Equestrian Arts in Spain.
With the hacienda system of medieval Spain, this vaquero style of cattle ranching spread throughout much of the Iberian peninsula and later, was imported to the Americas.
So what exactly is it?
The Vaquero saddle is fashioned to mould to the horse's back and has a soft, sheepskin seat, made for long, comfortable days in the saddle. It is really comfortable.
Vaquera saddle stirrups protect the cowboy working bulls in the fields, and allow him to quickly remove his foot in emergencies. Steel is traditional, but today, lighter stirrrups are available for trail riders.
Doma Vaqera Final in La Feria del Caballo de Jerez de La Frontera, Spain.
I used the steel stirrups in Donana National Park and at a hacienda outside of Sevile. They were a little hard for me to get used to because putting my heels down has been ingrained in me in my riding classes. You can ride with your heels slightly down, but not to the extent that I usually do.
The bridle is what most people have asked us about who have seen the Spain episodes. Many have long fringe called mosquera on the browband. The mosquera is made either of leather 'strips', silk or horsehair and meant to swing with the beat and keep away flies in summer.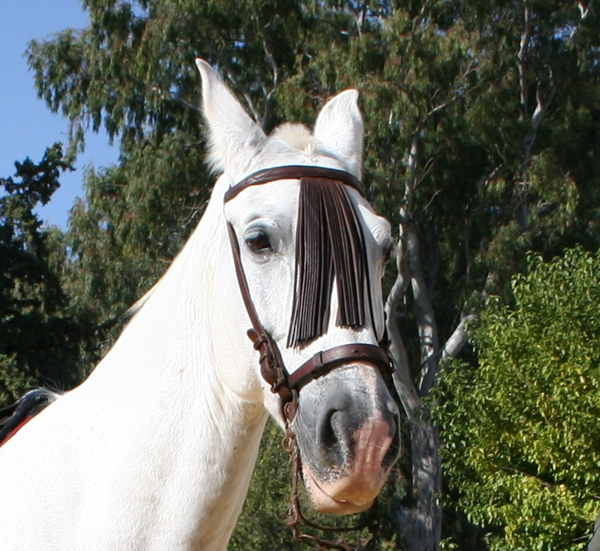 The Vaquera style is similiar to Western in that many riders keep the reins in one hand and ride with a loose rein.
Celebrate Vaquero Culture:
Travel to Spain for SICAB, an annual festival of exhibitions, compeitions, shopping and shows dedicated to the Purebred Spanish Horse. It's held during the last week of November at the Palacio de Exposiciones y Congresos in the wonderful city of Seville. I've been twice.
You may also visit the Royal Andalusian School of Equestrian Art in Jerez to watch How the Andalusian Horses Dance, an equestrian ballet set to traditional Spanish Music, featuring Doma Vaquera or country dressage, a riding discipline based on the everyday jobs carried out on horseback at working cattle ranches in Spain.
If you want to celebrate Vaquero culture in the USA, head to the 27th annual Vaquero Show & Sale, which celebrates the lifestyle and renowned horsemanship of the California Vaquero, in Santa Ynez, California. Artisans and collectors from throughout the West display and sell artwork, tack, collectibles and more! It's held at Santa Ynez Valley Historical Museum November 11-13, 2011.

Ride in Spain on an equestrian vacation. Find great Spain riding vacations at EquitrekkingTravel.com, including a special winter travel deal to buy one riding vacation and get another half-price on the Spain Dressage Training & Trail Riding Vacation.