Spain's El Rocío and Atlantic Coast Photo Journey
Beautiful images from Spain's Atlantic Coast, ancient pilgrimage roads, and Doñana National Park!
Ride magnificent Andalusian horses in this area of ancient culture and equestrian tradition. Discover beautiful scenery on exciting and varied rides on this holiday, which begins on ancient pilgrimage roads through quaint villages to El Rocío. On this riding vacation, pass through agricultural landscapes of olive and orange groves, through forests, and then onward to marshlands, sand dunes, and along the peaceful beaches of Doñana National Park. Guests stay in charming accommodations and taste traditional, local cuisine on this 8 day, 7 night horseback riding adventure in Andalucia.
Riders can expect to ride about 4 to 6 hours daily, and should be able to ride at all paces and have trail riding experience. This ride has varied terrain and includes cantering and galloping.
The horses on this holiday are well trained, yet spirited and fun to ride.
Most are Hispano-Arabs, Anglo-Hispano Arabs, and Andalusians, which are bred and trained by Alfonso Gonzalo de Bustos, who specialize in Doma Vaquera, or Andalusian dressage.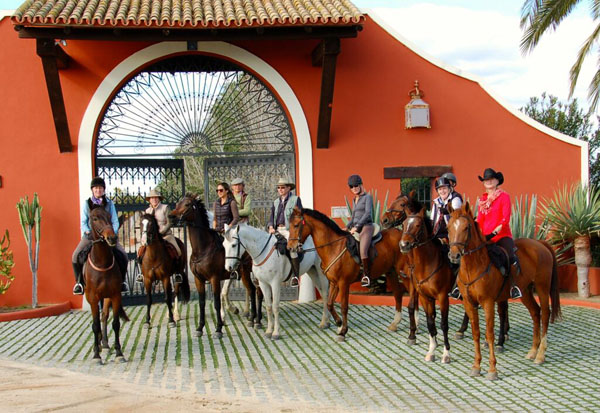 In El Rocío, considered the international village of the horse, all the houses have stables and the streets are sand tracks, making it horse friendly! In the times of the pilgrimage, this village hosted thousands of horses-many of them Andalusian stallions.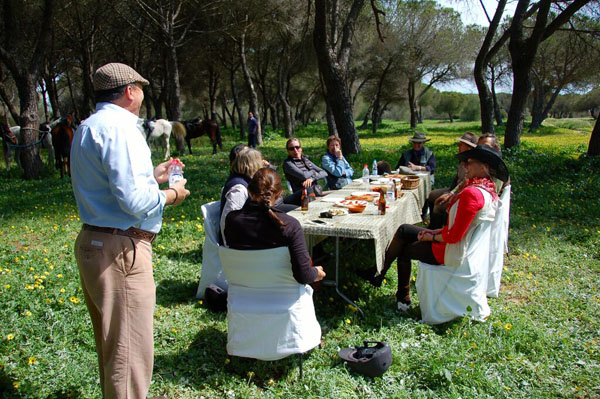 Riders are exposed to local cuisine with a sampling of many different dishes produced in the area.
Breakfast, aperitifs, lunch, and dinner are included while on the trek and a support vehicle follows the group for lunch and apertifs that are usually served as a picnic on the trail.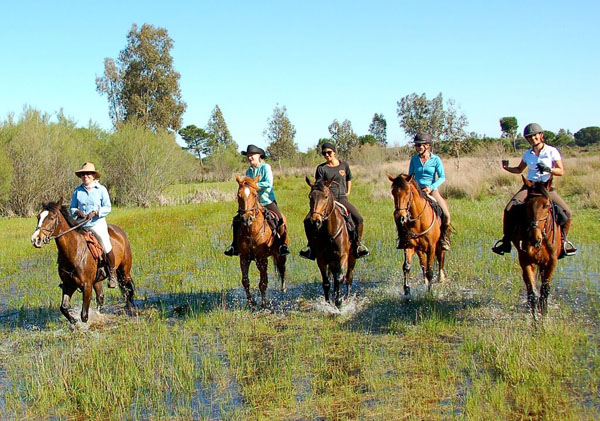 Doñana National Park is listed on UNESCO's World Heritage Site as a preserved biosphere and is one of the largest parks in Europe. It encompasses more than 200,000 protected acres with diverse plant, wildlife, and birdlife.
For a truly unique experience, guests ride the El Rocio pilgrimage route, one of the most famous pilgrimages in the region. El Rocio is home of the sacred Virgen del Rocío. The group will spend one night in El Rocio at the Hotel Patp Malvasía, one of the traditional houses which has been restored to a comfortable hotel.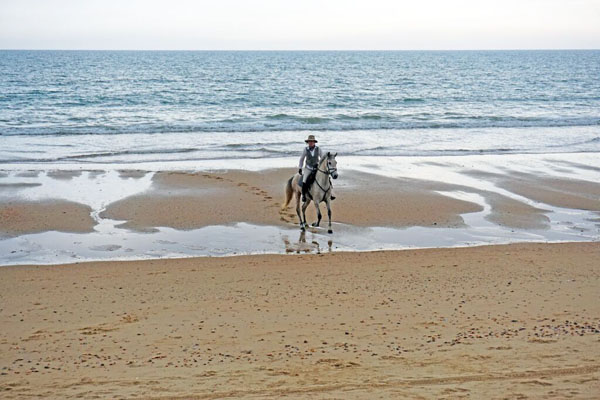 The ride goes along the most western part of Doñana National Park, which is quiet and secluded.
After exploring marshlands, lagoons, and diverse forests, guests will ride the fossilized dunes and along the seemingly abandoned beaches with opportunities for long gallops.
Learn more about 2016 itineraries, dates and rates for this riding holiday. Check out more great riding vacations at EquitrekkingTravel.com, Travel Deals on ranches and riding escapes and more great places to ride in the Equitrekking Vacation Guide.