Spain- Tapas on the Trail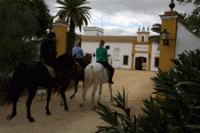 by Equitrekking host Darley Newman
Andalucía is a part of Southern Spain where orange groves and olives trees are lit by year-round sunshine, historic haciendas greet guests with abundant food and a relaxed Spanish lifestyle, and the magical Andalusian horses await to whisk you away on a romantic journey. This was Southern Spain as I experienced it - exploring Andalucía from the snow-capped mountains of Granada to the city of Seville and the beaches further south.
From La Corbera, a hacienda owned by Spanish breeder Alfonso Gonzalo de Bustos, we began a ride to historic area haciendas. I love the bright colors of these grand homes, where giant clay pots hold olives and horses are a sense of immense pride for the owners, especially Andalusian men, who work hard on their horsemanship skills. All over Seville, I found shops selling men's riding suits and formal costumes for competitions and festivals.
The blue skies were beautiful as we rode through fields of orange and olive trees to one of the oldest haciendas in the area, Hacienda Don Rodrigo. In an olive grove we stopped for a mid-morning aperitif. Alfonso laid out manchego cheese, Iberian ham, chorizo, olive oil soaked crackers, olives and poured cool glasses of manzanilla, a dry sherry. It is a tradition to stop on the trials here to enjoy food and sherry during rides- a tradition I would like to take back to the USA! By the time we reached the final hacienda, just in time for a big Spanish lunch, I knew I would want to follow the Spanish and take an afternoon siesta, after riding and eating all day in the Seville countryside.