Spain- Dressage in Andalucia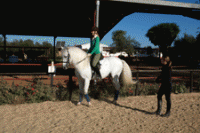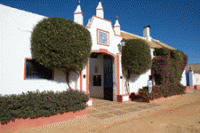 by Equitrekking host Darley Newman
As I watched Napoleon, a beautiful white Andalusian, prancing around, agitated at having to stand for a moment, I felt sure that this was not the horse that I would be riding for my dressage lesson. It was. Vivi Garcia, who has been studying dressage her entire life, including four years at the Royal Andalusian School of Equestrian Art in Jerez under Olympic medalist Rafael Soto, asked me if I wanted to ride Napoleon and feel the piaffe and passage. I kind of didn't, as I wasn't sure that I could handle him, but when else would I have the chance to ride a horse like Napoleon, who is so well trained, under the guidance of his trainer? After expressing my concerns to Vivi, I decided to try.
I was in Andalucia, Spain on the Spain Training & Trails equestrian vacation at Epona's riding center outside of Seville. This British Horse Society riding center specializes in dressage training.
Napoleon was just as I thought he would be, very responsive. I felt the energy right as I got on and took a few deep breaths to loosen up. Vivi led me over to a guard rail to make the session a bit safer and worked with me so that I was giving Napoleon the right cues. It's definitely a balance to get it right. You want to give just enough leg pressure and just enough contact with the reins, so that the horse knows what you want him to do. With Vivi's help, I was able to prompt Napoleon to do the piaffe and passage. I was amazed that I was able to accomplish this, while at the same time keeping my bum in the saddle.
Trying to do these dressage movements for the first time on this amazing horse gave me an immense feeling of accomplishment and helped me to further understand the extreme challenges involved in dressage. I can only imagine what skilled riders must feel like when they are dancing with their horses!
Learn more about dressage vacations and horseback riding vacations in Spain and beyond in the Equitrekking Vacation Guide and on EquitrekkingTravel.com.