Retreat to Montana with Yoga and Horses
Tap into your creativity and find your zen with a cowgirl friendly yoga retreat in scenic Montana.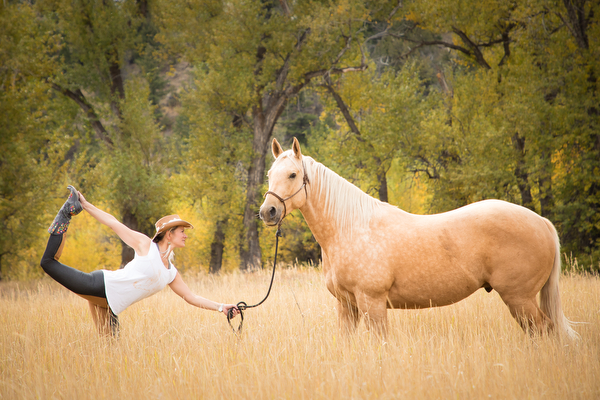 Margaret in Dancer pose with palomino quarter horse Gus. Photo by Lara Joy Brynildssen
You wake up to the smell of fresh brewed coffee, courtesy of Chef Kate, who has slipped into your cabin in the wee hours to make a pot for you. Yawning, you slip on yoga pants and walk the quarter mile trail to the refurbished old barn. You wave at Chef Kate, already busy preparing breakfast, as you head upstairs to the loft for an hour of yoga with Lisa, followed by 20 minutes of meditation with Margaret. As you sit silently, letting your mind renew itself, you hear the Cowgirl Yoga herd of horses whinny as Molly feeds them their morning meal. The smell of your own breakfast wafts up the stairs, tantalizing, and as the gong rings, ending meditation, your stomach growls. Everyone laughs as you roll up your mats and troop down to the big square table to eat together.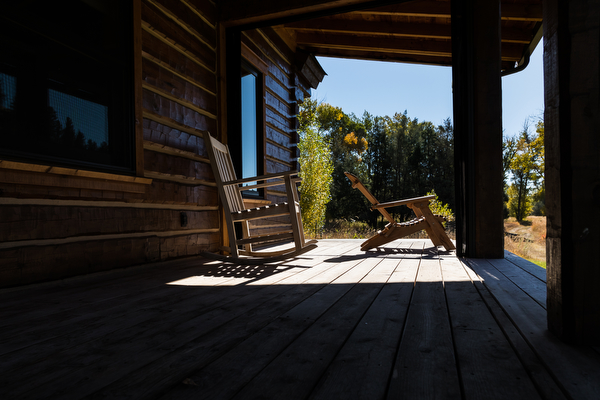 Sip your morning coffee in the sunshine on the porch of your cabin, surrounded by Montana wildlife. Photo by Lara Joy Brynildssen
This is the start of your day at Cowgirl Yogatography, a luxurious weekend retreat offered by Big Sky Yoga Retreats, founded by Margaret Burns Vap. The weekend is focused on photography, yoga and horses. If you prefer riding, rather than photographing horses, you can get a similar experience with Luxe Cowgirl Yoga, also held at the Double T River Ranch in Clyde Park, Montana. Even if you ride instead of shoot, I'm guessing you'll still want to bring your camera. The ranch, horses, and Montana in general radiate beauty. Capturing all of it with your camera will allow you to savor the memories you're bound to make.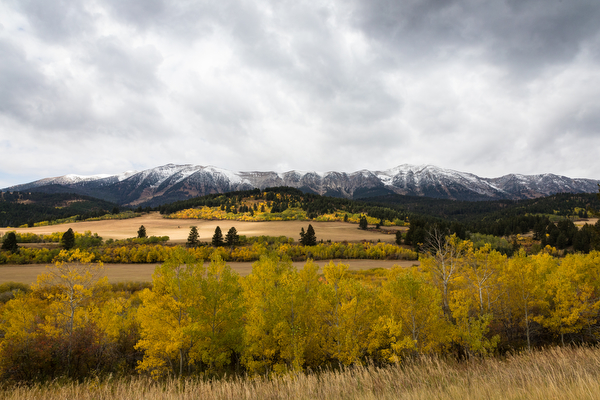 The Montana vistas are gorgeous en route from Bozeman to Clyde Park. Photo by Lara Joy Brynildssen
A few years ago I participated in Luxe Cowgirl Yoga, which includes hands-on work with the horses, and daily riding. This fall I returned as a guest photography teacher for Cowgirl Yogatography, a horse-based weekend that's focused on photography rather than riding. If I had to choose which was a better experience, I honestly couldn't say. Both retreats fill your weekend with horses and yoga -- and your belly with meals handcrafted by Chef Kate. There is also wine and community every evening around the big square table, surrounded by horse art painted by local artist, Abby Pittman.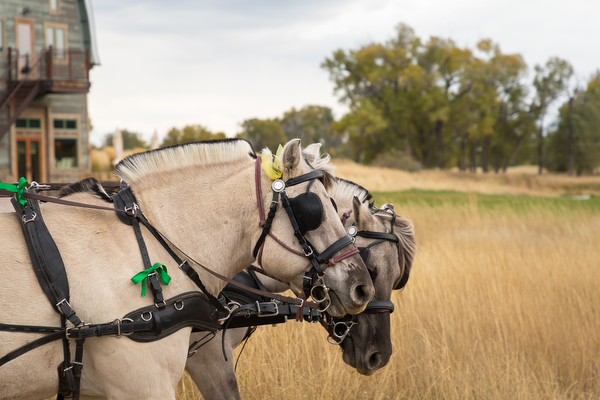 The Norwegian Fjord horses of Sunnyside Farms in front of the refurbished Double T River Ranch barn. Photo by Lara Joy Brynildssen
No one stands on ceremony at a Cowgirl Yoga retreat and you're just as likely to share your evening meal with a fellow retreater as you are with Molly and Henry (the official CY wranglers), Wendy from Sunnyside Farms (who will take you on a carriage ride pulled by her Norwegian Fjord horses), or Larry, (the official CY photographer), along with his wife and daughter. If you're missing a sense of community at home, you'll find it at the Cowgirl Yoga table.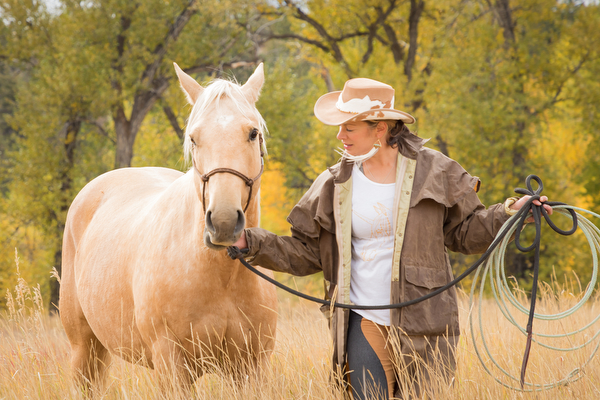 Big Sky Yoga Retreats founder Margaret Burns Vap doubles as a horse wrangler and model for Cowgirl Yogatography. Photo by Lara Joy Brynildssen
So back to my question... should you book a retreat to ride the horses or to photograph them? Personally, I'd book whichever one fits your schedule best. Just make sure you plan to come back again sometime soon. Whether it's Chef Kate's gluten free lemon ricotta pancakes, the charming herd of horses in the Double T corral, yoga with Margaret and Lisa, having your portrait done by Larry, or the beauty of Montana, you'll feel a strong pull to return, I know I did.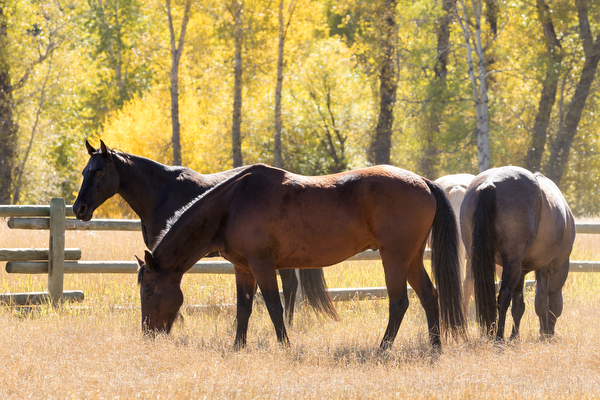 The Cowgirl Yoga herd poses in the sunshine as we photograph them. Big Sky Yoga Retreats. Photo by Lara Joy Brynildssen

About the author: Lara Joy is an avid equine, wildlife, nature and travel photographer. She is crazy about her two cats, loves her new Canon 5D Mark IV, and never refuses a sip of limoncello. More seriously, she is working on several series of wild horse images. Lara writes about, teaches photography, and exhibits her work in the Chicagoland area. Read more at www.LaraJoy.us. Follow Lara Joy on social media! Instagram: @larajoyphoto @wildhorsephotographycollective Facebook: @larajoybrynildssenphotography