Race the Wild Coast 2018- Part 1
Text by Katy Willings. Read Part 2 & Part 3 of this series.
Equestrian adventurer and endurance rider, Katy Willings shares her wild ride with Race the Wild Coast, a 350-kilometer horseback riding endurance race along the eastern seaboard of South Africa, from Port Edward to Kei Mouth.
I am just back from the second ever Race the Wild Coast, a pioneering 350km multi-horse race from Port Edward to Kei Mouth, through some of the most magnificent, rugged, and remote terrain in South Africa, the formidable Transkei.
I was one of 14 human athletes competing in the race, and we each had a team of three horses, and the help and scrutiny of a fantastic veterinary and logistical support crew at hard-won intervals. The race was broken down into 12 stages over four days, varying in length from 14 km to 44 km, and each bookended with an endurance racing-stye veterinary inspection and a hold for the horses if they were continuing on the next leg, or a horse change if it was time to switch horses.
This event combines some of the racing strategy and horsemanship of an endurance ride with elements of pure adventure, even survival. The toughness of the terrain and the conditions in which we were riding far surpassed anything I had experienced after a lifetime in the saddle and several FEI endurance stars to my name. My experience of the race was colored in large part by my slightly haphazard preparation - I was a very late entry, being invited by the race director Barry Armitage of Rockethorse Racing just a few weeks pre-race, and with other commitments which kept me out of the saddle and the saddlery until the literal eve of the event.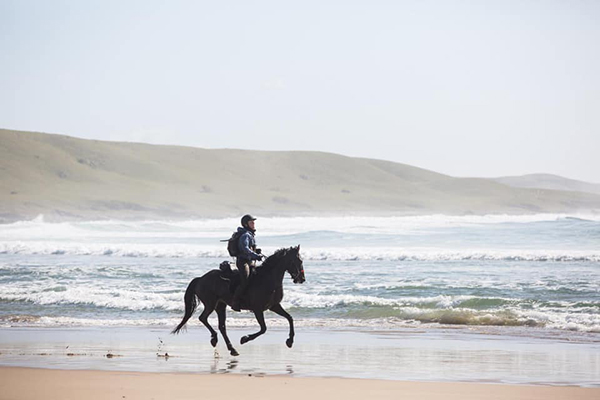 The author gallops Kwacha along the coastline. Photo courtesy Katy Willings.
This made me the underdog but in general, the results are entertaining, and because I am somewhat bloody-minded, I was able to get round in spite of myself and survive to tell the tale. So here is my Calamity Kate report of Race the Wild Coast, which holds some tips for future Rockethorse Racers, in a kind of "do as I say, not as I did" parable. It is a magnificent adventure, but not one to undertake lightly; enjoy my warts and all account, and commit to doing it properly, next year, if you like what you have read.
The event in a nutshell
Race the Wild Coast is the wildest horse race in the world; a remote equestrian odyssey across some of Earth's least accessible coastline, which must be self-navigated by GPS from beach to beach via vertiginous cliffs and punishing hills, dense forest, and yawning bodies of deep water. Contestants ride a series of three horses, theirs to manage and pace over multiple days and extended distances. There is an emergency back up, and live tracking, but outside of that, an authentic, demanding exercise in self-sufficiency, courage, and independence.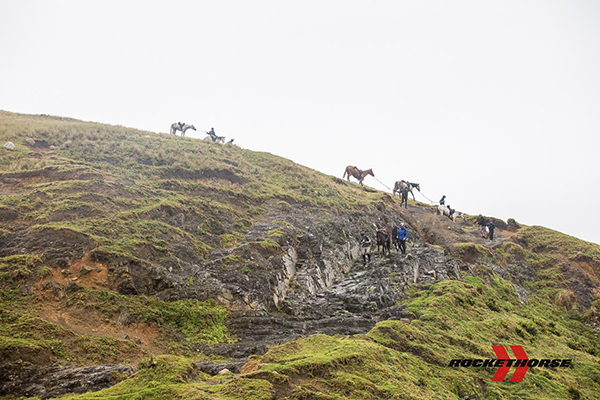 An example of the rugged terrain contestants must navigate. Photo courtesy Daniela Zondagh.
Pre-race briefings and training
"You're not going to get dry. Ever". This was the pithy opener from organizer Barry Armitage of Rockethorse Racing, as we sat down to absorb the first ride briefing. The racers gathered at Durban airport from all over the world and were transferred a couple of hours south the start line close to Port Edward. We had been given an overview by email of how the event would run, with the proviso that most of the detail would be top secret until we arrived in the country.
We did already know that this event is unique in including multiple serious deep water swims for horse and rider, hence you would be doing much of the race wet, and anything not stored cleverly in dry bags would be wet too. So, the 5 kgs of kit we were allowed to carry, rather than wear (for example our sleeping bag, torch, knife, pajamas, medical kit, food rations) would only be usable if we got the storage just right. The usual conundrums applied, about having enough kit to be able to handle various scenarios (injuries, different weather conditions) versus being able to stand packing and unpacking each morning without losing too much hair or time, and most importantly, not being too encumbered on the horse and off it. Much of the race would involve getting off to hike or swim, and getting back on again. Not so easy when you and horse are decked out with extra kilos and clutter.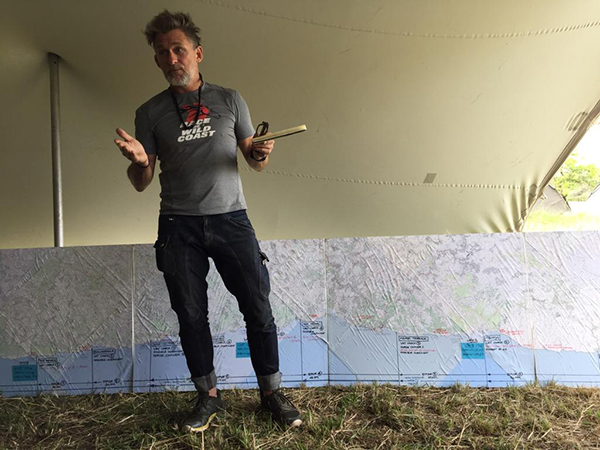 Barry, the race organizer, preps contestants for their next adventure. Photo courtesy Katy Willings.
In the absence of an opportunity for serious kit testing (I got a place on September 20th, and disappeared on a two-week motorcycle tour around France and Spain on September 28th). I simply banked all of this information mentally and resigned myself to being wet and uncomfortable for most of the race. Would it stop me? Probably not.
Still, it was an enjoyable bus ride with all the other riders, comparing notes on what we had brought, what we would be wearing and carrying, what we already knew, and what we were dying to find out. There was one repeat customer on the bus, Jamie, who had ridden the inaugural race in 2016 and was back to do even better, and he managed a barrage of questions pertaining to every aspect of the race with patience I could never have mustered. Everyone loves a veteran.
My approach did diverge quite significantly from that of the other riders, who had had six or nine months, rather than six or nine days, with the kit list. We weighed out our kit on the eve of the race and had two practice rides in which to master the art of packing the saddle bag and our race equipment so that we could be totally self-sufficient for the duration of the race. I went heavy on medications (never complain about something you can simply medicate - it's a family motto), and light on spare clothes, since nothing would last the race clean and/or dry. The sleeping bag I had to jettison, it was just too puffy and luxurious to attach to the back of the saddle, and so I swapped with one of the brilliant crew members, 2016 veteran Katja, taking her much smaller, lighter, frankly more pathetic, sleeping bag. Still, this was a horse race, not a camping trip. I didn't dwell on it.
Briefings covered where we were going (south, keep the sea on your left) and how navigation was set up; relatively blinkered, in fact, something which I initially found really disappointing. We would have a single path to follow on the GPS and were advised to zoom in very close, to within 120 m, to check constantly that we were precisely on the racing line. This was because the terrain through which the racing line carved was so extreme that to be 1 km off the track could mean you were down a cliff you would never be able to get back up again, or in the dense forest, you would have no hope of hacking a way through on your own.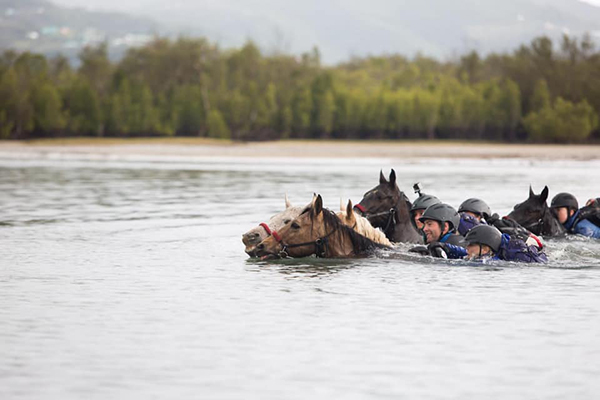 River swims make up a large and intimidating portion of Race the Wild Coast. Photo courtesy Katy Willings.
Similarly, the river crossings required accuracy, to find the shallowest and most forgiving channels and exit points, hopefully sparing the horses a sharp rock to the knees as they scrambled ashore. All these reasons made sense--but still, I had pictured using a decade of navigation experience and distance riding experience to 'read' the country in front of us and decide on the 'best' path for me and my horses. No. We'd all go the same way; there was only one viable route.
We also talked through the rules, and emergency protocols. Riders and horses would wear trackers and our rider mounted devices would have an SOS summons. We discussed what constituted an SOS and agreed that you would lay down your race at the point that you summoned SOS help, diverting the entire race's resources to rescuing you from whatever it was that had befallen you or your horse. So...think hard before you press the button and throw in the towel.
On the other hand, if it's life or death, or a precious horse's future health, it's bigger than yours or anyone else's race. The chopper will be there just as soon as they can scramble. Don't hesitate. Hit SOS. This was both sobering and reassuring. Looking around the room I saw a field of adventurers with the experience and grit to never cry wolf, and never give up unless they had run out of any other options. As far as possible, we would manage our own, and each other's pickles, without recourse to the crews and therefore outside assistance.
As for the rules, they centered around horse welfare, fairness, and safety--and I felt they were very cleverly designed. Horses had to come in sound and return to a resting heart rate of 64 or less within 20 minutes at each vet check. Any horse not fit to continue would put the rider out of the race. Horses would have 40 minutes at each hold for food and rest, and this was our only window for the same. Each of our horses would run over two days, not one.
There were a couple of spare horses at each vet check, and it was acknowledged openly that bad things sometimes happen with horses, so you could be out of the race with a lame or injured horse and just be unlucky. Still, to win the race you'd have to bring all three horses home sound and fit to continue, whatever luck befell you. All were happy with these terms. Tough luck. Horse luck, really.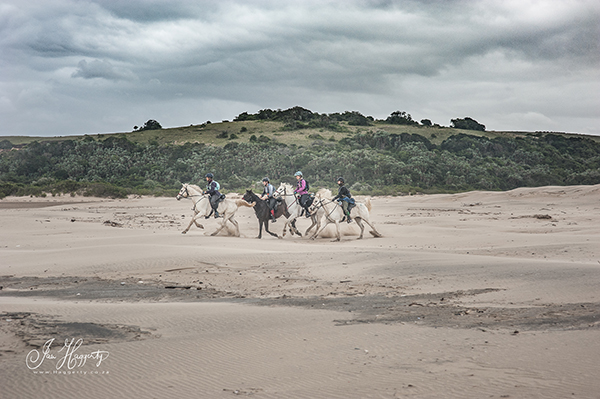 Contestants make their way across the finish line. Photo courtesy Ian Haggerty.
As for how to win, we were advised that it was a case of staying in the race for the first few days, and being in contention riding out of The Haven, 90 km from the finish, on Day Four. Leads were hard to establish, likely to be in the minutes rather than the hours, and hence we'd have to decide for ourselves when to stick together and when, or indeed if, to break apart. There would be no 'equal' placings. We would race for the line and be exposed for public glory, scrutiny, or ridicule in the order we finished. Chivalry had a place, but so did strategy and old-fashioned killer instinct.
Horses and riders got 12 hours off overnight, in theory. This meant that if you got into the night stop 15 minutes before your rivals, you could leave 15 minutes ahead of them the next day. This allowed some banking of advantage from one leg to the next, meaning swift vet checks, crisp morning protocols, and fastidious overnight repairs would pay dividends.
The river swims would impose certain logistical constraints on the racing field. Many had to be tackled on an outgoing tide, meaning cut-off times for departure and a compulsory overnight stop on Day One. We'd have to ride until we got there, whenever that happened to be. Race holds imposed to allow safer river crossings would not be credited - if you didn't ride to the race 'schedule,' worse luck, you'd just get even further behind. Again, this seemed eminently fair and reasonable.
So that was the theory. Now for the practice.
About the Author: Katy Willings was the Mongol Derby Chief from 2011-2018 and erstwhile Chief of Adventures at The Adventurists. Based in Bristol, UK, she was a junior international dressage rider in her teens. She rode in the inaugural Mongol Derby, the world's longest horse race, in 2009, sparking a later endurance riding career which saw her compete up to 120 km internationally, and became a full-time Adventurist in 2010, working on the Derby, and later the Ice Run, Icarus Trophy, and Monkey Run. In the course of producing high profile events for the Adventurists, she has ridden vintage Russian motorcycles in sub-zero temperatures, wrangled with customs in far-flung places, managed local and international teams to deliver logistically complex and culturally significant goods and services--and even learned to fly a paramotor. Kind of. She finally did her motorcycle test in May 2018 and took to the open road, legally, this summer. She has worked with horses in Europe, led horse treks and safaris in Mongolia and Malawi, and men and machines in Morocco, Siberia, and Sierra Leone. She has had as much adventure putting on the adventures, as the participants have had taking part. Oftentimes, a great deal more. She laughs in the face of people doing only two things at once.
She runs beautiful riding adventures in Mongolia, her spiritual home, from her bespoke offering, Morindoo Tours. Follow along with her adventures on Instagram and Twitter.