Race the Wild Coast-Part 3
By Katy Willings. Read Part 2 & Part 3 of this series.
Equestrian adventurer and endurance rider, Katy Willings shares the lessons learned during Race the Wild Coast, a 350-kilometer horseback riding endurance race along the eastern seaboard of South Africa, from Port Edward to Kei Mouth.
Take in beauty wherever you see it. It's oddly consoling
"Hey look! Whales breaching!"
Riding with Courtney was a gift in so many ways. A beautiful rider, thoroughly prepared and fit, but above all, just a sunny and positive disposition. Our second horses carried or accompanied us over, under and through some of the toughest terrain of the entire event. There were ascents which we hiked, mouths agape and throats on fire, able to reach out and touch the ground in front of us without leaning forward, such as the incline, and of course, what goes up, must come down. There were stony, rocky, slippery muddy descents which left us skiiing, reaching out for any hand or foothold to help us, the horses waiting at the end of 30 foot of leading rein for us to vacate the very limited landing options before making their own way down.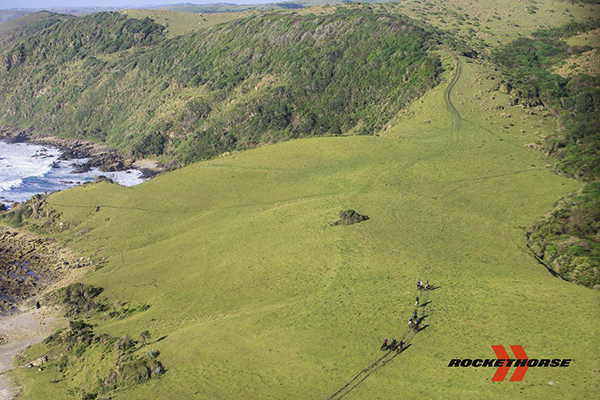 An example of the beautiful country and terrain we were riding in. Photo courtesy Daniela Zondagh.
I would frequently hear a deep groan from my horse and the scrabbling of hooves, followed by a heartbeat's silence as he jumped and then see a hoof land right next to my gloved and trembling hand, and feel true wonder and gratitude that the horse was so careful as to avoid trampling me. The efforts they made to descend safely and efficiently, and consider their human team-mates was humbling.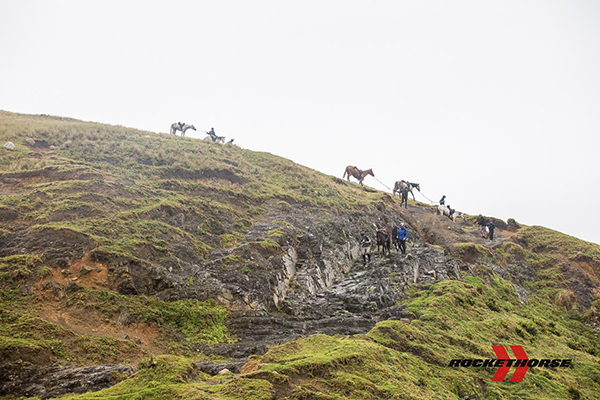 Despite the difficult terrain, our horses always did their best to keep their human teammates safe. Photo courtesy Daniela Zondagh.
Internally, I was suffering a lot, at times, feeling blisters develop on my feet and ankles, hyperventilating from the excruciating jolt to my arm every time I mounted or dismounted, encumbered by backpack and cursing my unorthodox physical preparation for the event. I bet no-one else was finding it this tiring. And just when the defeatism might have started to settle, we came round a blustery headland, hugging a vertiginous cliff that put us right out over the Indian Ocean, where there were several whales down in the surf. Courtney pointed them out to us, beaming. These moments of levity and sublime natural beauty reminded us how ridiculously lucky we were to be in this awful, awful situation. Oh, poor me, leading this fabulous horse across this wild paradise.
Prepare for success on the ground and it will follow in the saddle.
What you did in the downtime was mission critical, always. It would be hard to identify on the race who the 'best' rider was, so much of what we were doing bore little resemblance to riding. Horsemanship was certainly involved, but really, with all the other aspects of the event smacking you round the chops on a near constant basis, riding was the least of our concerns. The best legs I had were always the ones preceded by a Formula One standard pit stop. I had a list of things I had to get right before getting back in the saddle, and nothing could interrupt this. The list grew as the race wore on and my own deterioration started to affect things.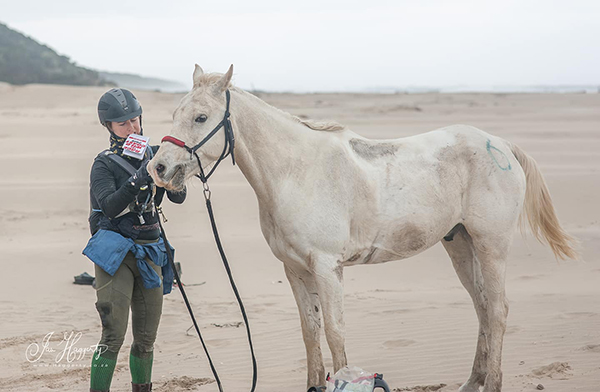 Makin, the little grey engine that could. He never stopped trying. Photo courtesy Katy Willings.
At Kob Inn, just 50 km from the finish line, 40 minutes was enough time to re-shoe Makin, my final horse, who had thrown a front shoe for the second time. Pelo the farrier did not have a great deal of hoof left to work with and deftly re-shaped the foot to take two corner toe clips, like a hind shoe, to give me a better chance of hanging on to it for the homeward leg. While Makin stood patiently on three legs, I fed him from a bucket, watered him, rubbed his hamstrings and cleaned his girth and back, all with my tights around my ankles. This was because a saddle sore on my thigh which had begun to nag the previous afternoon was now a site so painful it made sitting in the saddle at a trot, our go-to pace, unbearable. It needed dressing.
I also needed feeding and watering and could have done with a pee, too, but there were limits. I knew as soon as I levered back into the saddle, I'd regret not making the dressing the priority. Two other riders and Ian and Katja from the Rockethorse crew, all attended me, bringing me ointments and bandages, food, water, and just carrying on as if it were the most normal thing in the world. Enjoy the photo!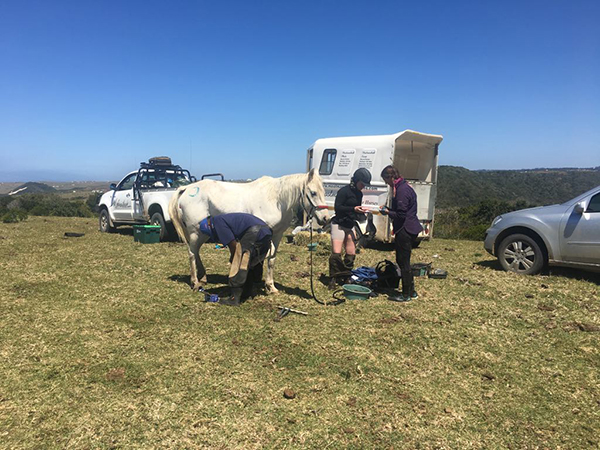 A legendary pit stop at Kob. Photo courtesy Katja Joachim.
The luckier riders (or those who had field tested their kit and were not subject to the same misfortunes I was suffering), probably completed their 'pit stop' duties in ten minutes, not 30. They may have actually had some downtime. However, I was always running hard to stand still, just trying to keep up and outrun my own little issues.
Observe the Law of Tyson. "Everyone has a plan until they get punched in the face."
What I mean by this one is that success on this race is a dynamic thing. Plans and ambitions have their place, but more crucial is the ability to set your plans aside and make new ones, fast. And be ready to revise them too. I love the AERC motto, "to complete is to win", and think this event, and certainly, my particular experience of it, embodies that motto neatly. There were a couple of pinch points in the race where I could have sling-shotted back up the order and aimed for a different kind of success. Our little pod of four riders crept up to eight or nine over the second day, as other riders had issues with their horses and dropped off the back of the leading pack. We hung together loosely and navigated the vet checks within a few minutes of each other, but Courtney, Cat and I felt like a team within the team; we'd hold each other's horses and bring each other food or water.
On Day Three we had an exciting tactical victory; having overnighted a full 20 km stage behind the leaders, we set off at 4.45 AM, to ride in the dawn light, what they had ridden in the dark 12 hours earlier. We did suspect that we would close the gap, but we did more than that and actually arrived at Hululeka at 6:00 AM, and passed the vet at 6.03 AM. We'd be riding out again at 6.43 AM, smack in the middle of the leading pack and within ten minutes of the race leader.
However, those we slingshotted past did not give up their lead easily! Within 20 minutes, two and three riders had caught up and galloped past us. Our entire group turned into a racing pack, barely taking a pull up and down serious country and down very narrow tracks. There was a bit of brinkmanship going on and Cat, Courtney, and I all felt we didn't want to be in and amongst that salmon run. Kwacha my horse was incredibly capable but very lit up by the racing and getting silly. At one point I lost him while trying to remount after a hiking section, and he galloped for the hills and caught up with the rest of the herd.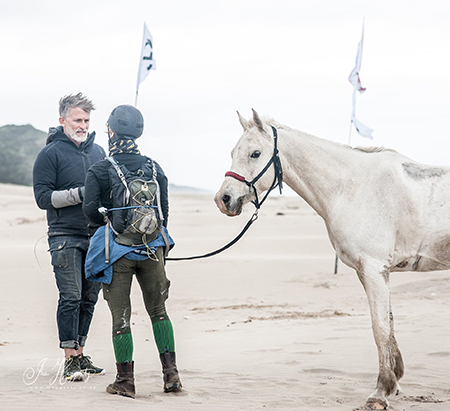 Makin. Photo courtesy Katy Willings.
It took me a long time to run over to him and remount, and I saw Cat was also crusted in mud, she had also taken a tumble in the melee. A lack of strength to fight with our mounts and peel them off the back of the group meant we continued to race as a herd into the next vet check, in the heat of the day. Everyone was scrabbling for washing water to cool the horses, this the first time in the race that the sun had broken through, or that we had come in to a vet check with any degree of speed (Kwacha had more or less flown down the beach, with my efforts to anchor him falling on deaf ears). A lot of the riders took the full 20 minutes to return their horses to a resting heart rate of 64. I knew Kwacha was uncommonly fit and though he was hot, I presented him at 13 minutes. He was 64 on the nose. Phew! Courtney's little stallion was five or six minutes behind us.
I could ride back out into the salmon run, get overtaken again by the faster riding Americans, Julie and Melissa, and the speed merchant Mohammed from UAE--and deal with my lit-up horse. Or, I could hang back and let them go, possibly never to be seen again, and continue to ride my own race with Courtney and Cat. If you had asked me a week pre-race what I would have done, I would have said "join the race. You just earned that success, so go and capitalize on it". But after a fair few punches to the face, my plans needed adjusting. I knew I would not win this race; too unfit, too horse-centric, too many mistakes. I would not risk the horse for my placing, and I would not ride off without the ladies who were propping me up on an almost continuous basis.
At the final horse change, 25 km later, my final horse choice reflected that same decision, which could now not be undone. I chose a horse that looked older, wiser, more independent, less flashy than the glorious Kwacha and enigmatic Zerango. Makin was totally white and long in the tooth, a teenager I assumed. Not too tall, for easy mounting and dismounting. Alert but not daft. Not a big mover (this in itself would help me I assumed, now that saddle soreness was emerging). He was the right partner for the remainder of my race; one that would just let me ride him, not fight to hold him.
Our double shoe-loss cost us another hour and more of race time vs the leaders. He was footsore almost immediately and we had 8 km of sharp stony tracks to hike to get to a vet and the farrier, which was a painstaking walk in the heat of the afternoon. I sent Cat and Courtney on without me and continued solo, running out of water at some point, and, worse, feeling the elastic 'ping' of my sports bra as the front zip apparently gave way. I stood at the side of a dusty road laughing for a while about that one. Of all the things that would be race ending, breaking my sports bra was a good one. Well played, Mike Tyson, well played.
Unable to access my underwear on the march I just walked on gloomily and added it to the list of "things I will deal with if we ever make it to the next vet check". We did, and I did, and after some motivational talks with Wiesman (the horse was perfectly sound, he'd perk up after a feed and with his trainers back on) and Australian vet Cozy (you can ride on with Julie from here, you are not that far behind, and you have a lot of folks rooting for you at home. Here, let me stick a vet wrap on that thigh), we trucked on again.
That night, as I joined the rest of the pack at The Haven, Cat and Courtney told me they would wait to ride out with me the following morning, giving up a 20-minute lead. This, for me, is the stuff of true adventure--we pool our resources, equine and human, and keep each other going. And we roll with the punches. They took many more punches for being in proximity to me…
Take home a better version of yourself.
This event is a wonderful test of human and horse. It's a conduit to much larger things, and about so much more than riding and traveling, or even the Wild Coast. I was turned inwards for so much of this race, bent to the task of carrying on, that the beauty, fun, and glamour of it were only showing up in memory weeks later.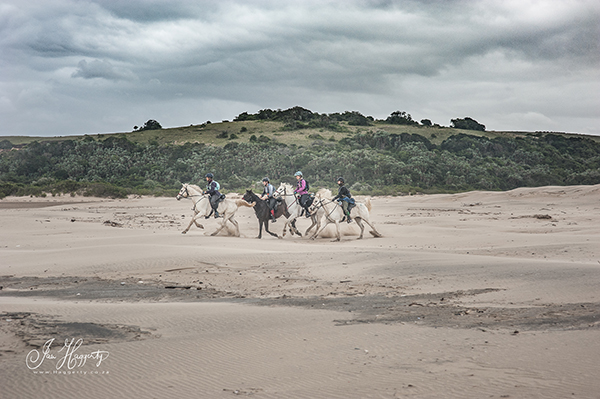 The finish line. Photo courtesy Ian Haggerty.
The fun was definitely there though. Riding away from our first re-shoeing, with Julie for the company, Makin refreshed and back on form, Barry flew overhead in the backup helicopter. It's shadow danced across us on the beach we were cantering down, waves crashing to our left, blue skies overhead. Our horses had something of a 'moment' - they feigned fear at the helicopter and started to gallop, flat out, down the beach. Makin, the horse I had considered the most business-like and steady of the set available--was the fastest thing I had ridden. He was absolutely lightning. Julie and I looked at each other as if to say "should we try and slow them down?" but we had kilometers of beach ahead, 20 km more in which to settle them down, so we let them run.
I had tears rolling down my cheeks--possibly from the wind, but also as an emotional response to such a massive rush of adrenaline and wellbeing--of that sense of time and place and "don't ever forget this moment". I won't.
About the Author: Katy Willings was the Mongol Derby Chief from 2011-2018 and erstwhile Chief of Adventures at The Adventurists. Based in Bristol, UK, she was a junior international dressage rider in her teens. She rode in the inaugural Mongol Derby, the world's longest horse race, in 2009, sparking a later endurance riding career which saw her compete up to 120 km internationally, and became a full-time Adventurist in 2010, working on the Derby, and later the Ice Run, Icarus Trophy, and Monkey Run. In the course of producing high profile events for the Adventurists, she has ridden vintage Russian motorcycles in sub-zero temperatures, wrangled with customs in far-flung places, managed local and international teams to deliver logistically complex and culturally significant goods and services--and even learned to fly a paramotor. Kind of. She finally did her motorcycle test in May 2018 and took to the open road, legally, this summer. She has worked with horses in Europe, led horse treks and safaris in Mongolia and Malawi, and men and machines in Morocco, Siberia, and Sierra Leone. She has had as much adventure putting on the adventures, as the participants have had taking part. Oftentimes, a great deal more. She laughs in the face of people doing only two things at once.
She runs beautiful riding adventures in Mongolia, her spiritual home, from her bespoke offering, Morindoo Tours. Follow along with her adventures on Instagram and Twitter.