Race2Ring Comes to the Rescue of Ex-Racehorses
According to statistics released by The Jockey Club, approximately 25,000 U.S. Thoroughbred foals were born in 2011. Only a small percentage of these will become successful racehorses. Have you ever wondered where they will go after their racing careers end?
by Raina Paucar
As horse lovers, we all want to see our equine friends living happy and healthy lives. I volunteered a few years ago to ride an ex-racehorse in a Thoroughbred breed exposition for CANTER, which provides retiring Thoroughbred racehorses with opportunities for new careers. When you see something close to your heart in need of change, you may feel compelled to take action. That experience helped me realized the importance of the work of ex-racehorse rescue organizations like, CANTER, New Vocations and Race2Ring. I have since adopted my own off the track Thoroughbred or OTTB.
I met De Jonas through her affiliation with CANTER. De has partnered up with Patrick O' Leary and Di Porth to form her own Thoroughbred rescue organization, Race2Ring (R2R).
The nonprofit organization R2R is making an impact by rehabilitating and retraining ex-racehorses to help them find new homes. Find out how they provide a second chance and a bright future for horses who are at risk for slaughter and neglect.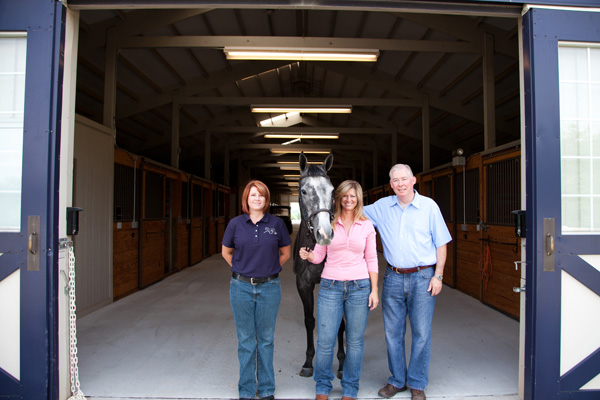 The Race2Ring team: De Jonas, Di Porth and Patrick O'Leary © Erica A de Flamand / the-summerhouse.com
Raina Paucar for Equitrekking: Who is behind R2R and what's your mission?
R2R: Race2Ring is collaboration between De Jonas, Patrick O'Leary and horse trainer Di Porth. R2R is a nonprofit organization with a mission to give professional rehabilitation, retraining, and placement for retired Thoroughbred racehorses in qualified homes so that they may reach their full potential in a productive second career.

When Thoroughbreds are no longer able to race due to age, minor injury, or lack of ability, we provide specialized care and training to transition them to productive new careers. This training ensures they will lead productive, happy, healthy and safe lives after retirement from the track. Race2Ring provides the special training needed and then screens qualified homes where these Thoroughbreds will receive quality care and a new life in dressage, jumping, cross-country or trail and companion use. We also offer outreach to educate the public about the Thoroughbred industry and the great potential of Thoroughbred horses and to engage them in our mission.
Equitrekking: How did each of you get involved with horses?
R2R: De has owned horses most of her life, and showed extensively in the American Paint Horse Association (APHA) circuit for several years under trainer, Roy Blanton. She and her horse have received several ROMs and Circuit Championships during their show career. She was a volunteer at the Humane Society of Catawba County for many years, working with the public to educate pet owners and screen potential adopters. She also volunteered with a veterinarian and now works with veterinarians across the community helping horses and their owners. She then volunteered for CANTER Ohio for several years updating their website for horses listed for adoption.
Patrick's involvement spans many years. He has been with several therapeutic riding programs for children with special needs. He also supports the North Carolina Caisson Unit which provides horse-drawn funeral services for police and fire officers who die in the line of duty. He became interested in repurposing off the track Thoroughbred horses after meeting De and he has since adopted seven Thoroughbreds. Five came from New Vocations, one of the leading Thoroughbred racehorse adoption programs in the United States, one directly from a jockey and one that was rescued before by De.
Di has also been involved with horses since she was a child. Her grandfather raised Quarter horses and started a local riding club called the "Palomino Parade Riders" in Michigan. She joined the local 4-H Club and trained and practiced on her own horses for many years. She showed successfully in local open shows and competed at state finals and even turned her hand to team sorting and penning. She was also a member of a horse judging team and knows a great deal about conformation and movement. She lives and breathes horses and now works full-time retraining Race2Ring Thoroughbreds.
Equitrekking: Why did you create R2R?
R2R: De Jonas has been passionate about Thoroughbreds for years and had considered starting up a Thoroughbred rescue operation for a long time. She approached Patrick O'Leary almost three years ago with the outline of a plan and persuaded him to get involved, adopting some Thoroughbreds. He also made one of his equine facilities available for use as a Thoroughbred center. Last year, we decided to form a nonprofit together and quickly received our 501c3 status from the IRS. We hired Di as our trainer and set up operations in a beautiful new 26 stall facility on Lake Hickory in Conover, NC.
Equitrekking: Why do you feel there is a need for organizations like R2R?
R2R: There were nearly 25,000 new Thoroughbreds registered with the US Jockey Club last year. Worldwide, there are more than 195,000 active Thoroughbred broodmares and approximately 120,000 newly registered foals annually.
Most of them won't succeed at the track. Properly retraining them and placing them in new homes requires significant resources and a better alternative than slaughtering them when they are no longer needed for racing.
Equitrekking: What are the goals of your organization?
R2R: Our primary goal is to develop a high quality, transparent retraining process for Thoroughbreds and match retrained horses with new owners who have a good chance of being successful partners with them for the rest of their lives. We also want to educate people about the Thoroughbred breed and engage them in supporting our goals.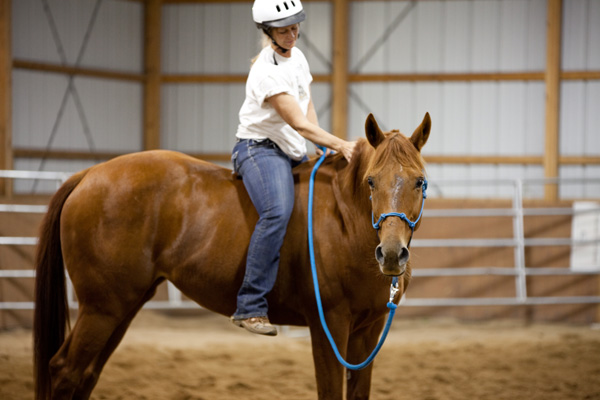 Di Porth training an R2R rescue © Erica A de Flamand / the-summerhouse.com

Equitrekking: In your opinion, what makes ex-racehorses great adoptees?
R2R: OTTBs are sensitive, intelligent, athletic and have a real need to please humans. They have excelled as hunter / jumpers, in dressage, eventing, competitive trail riding, fox-hunting, 4H, barrel racing, carriage driving, pleasure riding, and even as police horses. Sixteen of the forty-five entrants for the 2011 Rolex Kentucky Three Day Event (the only CCI4* event in the USA) were off the track Thoroughbreds. This clearly shows that Thoroughbreds can successfully compete in the most demanding of equestrian sports.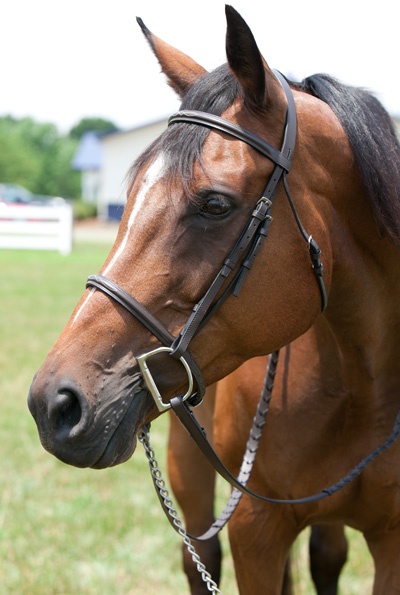 Rosie © Erica A de Flamand / the-summerhouse.com

Equitrekking: Can you share a success story with us?
R2R: Rosie came to us as a "re-rescue." She was taken home by a woman jockey who loved her size and conformation and believed she would be perfect for any English style riding discipline. Eventually, she was no longer able to care for her and was looking for a new home.
Rosie has great blood lines, but did not have the speed for racing and had been a broodmare for three years. She was not ridden for a long time. We chose her to test out our training program, and she is now a very different horse.
Di has worked to completely desensitize her and retrained her walk, trot and canter from the ground up. It has taken several months, but Rosie is our first graduate. She was adopted by a local couple in Hickory who were sponsoring her and following her training for the last three months. We will follow her new career with great interest.
Equitrekking: How do you think the recent restoration of the horse-slaughter industry will affect R2R and similar organizations?
R2R: In 2010, the U.S. Government Accountability Office reported that 138,000 horses were exported to Canada and Mexico to be slaughtered for meat.* This shows that the banning of horse slaughter in the U.S. was not successful in reducing the number of horses slaughtered – they were just being trucked long distances for the same outcome.
We estimate that at least 30% of these slaughtered horses were probably Thoroughbreds. There is already an incredible burden on existing horse shelter non-profits in the United Staes and we do not expect that to change anytime soon. Basically, there are more unwanted horses than we are able to cope with as a country. The economy has left many unable to pay for their horse's care.
We see the real issues as being related to a lack of control over the number of horses being born each year and a lack of effective laws with meaningful consequences for cruelty to horses. There is also a lack of regulation on the minimum amount of land and facilities required to house a horse. For us there won't be much change – we will only be able to retrain the same number of horses. We hope, however, that humane treatment of horses will move up on the political agenda.
Equitrekking: What is the most effective way for people to get involved with ex-racehorses?
R2R: The care and training of ex-racehorses requires a myriad of daily tasks. The daily feeding, watering, grooming, turn out and put up all takes time. Tack needs cleaning and organizing. The horses need training and exercising. The barn and grounds require maintenance. The trails require clearing. So, volunteering your skills and time at a stable focused on ex-racehorses is a great way to get involved. Hopefully, you will be able to adopt one for yourself one day.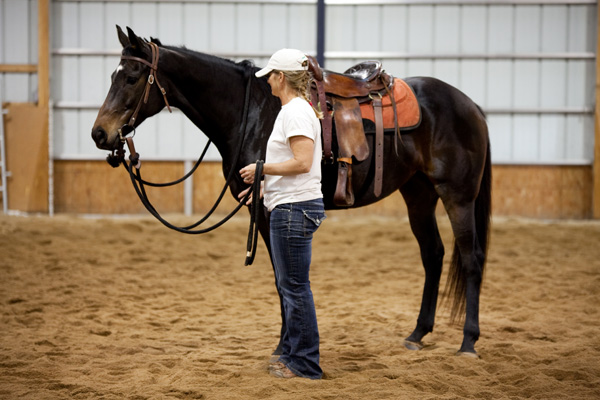 Di Porth with an R2R trainee © Erica A de Flamand / the-summerhouse
Equitrekking: What's the next step for R2R?
R2R: We have been looking for a way to have our governance process, facilities and horse treatment independently verified by a reputable third party. We chose the Global Federation of Animal Sanctuaries (GFAS) because of how well developed and transparent their standards are.
We submitted our application and were inspected in November. We were told just before Christmas that their board had approved us as having earned GFAS Verification. We are very proud of this and have learned a lot from the process. We are committed to a journey of continuous improvement and being associated with other animal welfare organizations is a great way to keep improving.
Equitrekking: How can people support R2R and other Thoroughbred rescue organizations?
R2R:
1. Make a Cash Donation - Anyone can make a tax deductible donation directly on our website.
2. Donate - Equipment, tack or hay to help our operations.
3. Sponsor-A-Horse - It costs the program approximately $500 per horse, per month for training, feed, the veterinarian, and other care. Horses can be sponsored yearly or monthly. People can select a particular horse or simply indicate that the donation goes to the Sponsor-A-Horse program.
4.Participate in Corporate Matching - Many businesses will match donations made to 501(c) (3), nonprofit organizations. People can check with their employers to see if they participate in the corporate matching program.
5. Volunteer - As Race2Ring grows, we are looking for volunteers interested in helping to care for the barn, execute fundraisers or special events, exercise the horses as they work through the training process. Interested volunteers can submit an application at Race2Ring.
6. Adopt a Horse - If you are looking for your next equine partner, consider adopting one of our talented Thoroughbred horses. An application can be submitted directly on our website.
7. Spread The Word - Help spread the word about Race2Ring through social media! Support us on FACEBOOK and TWITTER; and tell your friends about the organization so that we can help more ex-race horses find a new career!
About the Author: Raina Paucar is an adventure loving equestrian and female jockey. She likes to ride fast horses, explore new places, read great books, gadget hoard, play games, take pictures and write. She currently exercises racehorses and works with her own off the track Thoroughbred (OTTB). Her career in media focuses on equestrian lifestyle.
* U.S. numbers for the approximately 25,000 U.S. Thoroughbred foals were born in 2011 from the Jockey Club Online Fact Book (2011) Annual North American Foal Crop, Retrieved from http://www.jockeyclub.com/factbook.asp?section=2
* Highlights of GAO-11-228, a report to congressional committees (July, 2011). Retrieved from http://www.gao.gov/new.items/d11228.pdf