Meet Your Host- Stone Horse Expeditions Mongolia Riding Vacations
Learn about Mongolian Saddles, horse culture and what it's like to take a riding vacation in Mongolia from the husband and wife team whose passion for Mongolia spurred them to start their own horse trekking business and show others the view from the saddle.
Co-owners of Stone Horse Expeditions & Travel, husband and wife team Keith Swenson and Sabine Schmidt, have decades of experience in wilderness guiding and travel. Leading travelers on horseback into the Gorkhi-Terelj National Park and Khan Khentii Special Protected Area is no small feat! The small, but the strong Mongolian horse allows them to get into nature to areas inaccessible by other means. Sabine and Keith own all of the horses they use for their trekking business and continue to work as conservation professionals in parks, cultural landscapes and with local communities, so have great connections to help you have an authentic travel experience in Mongolia.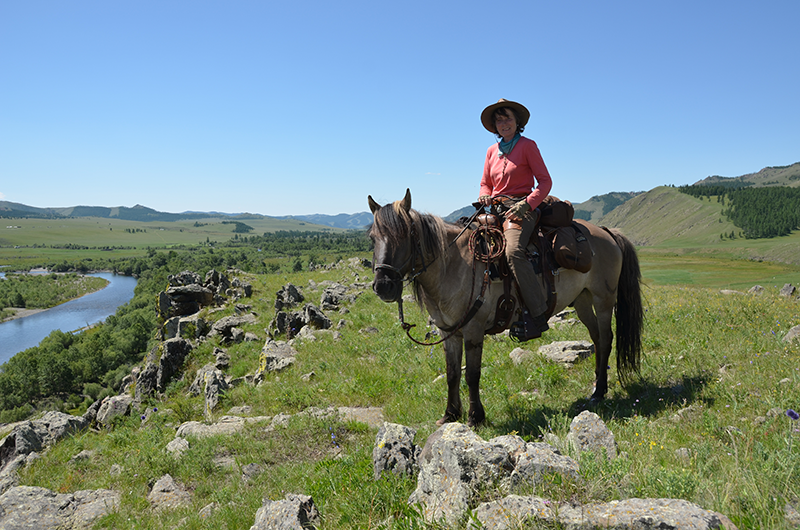 Sabine on "Good Boy" in Gorkhi Terelj National Park enjoying the view from a highpoint enroute to the Khentii mountains wilderness.
Having heard stories of Americans traveling to Mongolia and riding on bum breaking wooden saddles, we were interested to hear Sabine's remedy. Sabine learned the craft of Western saddle making, spending off-seasons in the American West and has hand-crafted the saddles you'll ride during your Mongolia riding vacation, fusing the Western and Asian saddle.
A conservation minded couple, Sabine started her career in Antarctica, exploring the icy wilderness with a small overwintering team to document the threats to the environment. Keith worked as a wilderness ranger in Idaho and spent years as a survival instructor and safety coordinator for expeditions in Antarctica.
We caught up with Sabine on a break from horse riding to learn more about riding in Mongolia and their unique treks.
Equitrekking: What's most special about traveling in Mongolia?
Sabine Schmidt: This is Mongolia and the horse culture here is quite unique. The horses are smaller than those one would find in America or Europe, but they are really tough and have exceptional stamina–– good mountain horses.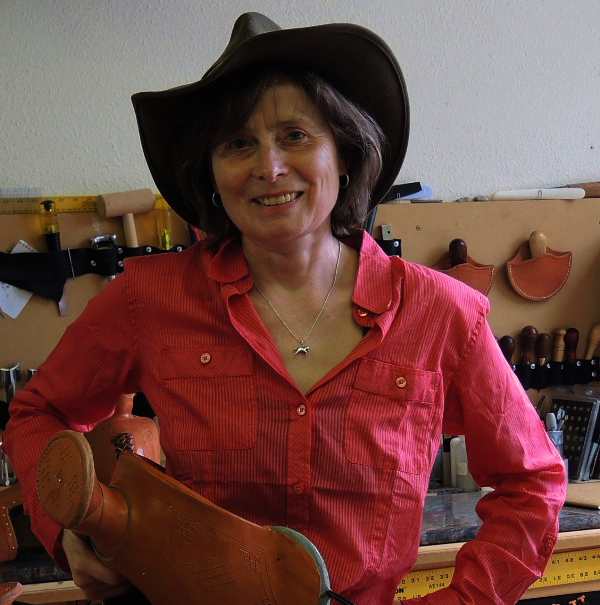 Sabine in her saddle shop.
Our rides take us through the cultural and wilderness landscapes of the Gorkhi-Terelj National Park and the Khan Khentii Strictly Protected Area, the mountains and valley's where Chingis Khan grew up and honed his skills as a horseman and warrior. Combined, these two protected areas make up the largest road less area in the country. We ride past gers–– or yurts, as they are known in the West–– the traditional felt covered portable tents that Mongolian nomadic livestock herders have used for centuries and still use today. We meet and interact with local herders along the way. We see and experience local culture as well as ride through stunning wilderness.
Equitrekking: What inspired you to lead travelers on horseback riding vacations in Mongolia?
Sabine Schmidt: We've lived and worked in Mongolia for the past 15 years helping develop the national park system and working with nomadic herders who have used these areas for centuries. Growing up with horses and being at ease with them, it was natural to begin exploring the backcountry and then taking friends and family. It was an easy transition into developing the tours and then the longer horseback expeditions.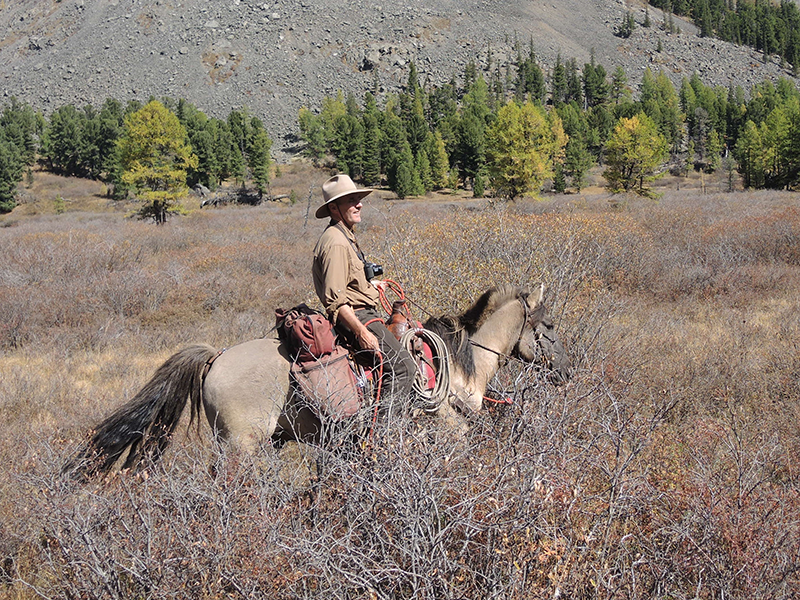 Keith on "Little Big Man" during a 14 day Khentii Wilderness Expedition.
The Mongolian horse is great to work with and ride. Like all horses when you get to know them, they have such strong individual traits. We own all the horses we use on our trips and know them well. Also our park and conservation work keeps us deeply involved in wilderness and park issues. Bringing guests into these areas, we showcase to them the natural beauty of the country. It's very satisfying. We always feel that our guests leave us as good friends and that we've shared an extraordinary experience.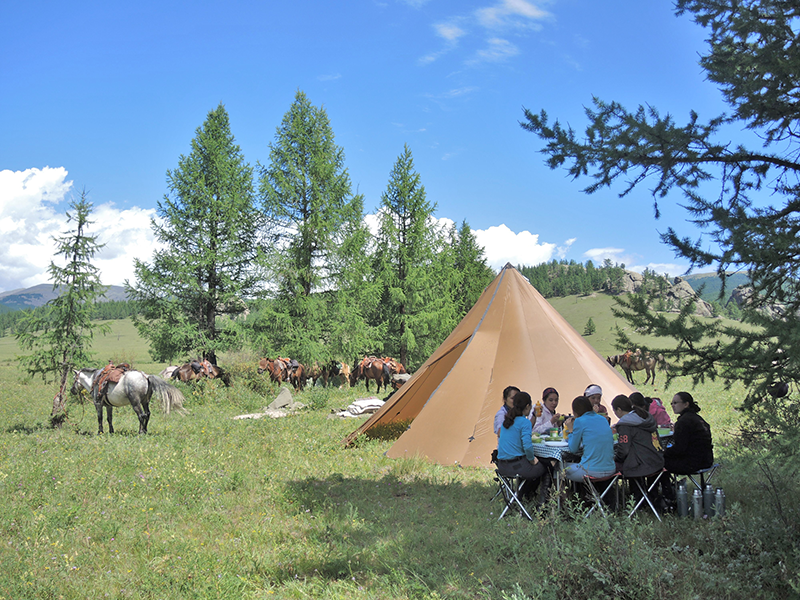 Camping with Stone Horse Expeditions is at scenic sites. Group tents, heated in the cool season, dining tables and pre-dinner wine are part of the signature camping comforts in the wild
Equitrekking: I've heard from other travelers who have ridden in Mongolia that the saddles can be quite uncomfortable. I've also seen photos and read about your hand-made saddles. Can you describe a traditional Mongolian saddle and the special "Stone Horse saddles?"
Sabine Schmidt: Stone Horse Saddles are lightweight and comfortable for horse and rider. They have features to make carrying essentials for the day on the trail easy for our guests.

During my training in Western Saddle making in New Mexico with an experienced saddlemaker, much emphasis was on constructing a seat that provides for "comfort" and "balance". I learned how to build a custom Western saddle, including the different types of riggings, placing the stirrups and understanding the properties of quality leather. While still in training, I began experimenting with constructing saddles there are more lightweight while retaining all the strength needed for a safe and rugged saddle. Our saddles for Stone Horse are based on this Western style. Stirrups on all guest saddles are fitted with safety cages.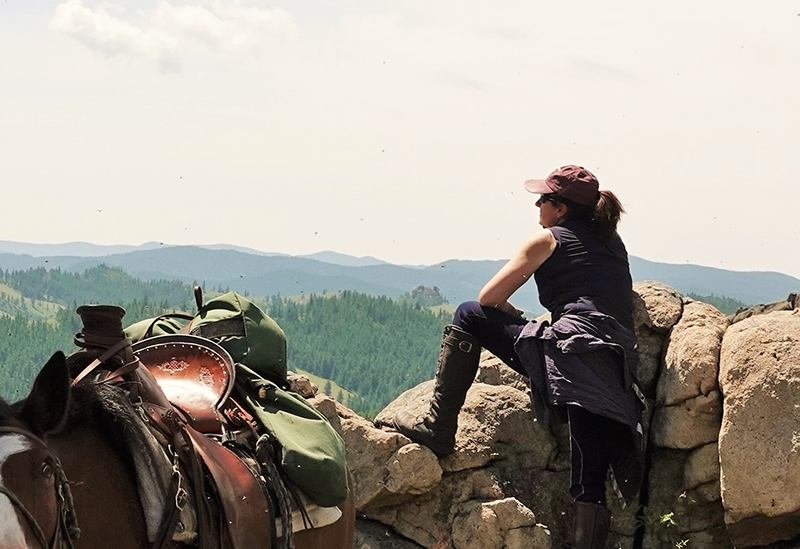 There is ample time during a trail riding day with Stone Horse to rest and relax, and take in the views of the enchanting landscapes of Mongolia
The first saddle I built was for my husband, and is an average weight. I built this on a Wade tree, as requested. I then built one for myself on an Association style tree, which weighs 36 lbs. For our expeditions with Mongolia Horse Riding with Stone Horse Expeditions & Adventure Travel I was looking for ways to lighten the load for our wranglers, ourselves and the horses without compromising safety and strength. I switched to synthetic trees of which the tensile strength tested better than that of a rawhide tree. The material and design of the tree allow me to build a lightweight Western saddle with a comfortable seat. These saddles are constructed with less leather, saving on weight but not negatively impacting function, durability or good looks. Such a Stone Horse Saddle is around 22 lbs. and it weathers long trips and the challenges of the Mongolian climate and wilderness, trail riding with packhorses and of ranch work around the staging area. My husband tested one out for a full season riding it in all kinds of conditions.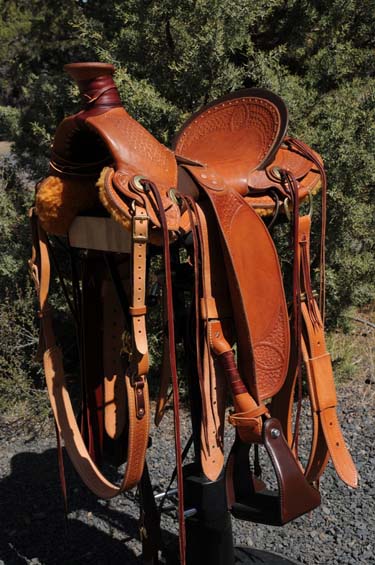 The lightweight Stone Horse Trail Saddle (22 lbs). It has proven to be comfortable and tough for the trails.
Finishing a saddle with designs is the icing on the cake for me as the maker of the saddle. While the primary features of a saddle are safety and comfort, its design and beauty make it complete for me. And as I build each saddle, its own "character" seems to emerge in the process and I finalize its individual design. I like saddle making as it combines the need for good craftsmanship and technical construction with design and artistic elements. Being immersed in making a saddle is great and satisfying. This is surpassed, of course, by sitting in a saddle and being with your horse in a great landscape.
I am currently designing two saddles for Mongolian customers and will adorn these saddles with designs inspired by traditional Mongolian patterns. I am proud that Stone Horse saddles are creating interest in Mongolia where people have ridden horses for thousands of years.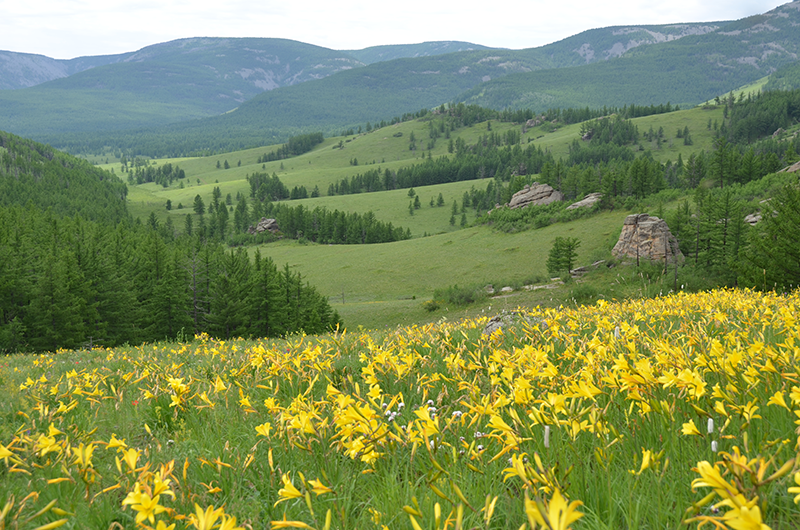 A lunch break view of the the summer landscape of Gorkhi Terelj National Park
The common saddle in use today in Mongolia is of a wooden construction. The bars are short and silver pieces decorate the "seat"; the Mongolian rider typically stands in the stirrups, with the basic construction of this saddle being more like that of an archery saddle, which is made for the rider to turn sideways, tuck their thighs in, aim and shoot an arrow. This typical Mongolian saddle can be highly adorned with silver ornaments; Mongolian horsemen treasure these saddles as great pieces of traditional craftsmanship. However, many visitors to Mongolia can testify to the challenges of spending time on horseback in such a saddle. And Mongolian riders themselves enjoy the comfort of a Western saddle once accustomed to its seat! Yadmaa, a traditional herder with whom we work and who spends many hours in the saddle daily, has switched to Western style and a new Stone Horse Saddle is currently being made for him. Mongolian saddles vary by the region and ethnic groups in the country.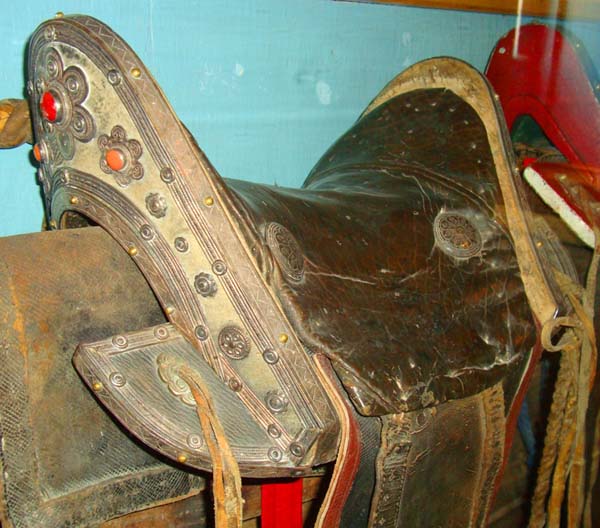 Uriankhai Saddle, Mongolia.
Some research into the history of the Mongolian saddle soon reveals that the current saddle is not what was used in older times. There are famous illustrations of hunting and battle scenes that depict a saddle with features more like those of the seat and cantle of the Western saddle, with a swell not too unlike a Western fork, though without a horn. The traditional way of catching horses from horseback in Mongolia is with an Urgha, which is a long pole with a sling. There is no need for a horn to dally or turn a rope on. Mongolian horsemen rope horses with a lariat braided from rawhide, but this method is rather employed in a corral and on foot.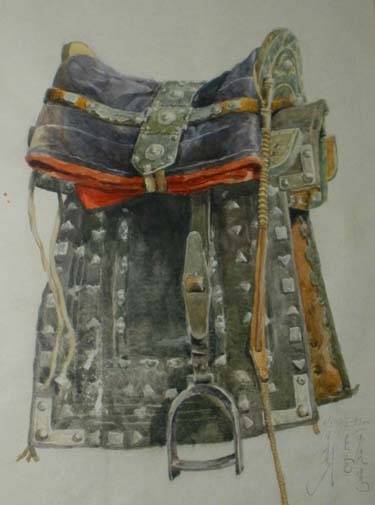 Kazakh Saddle, Mongolia.
Equitrekking: What's it like to work with your husband?
Sabine Schmidt: Working with my husband at Stone Horse Mongolia Horse Riding Expeditions & Travel seems a logical and natural transition from our previous professional and personal lives. We share a passion for and professions in conservation, and we met working in and for the conservation of the ultimate wilderness – Antarctica.
In Mongolia, we explored together on horseback the wilderness trails that are now Stone Horse routes. Keith has a background in survival, expeditions, landscape and wildlife conservation and an up-bringing with horses. My background and career in science, conservation, passion for wilderness, love of horses and an acquired skill in the trade of saddle making, keep us busy, yet connected.
We enjoy quiet days at the cabins with the horses in the off-season in Mongolia, and when in Oregon in my saddle shop, we discuss saddle design together. But it's not exactly a conventional life. Our skills and experiences combine well for all that's needed to run our expeditions safely and professionally, and to make them both enjoyable and informative. For our Stone Horse trips, I like developing the menu and running the camp kitchen. Otherwise, "I'd rather be riding the range than home cooking on one". This is the text on the only fridge magnet in our kitchen. It was given to me by my sister in-law, Karen. She knows me well. I also took to heart the advice attributed to Sandra Blacksmith (1900): "The way to avoid housework is to live outside."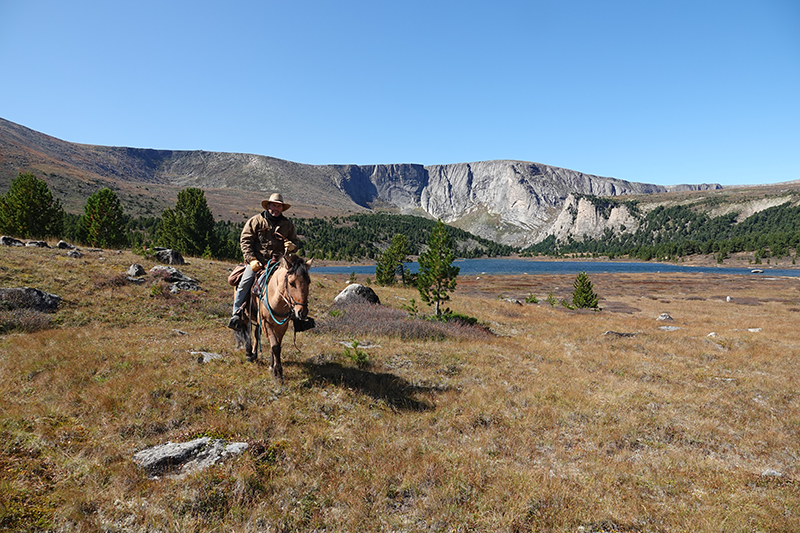 Exploring the remote high country in the Khentii Mountains on the 14 day wilderness trek
Equitrekking: What level of rider do you need to be to visit take a riding holiday in Mongolia?
Sabine Schmidt: Moderate to advanced riders enjoy these expeditions, but the novice rider with a keen sense of adventure is welcome and encouraged to join us. We will give them a lot of guidance along the way. We ask that any beginner thinking about riding with us, try to get some horse riding experience before coming to Mongolia. We can give some suggestions as to how to do this.
Guest riders enjoy the amazing Mongolian horses and moving along with a herd of pack and saddle horses in a fantastic landscape and great company
Equitrekking: Do guests have a favorite activity either in or out of the saddle? If so, what?
Sabine Schmidt: Most of our guests also enjoy exploring the area around us on short hikes, photography and taking in the scenic landscape of Mongolia. We provide ample time for our guests to enjoy the area we're riding through both on and off the horses. Because we really do full on riding as we travel over mountains and across rivers, our guests like to relax when stopping for lunch and in the evening, bringing a book to enjoy in the solitude of the wilderness or just the quiet itself.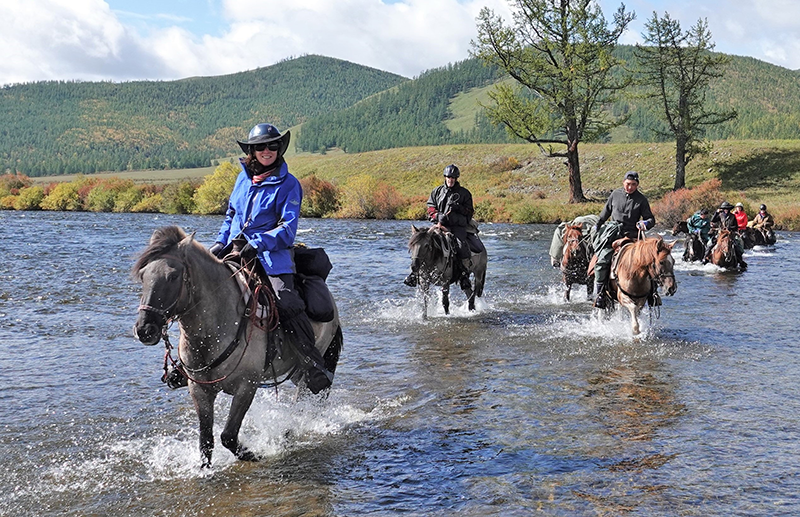 River crossings are part of the riding adventure on the 14 day Khentii Mountains wilderness expeditions
Equitrekking: What do travelers find most surprising when they visit you?
Sabine Schmidt: Most travelers are surprised by the diverse beauty of Mongolia's landscape and light when they ride with Stone Horse Riding Expeditions & Travel in Mongolia. Many people have a vision of the Gobi desert and desert terrain when thinking of Mongolia. And indeed, the Gobi desert is a grand landscape of stark beauty that travelers can also experience with Stone Horse Expeditions & Travel. However the area that we explore on our longer horseback tours is mountainous with many rivers and streams to cross. There are forested slopes with large open grassy valleys that hold a great variety and color of wildflowers during the mid-summer months.
Also, the wildlife we can see along the way, like roe deer, elk, moose, lynx, wild boar and the sign of bear always delight and surprise. Especially those who are not used to wilderness camping are pleasantly surprised by our camping concept "Comforts in the Wild" – ensuring our guests get good food and drink, good rest, privacy when they want it, safe and sanitary conditions at all times– and a few little extras for the "Good Life" outdoors.
The Stone Horse trek leaving a wilderness lake in the Khentii Mountains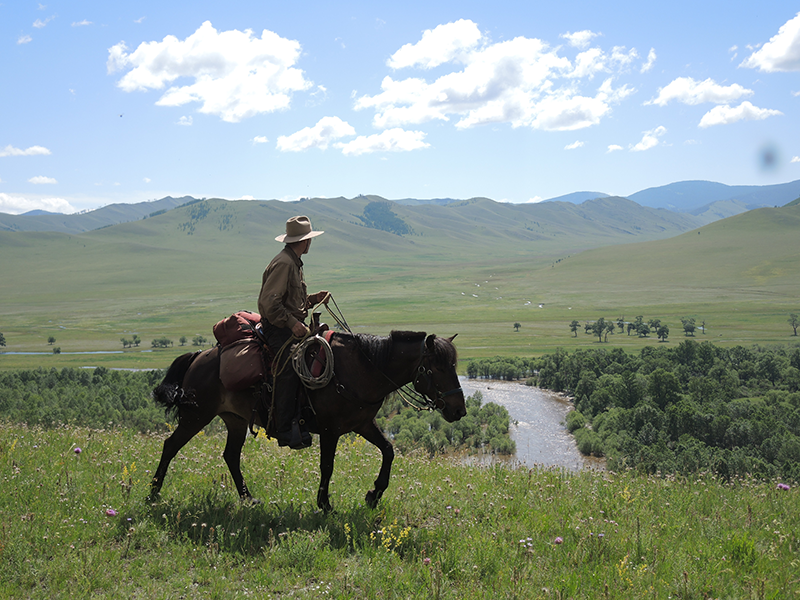 Keith taking a high route above the flooded plains of the Tuul river in Gorkhi Terelj National Park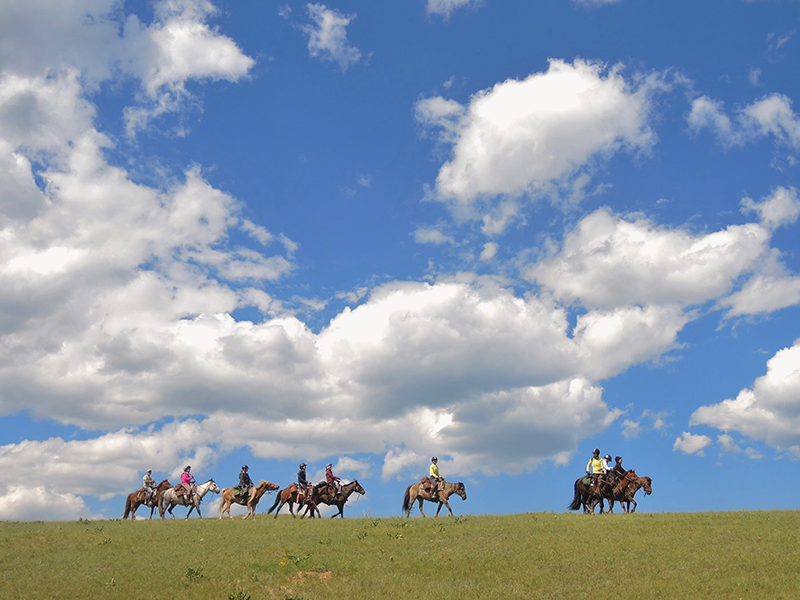 Under a big sky - out for a day ride from our tented camp in Gorkhi Terelj National Park