Horse Riding and Mule Packing in the Ansel Adams Wilderness
Why go on a horse riding vacation in the Sierra Wilderness? It's simple. As beautiful as this country is, it's always twice as nice when seen between the ears of a horse.
Story and photography by Michael W. Church Michael W. Church
It was August 16, 2015 and the fourth year of an epic drought for California. The Owens Valley was baking in 100°F heat and the Sierra foothills and mountains were plagued by a record number of forest fires. As I drove down Highway 395 from Carson Valley toward the tiny town of Lee Vining, I could see large thunderclouds towering high above the mountain peaks. "Good," I said, "we desperately need the rain."
As I drove closer to Lee Vining, the storm clouds grew bigger and darker. Finally, I reached the scenic Vista Point that overlooks Mono Lake and Lee Vining far below. What I saw next made my heart sink to the very bottom of my soul. Those weren't storm clouds! They were great billowing clouds of smoke from a forest fire that was raging out of control near Tioga Pass. With high winds at its back, the Walker Fire quickly spread out of control.
Airplanes and helicopters were flying in formation over the fire and dropping orange fire retardant in a feeble attempt to quell the fire. Silhouetted against an enormous wall of swirling red fire and black smoke, even the largest planes looked like tiny flying insects. Crestfallen, I forged onward to Mammoth Lakes.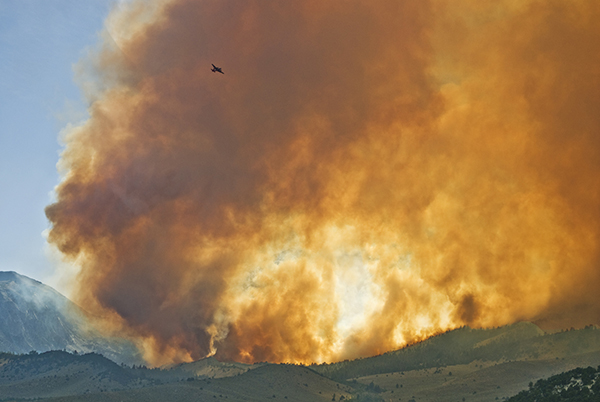 Looking like a small flying insect, a fire-fighting airplane is silhouetted against the smoky clouds of the newly erupted Walker Fire.
Mammoth Lakes to Johnston Meadows (Day 1)
The following morning, our group met for breakfast at The Stove Restaurant. There were two male wranglers (Clay and Andy), one cook and lady wrangler (Anna), and eight guests comprised of four ladies from Indiana, a married couple from England, a gent from California, and me from Michigan. After breakfast, we drove to Horseshoe Lake Trailhead, where our horses and pack mules were waiting. Some of us rode horses that were a quarter horse-warm blood mix, whereas others rode mules.
We mounted up and took Red's Meadow Trail over Mammoth Pass. At the mountain crest, we could see the majestic Minaret Peaks in the distance. We descended into a valley and rode across the wooden bridge that spans the San Joaquin River, rode past the basalt rock formation called The Devils Postpile, then joined the John Muir Trail/Pacific Crest Trail and made our way through a forest of Lodge Pole pines to a campsite at Johnston Meadows (8,100 ft. elevation). We setup camp, ate dinner, got acquainted, and watched Clay give a demonstration on proper reining techniques and other equestrian refinements. We then turned out the horses and mules to graze in a distant meadow.
Resting the horses at the headwaters of the San Joaquin River.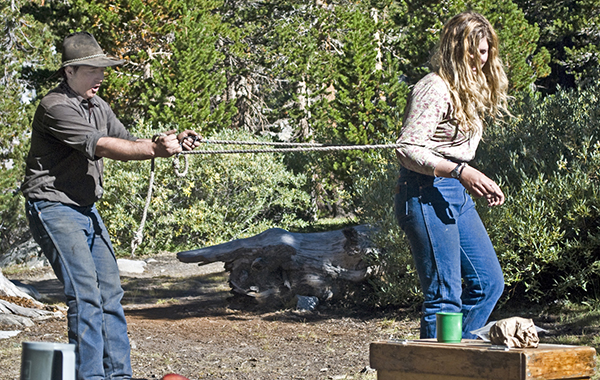 Clay demonstrates the proper technique for reining in a filly.
Johnston Meadows to Gladys Lake (Day 2)
At 4:00 a.m., the wranglers went to roundup the herd. Much to their chagrin, the animals had scattered instead of staying with the bell mare. Andy returned to camp with only 3 horses. There were more than a few moments of anxiety as we speculated that the lost animals had backtracked to Horseshoe Lake. Much to our great relief, Clay rode into camp two hours later with the remaining stock. I helped put halters on the animals and tied them to the picket line. Unfortunately, that knuckle-headed pack mule Jenny ran off again before anyone could halter her. We saw neither hide nor hair of her again.
After breaking camp, we saddled our horses and rode to Gladys Lake. As we ascended to higher ground, we passed a necklace of ponds that were strung together by a meandering mountain stream and rode through forests of Lodge Pole, Ponderosa and Sugar pines as well as Douglas, Red and White firs. We dismounted at Gladys Lake, ate lunch, setup camp, explored the spectacular views of the Minaret Peaks to the west and Mammoth Mountain to the south. We then disrobed and took a dip in the lake before dinner. Unfortunately, one of our Indiana ladies forgot to bring her swimsuit. But that did not deter her. She just took an unabashed dip in her see-through underwear.
A mule gets treated to an early morning ear massage before hitting the trail.
Gladys Lake to Donohue Meadow (Day 3)
After breakfast, we packed the mules, saddled the horses, and rode out to Donohue Meadow. We rode past the picturesque jewels of Garnet, Ruby, Emerald, Shadow and Thousand Island Lakes. We climbed over several mountain passes and rode through the evergreen forests and grassy meadows that lay beneath the towering mountain peaks of Mount Banner, Ritter, Davis and Volcanic Ridge. We finally arrived at Donohue Meadow and set up camp beneath Donohue Peak. After bathing in Donohue Creek, I returned to my tent to change clothes. Suddenly, someone knocked on the door and said "room service"! It was Clay and Andy going door to door with hors d'oeuvres of mixed nuts, olives, cheese crackers, and whiskey. In the evenings, Clay who hails from Australia, would entertain us by reciting Aussie cowboy poetry around the campfire.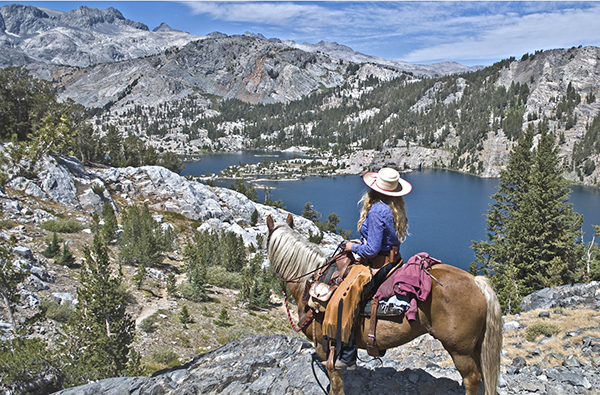 Anna surveys Thousand Island Lake from the John Muir Trail.
Waugh Lake (Day 4)
The stock was turned out to pasture last night. But instead of taking advantage of the good pasture at Donohue Meadow, they high-tailed it once again to some secret ravine about two miles away. It took two hours to find and bring them back to camp.
Today we took a side-trip to Waugh Lake. We zigzagged up and down rocky cliffs and rode a serpentine trail through a forest of Lodge Pole pines and stopped at Waugh Lake for lunch. At Waugh Lake, our uninhibited Indiana lady (shall we call her "Our Lady of the Lakes"?) once again let her mermaid instincts get the best of her as she stripped down to her undergarments and jumped into the lake for a swim.
After eating dinner and listening to some more cowboy poetry from Clay, we turned in for a good night's sleep…everyone except Clay. Clay spotted a nearby campfire occupied by two young ladies who worked at an REI store. Clay took his bottle of whisky to their campsite. I don't know exactly what Clay was doing but we could hear those pretty young ladies laughing and giggling all night long. The following morning as we rode past their camp, I asked them if Clay was entertaining last night. Very emphatically and with big grins on their faces, they said "Ooooooh, yesssss!"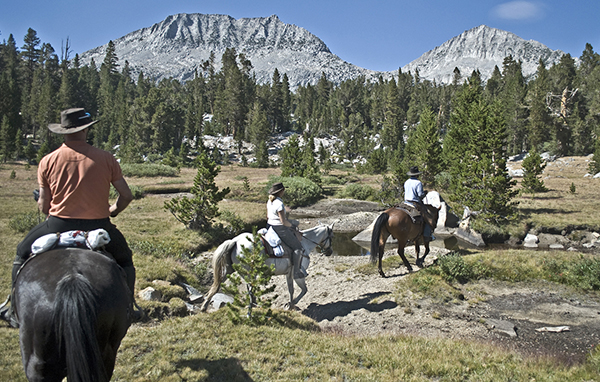 Riding through Donohue Meadow beneath Donohue Peak.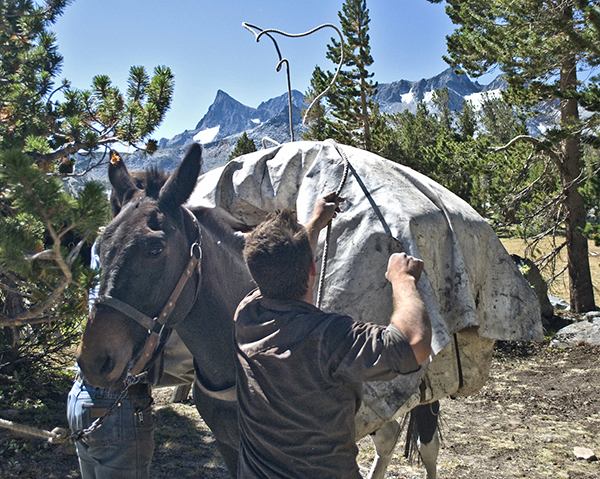 Clay throws a diamond hitch on the pack mule Rudy.
Donohue Meadow to Lyell Canyon (Day 5)
Once again we awoke to find that our animals had wandered off to greener pastures. This time, it took three hours to find them. Someone should invent a "Find-My-iHorse" app for a cell phone so we could find these animals more easily.
Today, we took the long, steep, rocky switchback trail to the top of Donohue Pass (11,066 ft.) and down the other side to remote Lyell Canyon. The view from the top of Donohue Pass was absolutely breathtaking with stark and stunning rocky mountain peaks surrounding us in every direction and the lush green Lyell Meadow far below. The descent from Donohue Pass was the rockiest, steepest, scariest, most grueling and treacherous horse trail I've ever ridden. And we loved every minute of it! We arrived at Lyell Meadow in the late afternoon. We set up camp in a grove of Lodge Pole pines where Kuna Creek joins the Lyell Canyon Fork of the Tuolumne River.
The steep and rocky ascent to Donohue Pass.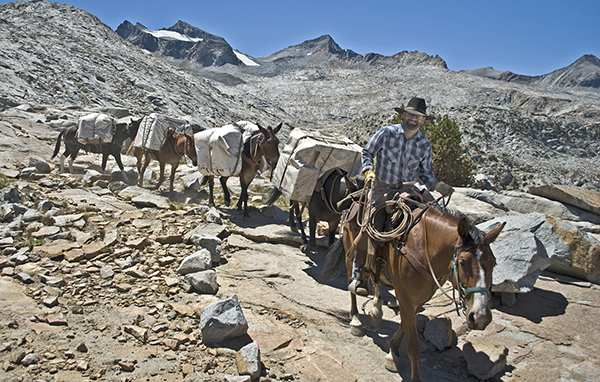 Andy leads a string of pack mules down from Donohue Pass.
Vogelsang (Day 6)
This morning I made the most important and novel discovery to be recorded in the annals of horse history. Before breakfast, I made a cup of coffee and proceeded to the picket line to check on the horses. When I got there, I was suddenly mobbed all the horses and mules. With their eyes bulging, ears perked up and nostrils flaring, they nearly stampeded me to death just to get a sniff of that heavenly smelling coffee. I was now the official Pied Piper of all horsedom.
After breakfast, we rode to Vogelsang, a High Sierra Wilderness Camp for long-distance hikers. Vogelsang is comprised of several large white canvas tents, toilets, showers, a dining facility with a cook, and a general store. We first rode through meadowlands, Lodge Pole pine forests, and alongside Ireland Creek before ascending the rocky switchback trail to Evelyn Lake and beyond to Vogelsang (~10,000 ft.) at the foot of Mount Fletcher (~12,000 ft.). After eating lunch on the trial, we headed back down the same steep rocky trial for an eight-hour round trip with spectacular views of sharp rocky mountain peaks that pierced the sky, the dwindling Lyell and Maclure Glaciers, small mountain lakes, and alpine meadows.
We ate well on this trip. Anna would wake up early each morning when it was still pitch dark and make a breakfast of coffee, eggs, pancakes and sausage or bacon. For lunch, we made sandwiches and had fruit and snacks. For dinner, Anna would cook hamburgers, chicken, pork, sausages or steaks. Tonight, we had tri-tip steaks. None of us had heard of tri-tip steaks before. Some of us speculated that they came from genetically modified cattle that were triangular in shape. I was very suspicious that the trip-tip steaks came from Jenny the mule that disappeared under mysterious circumstances at Johnston Meadows. "Remember Jenny the mule?" I said to the others. "Well, you're looking at her now". But whatever the case, it was the best meal we had on the trip.
Lyell Meadow to the Pack Station (Day 7)
Today we rode to the Tuolumne Meadow Pack Station, the end of our trail. Following Lyell Canyon Creek and the meadows, the steep 2,000 ft. mountain slopes flanked us on both sides. The skies were now darkened by the smoke and smell of the Walker Fire to the north and the newly erupted Rough Fire in Kings Canyon to the south. As we rode through the canyon, we passed numerous hikers. Many would comment, "How wonderful to see such beautiful horses"' or "I'll have to do that on my next trip". In ancient times, the man on a horse was the envy of those who walked on foot. It is still the same today.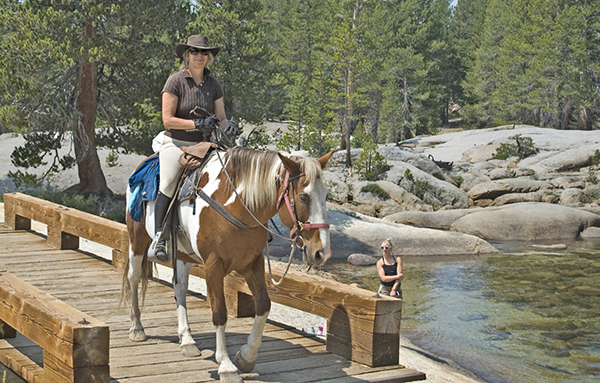 Crossing a bridge over the Tuolumne River, Yosemite National Park.
A Visit to Bodie
If you ever take a pack trip to the Sierra Mountains, I highly recommend including an extra day to visit the nearby ghost town of Bodie, Califronia. Bodie was one of the richest and wildest gold mining towns in the old west. There is a story about a little girl whose family moved from San Francisco to Bodie. In her diary she wrote, "Goodbye God, I'm moving to Bodie". Today, Bodie is in a "state of arrested decay" and is the largest and most fascinating ghost town in the United States.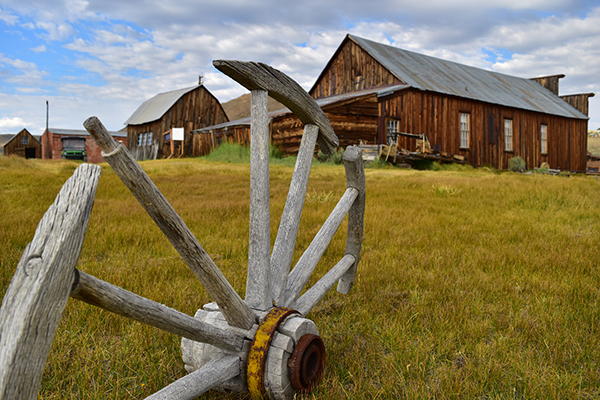 An old wagon wheel and buildings in the ghost town of Bodie, California.
Travel information
Rock Creek Pack Station of Bishop, California conducted this trip. For more information about this and similar rides, visit their Rock Creek Pack Station's website.
Wishing you happy trails,
Michael W. Church