Groundwork for a Calm, Cool, Collected Horse
My strategy for a calm, cool and collected horse–– groundwork exercises that I do with my ex-racehorse Bahamut.
Since Equine Affaire I've taken some time off to asses where Bahamut is in his training. After reviewing his performance in the clinic, I've decided to go back to ground work and strengthen his foundation. I'm using some of techniques in the "straightness training" exercises. I put the training to work when I rode Bahamut. I'm very pleased with the ongoing results.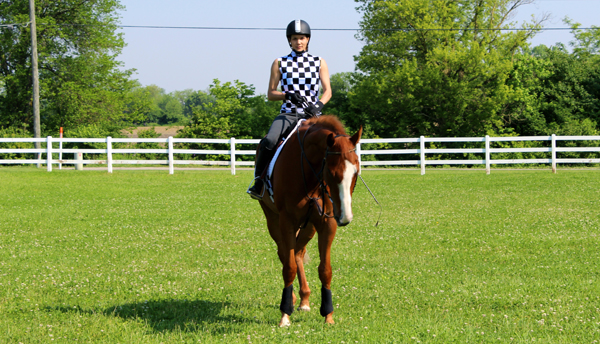 Bahamut relaxed under saddle / ©Edgar Paucar
I first lunge Bahamut to get him relaxed and soft– then I follow up with groundwork (schooling in hand). He usually drops his head and begins to lick his lips. I reward him by giving him peppermint treats or carrots. He prefers the mints and neck rub, though. After all the praise and treats, I bring him in to be tacked up.
Once he's ready, I bring him into the arena and over to the mounting block. Even though he's warmed up from lunging and in-hand work, we always start out by walking around at an easy pace. It keeps him in a relaxed state of mind.
I like to let Bahamut have his head. He's much happier and more cooperative. I do this by giving him a very loose rein and ask him to soften by opening my arms.
Collected and extended trot / ©Edgar Paucar
I apply a very light pressure to the reins and when he responds, I lighten up on the pressure even more. I use my seat, by opening up my hips and becoming lighter in my seat bones. The best way I can explain this is it feels like you're melting into your horse.
When he drops his head and begins to lengthen, I ask for a trot. Bahamut has began soften because of daily groundwork. When I ride him now, he's more supple and focused. My intention is help him collect himself and use his body properly, no matter what environment we're in–– show, clinic or trail ride.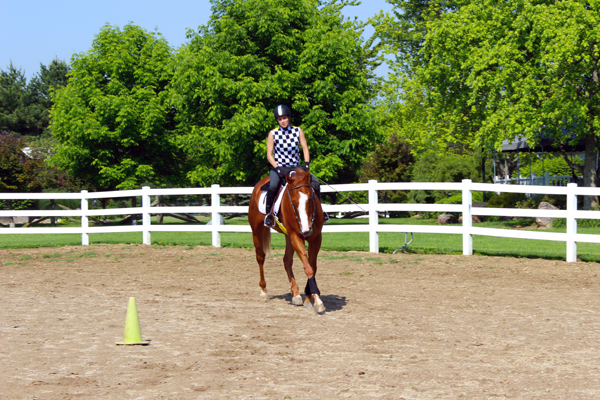 Bahamut is learning to reach and extend / ©Edgar Paucar
He is beginning to understand that it feels good to be relaxed and collected. I praise him for every effort and his confidence grows. We still have many miles ahead of us, but he's learned so much and continues to improve. I'm always researching techniques to try something new while training horses, especially OTTB's. The basic principles of classical riding and straightness training have improved my horse. He's happy, calm, cool and collected. I'm fortunate to have such a willing, beautiful and intelligent horse.
Some additional resources:
Centered Riding, by Sally Swift
Horse Training In-Hand: A Modern Guide to Working from the Ground: Long Lines, Long and Short Reins, Work on the Longe, by Ellen Schuthof-Lesmeister
Straightness Training Marijke de Jong's channel on YouTube
Considering adopting your own ex-racehorse? Here are some great rescue organizations with horses looking for their new home:
---
About the Author: Raina Paucar is an adventure loving equestrian and retired female jockey. She likes to ride and compete in many disciplines, explore new places, read great books, gadget hoard, play games, take pictures and write. She currently exercises racehorses and works with her own off-the-track-Thoroughbred (OTTB). Her career in media focuses on equestrian lifestyle. You can add her to your Google+ circles, subscribe on Facebook and follow on Twitter.