Ecuador- Horse Riding the Northern Highlands
Historic haciendas, markets, local crafts and horse riding to experience Ecuador's colorful cowboy culture.
By Susan Seligman
Photos by Susan Seligman

Ecuador's northern highlands offer riders an unparralled equestrian paradise only an hour and a half from its bustling capitol of Quito. Spectacular scenery, colorful indigenous markets and gracious haciendas add to an unforgettable riding vacation. You can sleep in a room that once housed the great liberator Simon Bolivar, or camp on a farm high in the Andes gathered around a warm fire listening to stories of the colorful Ecuadorian cowboy culture.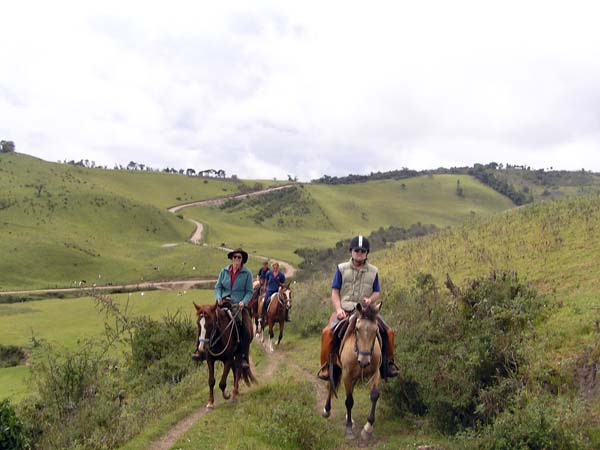 Historic Haciendas

We spent a night at Hacienda Pinsaqui, one of three centuries old Haciendas in Ecuador's northern Highlands for riding, fabulous food and a day at the famous Otavalo market. The drive from Quito was impressive in itself, winding through magnificent mountain farmlands. Pulling up to the whitewashed Spanish colonial Hacienda with its exquisite 200 year old gardens transforms you from the 21st century to the 18th, where a romantic bygone lifestyle awaits. Everywhere at Pinsaqui, the horse prevails.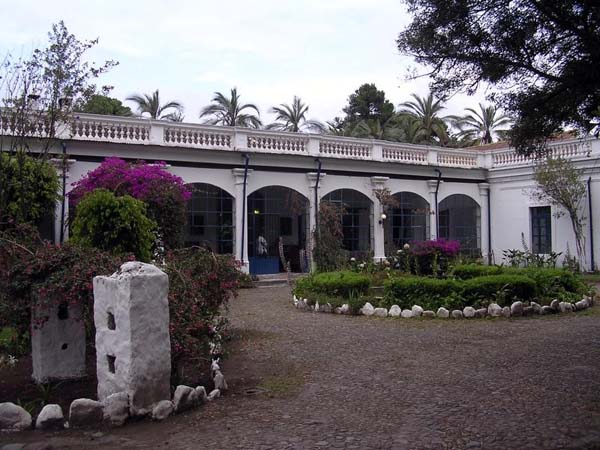 Our welcome drink was a warm frothy mixture of cinnamon tea and sugar cane liquor called a "canelazo" served in a bar that was part of the original house constructed in 1790. Ecuadorian musicians in vibrant local dress entertained us with indigenous instruments and harmonies while a fire blazed in the historic fireplace. Equestrian trophies and photos lined the walls, historic saddles and bridles added to the ambiance attesting to five generations of families steeped in horse tradition.

The Hacienda was originally a textile workshop, employing at one time 1000 local weavers and spinners. It is only in the last ten years that the estate has become a guest establishment. Pinsaqui's website states that often, during the welcome drink, the owner enters the bar atop his favorite stallion while he recounts the personal history of the Hacienda. The owner was competing at a horse show in Quito when we were there, so unfortunately we missed not only this unique presentation, but his prized champion show horses as well.

I mounted a wonderfully responsive Arab-cross gelding very early in the morning for a private ride through the countryside. What a special time to capture the sounds and sights of Andean life awakening around us. We cantered through acres of patchwork fields. Women washed clothes in the river. Farmers worked oxen in wooden yokes, making troughs in fields like their forefathers had before them. Families picked mushrooms to sell in the Saturday market. Eucalyptus trees bloomed around us. We returned to the Hacienda where a hearty breakfast was served next to a massive fireplace, the crackling fire a toasty welcome after the chill of the cool mountain air.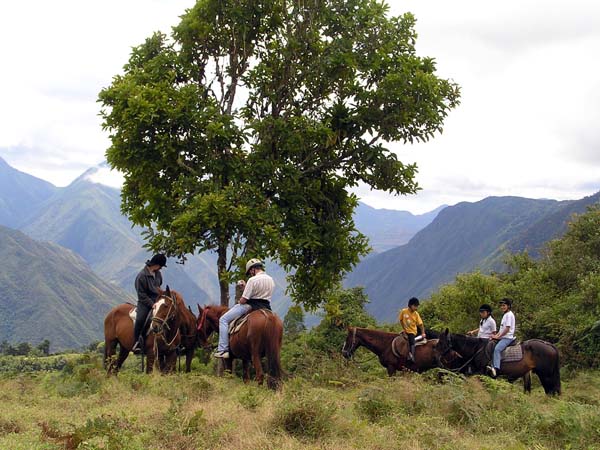 Nearby Hacienda Cusin, a restored 17th Century Andean estate offers day excursions for riders of all levels, and a 2 day, 1 night trip for experienced riders. The ride begins in Cusin's lake valley, climbing through glorious country to approximately 10,500 feet. Riders overnight at Casa Mojanda before the return ride back to the Hacienda.

Further north, Hacienda Zuleta is renowned for the Zulete horse which is a unique mixture of Spanish-Andalusian, English and Quarter horses bred for their dispositions. Many guests at Zuleta come specifically for 3 to 7 day riding programs to explore the Andean countryside along high altitude trails (between 9.000 and 11.000 feet) that wind through ramoa grasslands and cloud forest, along cobblestone trails and through local villages.
Hacienda to Hacienda Horse Trek and Indigenous Market Experience

One can ride from Hacienda to Hacienda, taking advantage of exquisite mountain scenery and all that these historic properties have to offer. Unique tours from Ridingholidays.com offer 4, 6 and 10 day rides through the Ecuadorian countryside traversing spectacular bamboo and cloud forests, crossing the equator and staying in small hostels and cottages or camping on private farmlands.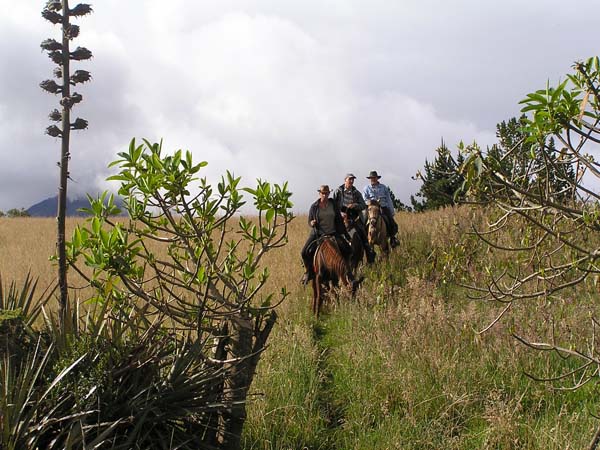 Weather in the Ecuadorian Highlands is perpetually spring-like, but tricky to predict. Riding can be done all year around. October, February, March and April are the rainiest months while July through September are the driest. Good rain gear is essential and be sure to take time to adjust to the high altitudes.

No matter where you ride in the Ecuadorian Highlands, a trip to the largest indigenous market in South America at Otavalo is a must. We arranged for a guide who took us first to several local weaving studios, where we observed demonstrations by indigenous weavers using centuries old techniques.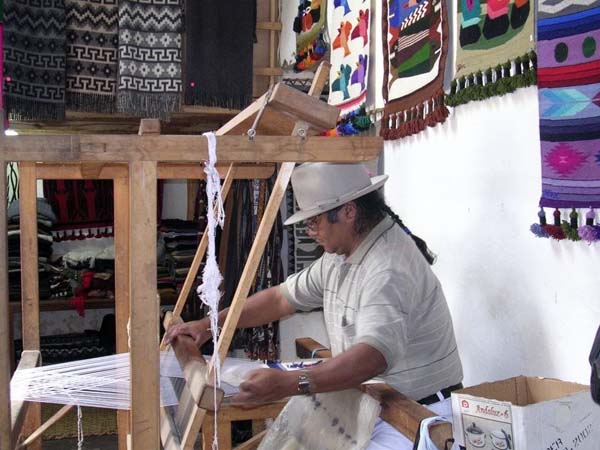 One weaver, using a back strap loom, takes a week to handloom a scarf which he sells for seven dollars. Another weaver, one of a few who the government allows to sign his work, uses ancient symbols in his weavings, often taking six months to complete a rug.

The Otavalo market itself is enormous, with the largest market taking place on Saturdays. The early morning animal market is a treat for those staying in the area. The larger market sells food, textiles, and jewelry. Look for hand woven saddle blankets here. Nearby is the Cotacachi leather market, where you'll find bridles and saddles among the finest leather goods from all of Ecuador. And one can't go home without a Panama hat, which are made, surprisingly in Ecuador!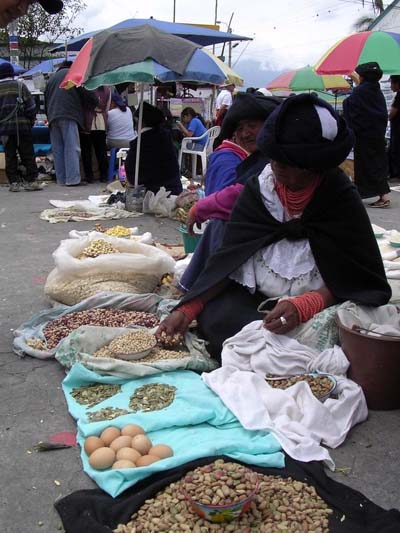 The Otavaleno's have a continuing sense of tribal identity and tradition. Traditional attire is worn on normal workdays in homes, villages and fields, what they wear is not just for tourists on market day. The men are distinctive with long ponytails, calf-length white pants, rope sandals, ponchos and dark felt hats. The women are striking in beautifully embroidered blouses, long black skirts and shawls, brightened by numerous strings of golden blown glass beads around their necks and long strands of red beads around their waists and arms.
Ecuador is truly one of Latin America's best-kept secrets. It is a world of exceptional equestrian experiences highlighted by high altitude volcanic vistas and lakes, indigenous culture and traditions. Put it on your short list when considering a riding vacation.


Learn about taking an Ecuador riding vacation in the Equitrekking Vacation Guide.