Dressage Training Vacations for the Equestrian
Have you ever wanted to come home from your riding vacation with improved abilities and a greater understanding of riding principles? We look at dressage training vacations in Portugal and Spain to inspire your next holiday.
by Jocelyn Pierce
Every level of rider, from beginner to advanced, can learn something new on a dressage training vacation. Guests learn to be more correct and effective riders from top-notch instructors and incredible, obedient horses.
What to Expect
The main intent of a dressage training vacation is to improve riding skills and abilities. Most programs have an individualized approach to maximize education and help guests meet their goals. Usually, beginners to the High School level, the highest level in classical dressage training, can be accommodated.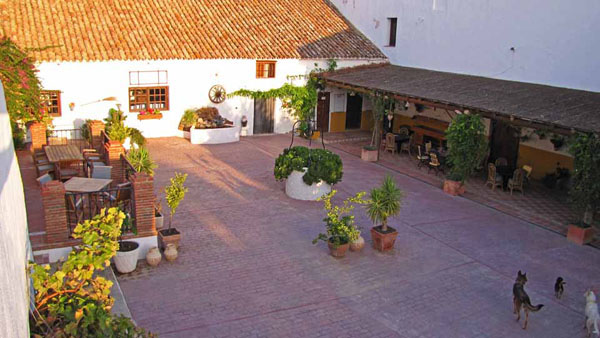 The Hartfields began their equine operation when they were given Andalucian rescue horses that Christine Hartfield rehabilitated. Soon locals were stopping by for riding lessons, and Cortijo Uribe quickly began to grow.
Not only are schooling sessions often limited to only one or two riders, but guests share their specific ambitions so their hosts can match them with the most appropriate plan and horses to meet those goals.
When guests arrive at Cortijo Uribe in Spain, the staff completes an assessment and asks visitors what they hope to achieve while on holiday, explains owner Christine Hartfield. "We continually assess their progress, and change horses whenever necessary as their ability changes."
Guests can also choose the intensity of their program by deciding how often to ride each day, and a specific schedule, such as riding on the lunge line to improve the seat and aids or relaxing on a trail ride through the countryside.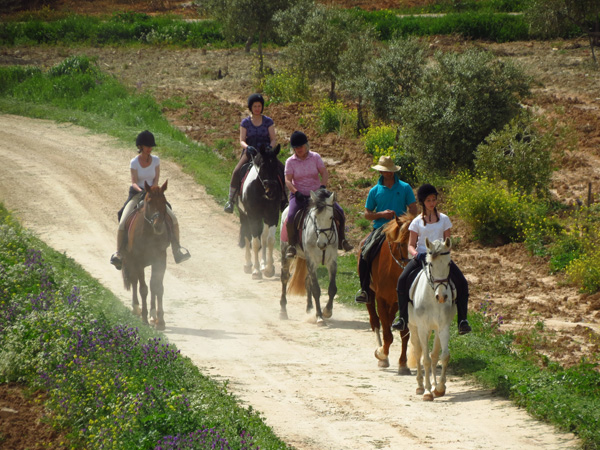 Cortijo Uribe now has clients who are returning for the seventh time this year, which as owner Christine Hartffield explains shows "a true testament to the love that people feel for Cortijo."
"Guests come to Cortijo Uribe for the dressage instruction," says Hartfield, "even people that want to ride out in the countryside tend to combine a morning hack with afternoon lessons to improve their technique."
Dressage riders who may have never had the opportunity to experience upper level movements such as piaffe or passage can get a feel for them on a dressage training holiday. Guests can also work on tempi changes, extensions, lateral work, and lunge work and position training. Riders need not worry about being "good enough" to ride with such highly trained instructors and horses. The main purpose of these dressage training programs are to help visitors improve and reach their goals.
The Horses
The horses you will ride on a dressage training holiday will most likely be "schoolmasters" or upper level horses that can show you the ropes and help you get a better understanding of how the movements should feel. Schoolmasters like the Lusitano stallions at Quinta do Archino in Portugal are sensitive to the correct aids, which help riders be precise and sympathetic. Many of the horses at a dressage training vacation will be used at the Grand Prix level, and some may even be training at the High School level.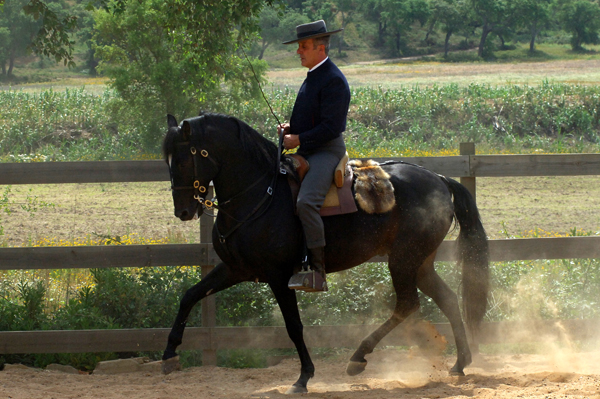 Quinta do Archino is owned by Francisco de Bragança who has been breeding and training Lusitanos for over thirty years.
The number and range of horses from which to choose will vary by destination. At Hippikos in Portugal for example, they have 22 dressage horses and show jumpers which are carefully selected for bloodlines, temperament, and ability, and are all professionally trained in upper level movements.
At the other end of the spectrum, Epona in Spain has more than 60 horses and ponies in order to appropriately match riders and horses for all levels. All horses are well mannered and schooled and serve an individualized purpose. They have specific horses for dressage, jumping, and trail riding.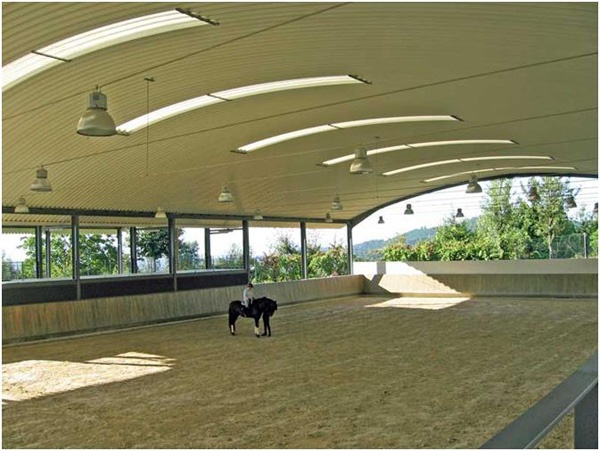 Hippikos allows a maximum of 12 guests and two riders per lesson to ensure individual attention and quality instruction. They offer lessons in English, Spanish, French, or Portuguese.
Non-Riding Vacation Activities
While you will most likely want to spend much of your time riding and hanging around the stables, you may also want to experience the local culture and surrounding scenery. Many dressage training vacations have other activities in which you can participate for a well rounded holiday.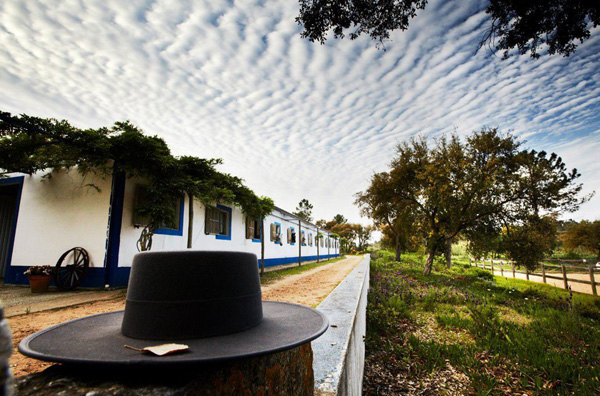 Quinta do Archino in Portugal allows a maximum of six riding guests to ensure individual attention.
While staying at Epona, you can take a day trip to Jerez de la Frontera, where you will visit the Real Escuela Andaluza del Arte Ecuestre. Here you will see Andalusian stallions perform in the 18th century palace and riding school, a true inspiration for your own dressage training. Visitors can also travel to nearby Seville to see a classical nighttime Flamenco dance show.
Also at Epona you can also experience a beach ride at nearby Donaña National Park, one of Europe's last true wilderness regions and one of the largest wildlife reservations in Spain. Epona is the only riding school given access to the park and guests can even ride along the beach and canter through the waves.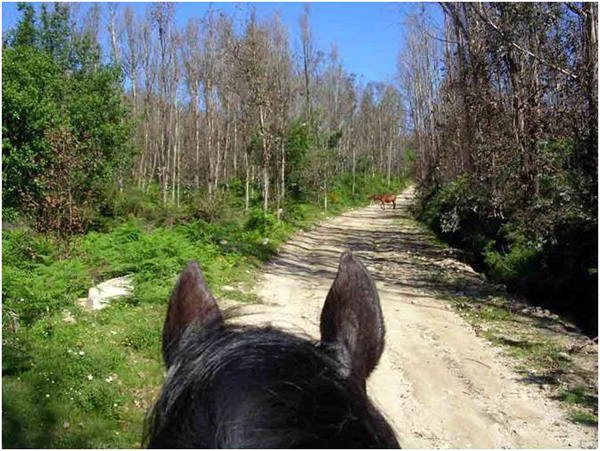 Hippikos borders the Peneda-Gerês National Park in Portugal. Guests can expect to come across the Garrano, or wild north Portugal mountain horse on trail rides in the park.
Most facilities also offer other activities on site for a break from riding or for non-horsey companions. Activities vary but may include nature walks, cycling, swimming, tennis, golf, and spa treatments.
Both Spain and Portugal are renowned for a rich classical dressage and equestrian history centered on the magnificent Iberian horse, making either country a great choice for a dressage training destination. Your educational experience will be tailor made to fit your goals and needs for a truly unique and memorable holiday.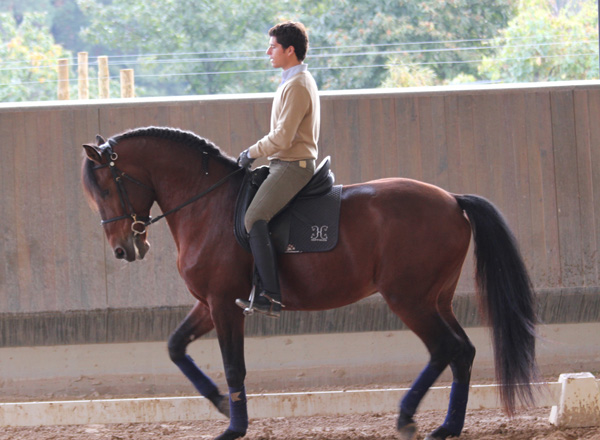 Guests at Hippikos can choose between a seven day Classical Dressage Training Program, seven day Show Jumping Training, combined training (dressage and show jumping), or working equitation. They also decide the intensity of their programs by riding either twice or three times daily.
Below is more information about these four dressage training vacations. Check out more dressage vacations in the Equitrekking Vacation Guide.
Cortijo Uribe, Spain
Sitauted in a great location in Andalucia, Spain for visiting multiple cities, Cortijo Uribe is family owned by Paul and Christine Hartfield. The Hartfields restored the manor home with the intent of returning the historical house to its original glory and kept it as close to traditional style as possible, allowing guests to fully immerse themselves in an authentic Spanish atmosphere.
Lessons in both dressage and show jumping are available. Cortijo Uribe also offers customizable trail rides through the countryside from one hour to a half day.
Epona Equestrian Center, Spain
Located in Andalucia, Spain and close to Seville, guests stay in a 16th century hacienda owned by Fernando and Jane Garcia.
Epona offers four different programs from which to choose. They have a train and trail program for visitors who want to improve their dressage but also want to relax and enjoy riding in the countryside. The intensive program is designed for individuals looking to improve their riding skills and involves morning, afternoon, and lunging lessons on a daily basis. The classical dressage program is for upper level riders and for those wishing to learn about training horses in the ways of classical dressage. Lastly, guests can choose to take a dressage clinic with Spanish Olympic Team Silver Medallist Rafael Soto, who frequently instructs at Epona.
Hippikos, Portugal
Hippikos is located near Vila Verde in Portugal, forty-five minutes from Porto, the second largest city in Portugal and a UNESCO World Heritage Site. Visitors can enjoy the city's famous wine, Port, at wine cellars and tastings and take in the architecture for which the city is known.
The equestrian centre, Quinta do Pico, borders Peneda-Gerês National Park, the only national park in Portugal. Peneda-Gerês is home to the Garrano, or wild north Portugal mountain horse, which guests can expect to come across on trail rides in the park.
At Hippikos, riders can choose from several programs, including classical dressage, show jumping training, or a combination of both.
Quinta do Archino, Portugal
Quinta do Archino is owned by Francisco de Bragança who has been breeding and training Lusitanos for over thirty years. Within an hour's drive of Quinta do Archino is the Silver Coast of Portugal, which is dotted with historic towns and villages to visit, including the capital city Lisbon.
Guests can choose lessons in classical dressage, in-hand or on the lunge, or any combination of the three. Guests may also trail ride in the surrounding area and even build their own itinerary, choosing the length of their stay to fit their individual needs.

Check out more choices for dressage training vacations in the Equitrekking Vacation Guide.
About the Author: Jocelyn Pierce is an avid equestrian and lover of travel and photography. Her passion for adventure has led her on numerous excursions throughout North America and Europe. When she's not riding and competing her homebred mare, she enjoys hiking, camping, and snapping photographs.