Desired Amenities for the Ideal Après-Riding Park- Part 3
What would be in your ideal equestrian park? Perhaps little cafes in a park as beautiful as a golf course? Flower-bedecked lanes and quaint bridges? Read below for more of equestrian Juliette Ober's dream horse park.
by Juliette Ober
The French prefix après- means after - specifically the time period of socializing following an activity. Après-ski is the most common use of the popular custom of going out for dancing and drinks following skiing in the Alps.
Typical 1960's après-ski complete with fondue pot.
The term is now frequently used in our country in ski circles, but the concept has long been understood in the world of golf as the 19th Hole. My fixation with the après-riding, the après-run, après-anything experience is actually not about the food, but about the time spent discussing the activity in an attractive, aesthetically pleasing space.
Après-activity is the glue that holds the whole together. Sometimes I get tired of our nation being obsessed with food, but when I sit back and think about the time and aesthetic considerations thrown at eating spaces all over the world, it seems logical that food obsession happened. Quaint bistros are inviting. Outdoor dining is lovely. Spending time in attractive spaces is just as addictive as the food.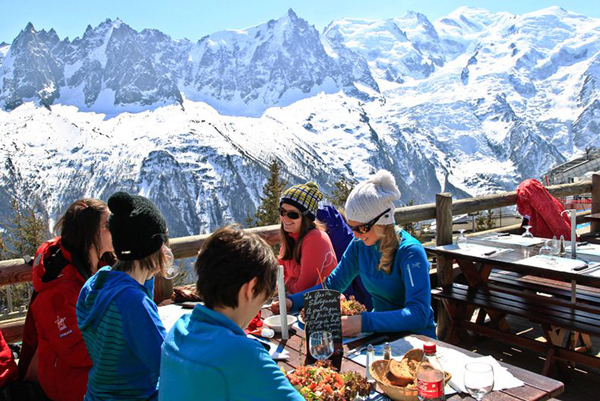 Lunch overlooking the slopes in Chamonix.
People are drawn to places like Aspen, Telluride, Chamonix-Mont-Blanc to ski, but the idea and experience of the après-ski in little cafes on the slopes is unique to their sport. Reliving the ski run and enjoying the gathering in an attractive setting is important.
Shopping mall developers know this and have created fake "village" spaces with outdoor dining and shopping centered around pretend "streets" and flower-bedecked lanes and alleys. Even shoppers get to relive their "sport" in an inviting après-setting.
I'd like to have little cafes along the riding "slopes" in a park as beautiful as a golf course. It would be great to picnic with my horse - not at a campground that is rustic and woodsy and miles away - but in a suburban/country horse park. I live to ride on flower-bedecked lanes and over quaint bridges.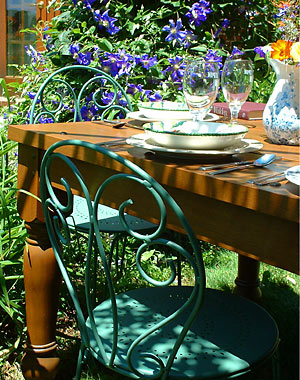 Luncheon in an equestrian garden Photo by: Brian Ober from www.pastoralfurniture.com.
Sounds spoiled doesn't it?
Really? Didn't other equestrians want:
Stadium jump arena w/competition level footing, full size dressage arena w/competition level footing, adjacent schooling arena area with grass footing and rolltop schooling jumps, 80' x 200' bright mirrored indoor riding arena with sand/rubber flake mix riding surface, 2 official size outdoor dressage arenas with sand/rubber flake mix riding surface, 2 inside heated wash / grooming stalls with sink and central grooming vac, loft level fully furnished private club room with kitchen and arena viewing area, over 6 acre fenced schooling area with natural footing designed to accommodate multiple disciplines, X-Country schooling complex designed by licensed FEI course designer, separately fenced area with improved footing for dressage and flat work training?
My desired amenities are just different from current offerings in Equestrian Centers and planned Equestrian Communities. The type of riding I enjoy with a group of friends in Florida tells me that I am not alone. The money and time and effort to maintain arenas and rings and show grounds could be spent on relevant (to us) features in a garden-like facility.
By pulling all the previous patterns together you can imagine a park that celebrates the perfect symbiotic relationship of riding, running, walking, cross-country skiing, leisurely biking, and perhaps tennis and swimming all combined with their associated après-activities in one location. In addition, the open space (not used by a golf course or amusement park) encourages an orchard, a flower farm, and the raising of organic vegetables for farm-to-table produce in the on-site vegan luncheonette and French patisserie.
Sample equestrian park map with proposed amenities.
Unlike a resort, traditional equestrian center, or historic estate, there is zero focus or expenditure in maintaining an estate building, resort hotel, golf course or show grounds/indoor arena. Instead, like a suburban amusement park, this "garden/park" is focused on using and beautifying the land - and yes, in all weather. My Pennsylvania rambles on my Thoroughbreds in winter may be shorter, but they are just as lovely and could do with a quick stop for a cup of hot chocolate and an apple for my horse as easily as on a summer day. Tennis, swimming, and x-country skiing are seasonal, but running, walking, riding, and nearby post-sport gathering are fun activities all year round.
Details
A perimeter fence around the entire equestrian garden park will keep horses from straying in cases when a rider falls off.
Small parking area outside fence. Ideally, like in St. Petersburg, the majority of riders will live and ride from private farms and boarding barns located near the park. The equestrian park draws the supporting businesses and riders choose to live nearby. Access can be gained through horse-safe perimeter gates.
No motorized vehicles inside except for maintenance.
A day pass or season's pass allows access and ensures proper equine health certificates for all horses.
127 acres (arbitrary for discussion) partially wooded and preferably with hills and a stream or pond. The various paths need to allow for a six mile, non-repetitive run to ensure a one to two hour ride. Using the golf course pattern of switchbacks, that mileage is fairly easy to get in a relatively small space.
Adjacent to a linear Rail Trail where equestrians are permitted to ride.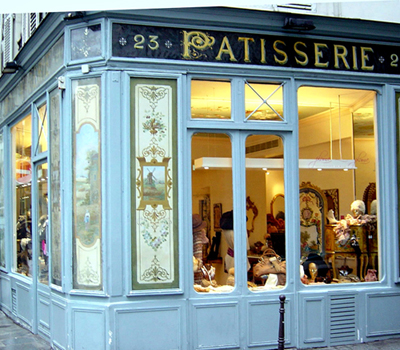 Patisserie on the perimeter of park.
-Three free standing, independently leased (tiny shops) i.e. bistro, vegan luncheonette, and/or patisserie located on the perimeter fence and open on the inside for visitors and outside of the park to the public for business sustainability during the off-season.
-Like the horse-friendly (human) restroom in Helen Howarth Equestrian Park, all eating shops, restrooms, and picnic areas will be flanked by small, shaded turnout spaces for horses. These outdoor "stalls" will have pea gravel for drainage and offer water and hay. It will be the rider's responsibility to remove manure from the space after using. Muck buckets and forks provided at each station. Four or more horse holding stalls per restaurant. This system works super well in the horse park in St. Petersburg.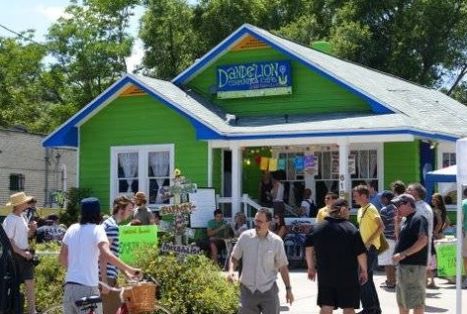 Public access from the outside of park helps keep restaurants in business all year round. Photo from Dandelion Communitea Café at dandelioncommunitea.com.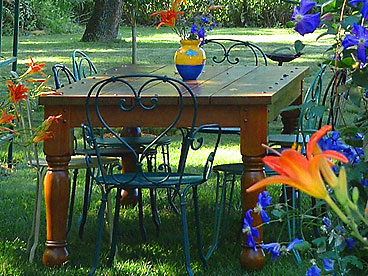 Al fresco dining with your horse in a Public House garden is nothing new in England. Even now, I see threads on the UK Horse and Hound website with people asking other equestrians which pubs in their county allow riders to tie up and grab a shandy or sandwich. Photo by Brian Ober
Scenic riding in and around orchards and cutting flowers will be allowed and encouraged. Manure gathered from paths and composted into well-rotted (Black Gold) soil can be used on flowers, orchard, and vegetables.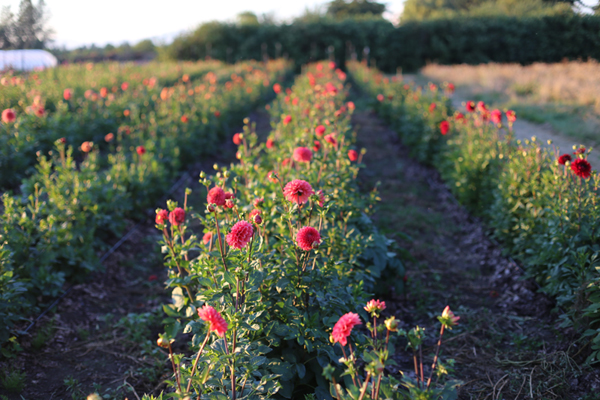 Lovely rows of cutting flowers at Floret Flower Farm, Skagit Valley, Washington. Photo from www.floretflowers.com.
The open land that is not planted can be left wild as free hand-grazing areas and for meandering farm tracks for riding and running. I have had a lot of success with allowing large areas of land to grow wild and then my farmer, Ron, uses his small equipment to cut the weedy grass into cattle hay twice a year. His equipment is old fashioned and tiny and gets into little spaces and around trees and groves of trees which would be perfect to keep the park setting without getting too tidy.
Farm tracks for riding and running...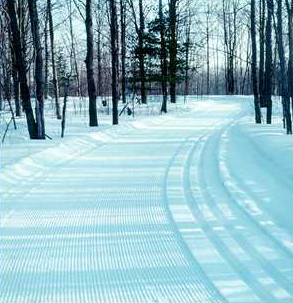 …and for cross-country skiing!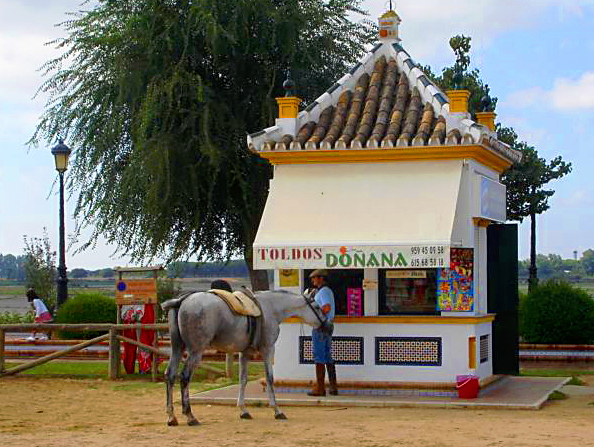 Inside the park there can be a horse friendly snack bar with treats for humans and horses with herbal iced teas.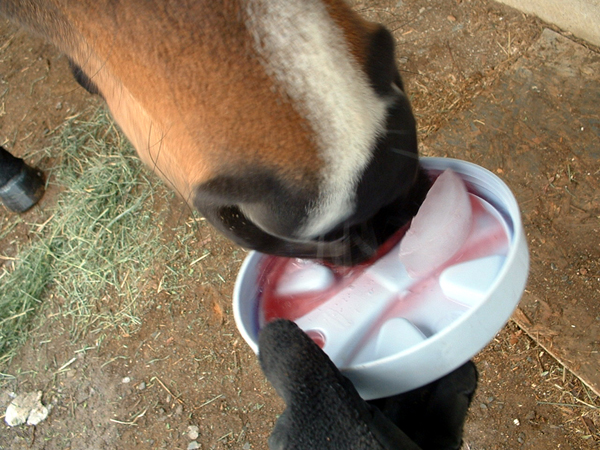 Blueberry Herbal Iced Tea for thirsty boys like Sovereign - slurp! Photo by Juliette Ober.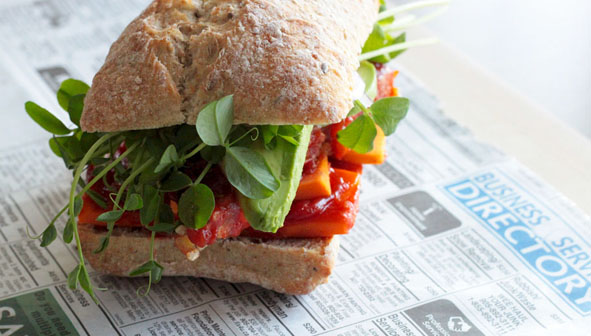 Organic produce grown in the on-site gardens will stock the bistros with yummy, healthy après-riding creations. Photo by Laura at The First Mess.

About the Author: Juliette Ober retrains off-track-Thoroughbreds (OTTB) to be safe riding horses on her Pennsylvania farm. She rides her three rescued Thoroughbred geldings daily in a bitless bridle and usually bareback. When not at the barn, Juliette enjoys long distance running with husband, Brian, and daughter, Maizie. Her Thoroughbred retraining blog www.honeysucklefaire.com chronicles her bitless adventures. More stories about Juliette's style of riding can be read at www.foundinthefog.com.