Dana Village Horse Trek in Jordan
Ride back in time through a 15th century village in Jordan, right beside the Dana Nature Reserve.
by Darley Newman

I certainly felt like I was stepping back in time as I rode an Arabian horse through the small village of Dana on the edge of the Dana Nature Reserve in Jordan. I listened to the clip clop of my horse's hooves on the stone streets, as I trekked past a man riding a mule and another man carrying what looked like fresh locally grown herbs in a wooden crate into his home. One-story light colored stone residences lay in ruins alongside well-preserved stone homes with beautiful archways.
My Bedouin guide Atallah, a champion endurance rider who'd later lead me through magical Petra and the dramatic Wadi Rum Desert, told me that it would be a dream for him to have one of these well constructed homes. The old thick stone walls keep it naturally cool in the summer and the heat inside during the winter, vital for a village that only recently got electricity.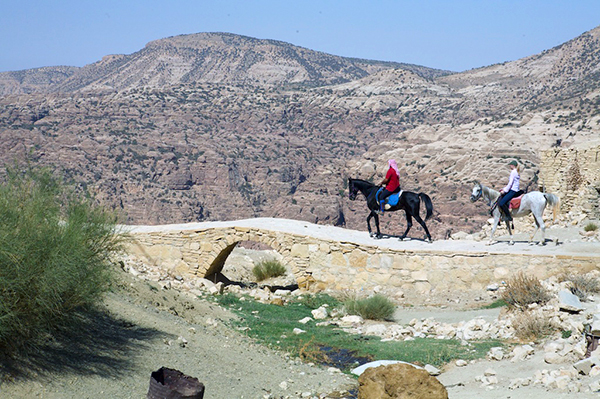 Dana dates back to 15th century. Much of the village was abandoned in recent years when residents moved away for jobs in the city and an easier life. For most of the 20th century, people lived a simple life in their Ottoman stone homes in Dana, farming and raising livestock without the benefits of modern technology.
As we walked passed rows of homes on either side of a road just wide enough for the two of us to ride side by side, Atallah explained that visiting Dana Village, whose population is now supported through jobs created by the nature reserve, brings him serenity. He, too, feels like he's trekking back in time.
Dana sits on the edge of a gorge with magnificent views of the surrounding natural area and mountains. Riding out from the village, you can look back to see terraced village gardens where herbs and fruits are grown. We crossed a small bridge surrounded by the old village on one side and the steep drop off to the valley and mountains on the other, making for spectacular views of Dana's history and nature.

How you can go: If you are traveling to Jordan and want to visit Dana, it's located near the city of Tafilah, in central-western Jordan. Accomodations in this area are basic. We camped at the edge of the reserve in the Rummana Campsite. You can also stay at Dana Guesthouse, which is run by locals under the direction of Jordan's Royal Society for the Conservation of Nature (RSCN). For those looking to ride in Jordan, check out the offerings on EquitrekkingTravel.com.