Christmas Charity Video from Castle Leslie in Ireland
It's funny, it's Christmassy and it's for charity! Watch this video and get a laugh for a good cause!
There's nothing people like to watch more than a good old parody. Especially when it's of something iconic and supports a good cause. And what is more iconic about Christmas than the Irish song 'Fairytale of New York'.
The Team at Castle Leslie Estate in Co. Monaghan have made an incredibly sweet and funny parody of this Christmas classic. What's even sweeter is that it's all for a good cause, to raise awareness for Brooke, Action for Working Horses and Donkeys, a charity that's very close to the hearts of the equestrian team at Castle Leslie Estate.
Watch the video and get a laugh for a good cause! Support The Brooke!
Absolutely all proceeds from the video will go to Brooke, whose extremely worthwhile work helps care for over 2 million horses worldwide that are currently working in often, extreme conditions and the families that rely on them for their livelihood.
'Fairytale of New York Parody – A Castle Leslie Estate Christmas Carol' is a fun play on the song originally written by Shane McGowan and Jem Finer that was first released as a single on November 23, 1987 by their band, The Pogues. The original feature singer-songwriter Kirsty MacColl on vocals with The Pogues' singer, McGowan taking the role of the male character.
The Castle Leslie Estate version was the brain child of Sammy Leslie. She brought on board the famous musical duo from Music for Dressage, Kelly Jewell and Tony Hobden to sing it, act in it and film it. It also features the very talented local Monaghan choir, The Donagh Choir. The star of the parody without a doubt is Jim Jim the horse (Dream Warrior) who is Sammy's own horse. Jim Jim who has a long equestrian career spanning three decades is almost 31 and he lives out his days at Castle Leslie Estate with his mate, Bobby Joe.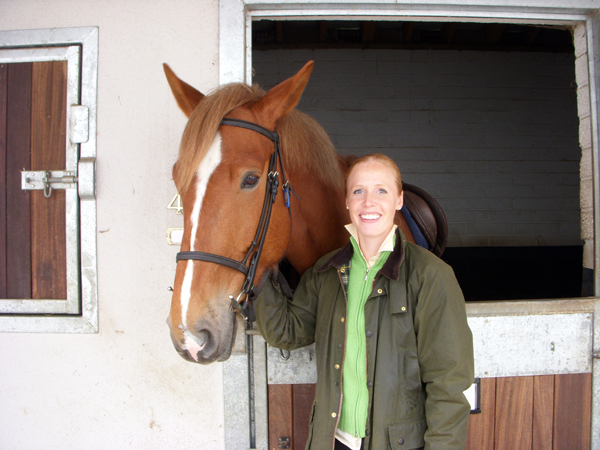 We know firsthand about the great horses at Castle Leslie, as we've enjoyed visiting for Equitrekking! Host Darley Newman's 17.2 hands high Irish mount at Castle Leslie stables.
Her reason for making this film is selfless. Castle Leslie Estate has over 35 working horses at their equestrian centre. But not all horses are lucky enough to work with Castle Leslie Estate, so she decided to make this Christmas video parody in the honor of those that work in difficult circumstances to raise awareness for Brooke.
Ireland has bread many hundreds of thousands if not millions of War Horses for the British Cavalry over the centuries. And indeed, many coming from breeders in Monaghan. Irish horses where known for their bravery, strength, kindness and quick thinking and were very much coveted.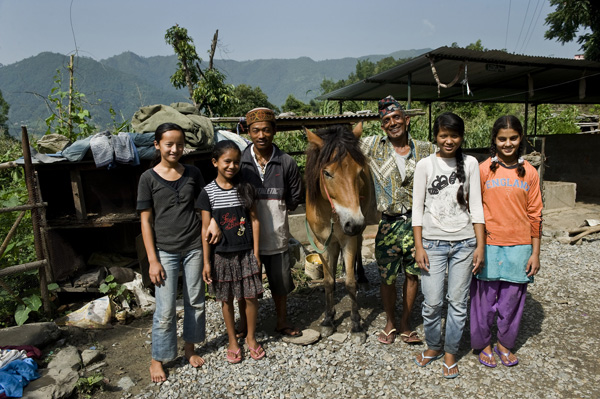 In Nepal, it's estimated that 100,000 working horses and donkeys help the livelihoods of around one million people. Photo credit from The Brooke.
After the 1st world war, where nearly 6 million horses served in total, of which nearly 5 million fell, it was deemed the right thing to do to leave them in the countries they served for a number of reasons. One of which was to give them to locals to use, as well as save the costs of shipping them home where there was little use for them in times of peace.
While this may have been with good intentions, Irish and British horses' struggled in warmer climates, harsh environments, hard ground etc. and locals lacked the horsemanship to look after them. The resulting cruelty, though often unintentional, was often quite shocking.
An amazing woman, named Dorothy Brooke visited Egypt in 1930s and was shocked by what she saw; horses dying of thirst and starvation and being worked to death. She also realised that the poorest of the poor relied on these horses for their livelihood. Determined to make a difference she set up Brooke Hospital for Horses in Egypt and devoted her life to make sure horses got water and the basic veterinary care need, as well as taught locals how to look after their horse, donkeys and mules so they could work and feed their families.
The charity had grown and now helps care for over 2 million horses currently working and the families that look after them...
Donations can be made to www.thebrooke.org/get-involved/donate