California Historical Artillery Society- Horse Rescue & Reenactments
Learn about the California Historical Artillery Society (CHAS), an organization that rescues Standardbreds and gives them new lives as artillery horses for Civil War reenactments.
by Jocelyn Pierce
The California Historical Artillery Society (CHAS) has been performing historical reenactments since 1998. Founded by Dennis Winfrey, who sought to combine a love for history and horses, CHAS currently performs reenactments and parades with their 31 horses and four full-scale cannons.
"CHAS is a non-profit, educational organization dedicated to preserving the life and times of historic artillery""
Horses were an essential component to the bloodiest and costliest war ever fought on American soil, the American Civil War (1861-1865). Horses were relied upon to transport cavalry troops, supplies, and artillery weapons for the duration of the war. CHAS educates the public and shows the importance of the horse in American history with their historically accurate demonstrations.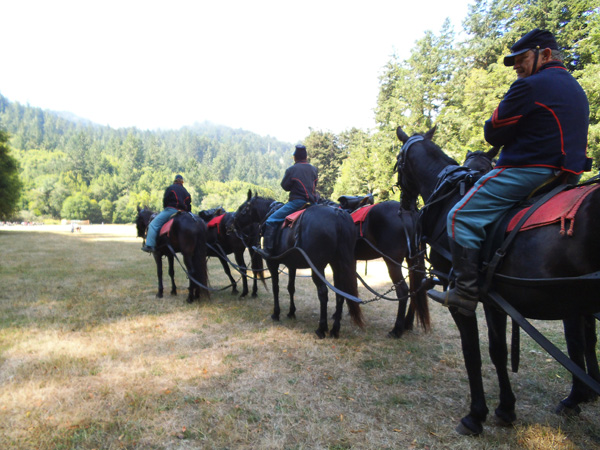 Activities are scheduled throughout the year, and members of CHAS can expect to participate in a variety of historical interpretations.

A New Purpose for Rescued Standardbreds
CHAS has rescued over 70 Standarbred trotters from the nearby Sacramento racetrack.
"Standardbreds have a great personality type for the reenactments," says Dee Murphy, a CHAS member. "They are very calm horses and many even doze off during the booming of the cannons."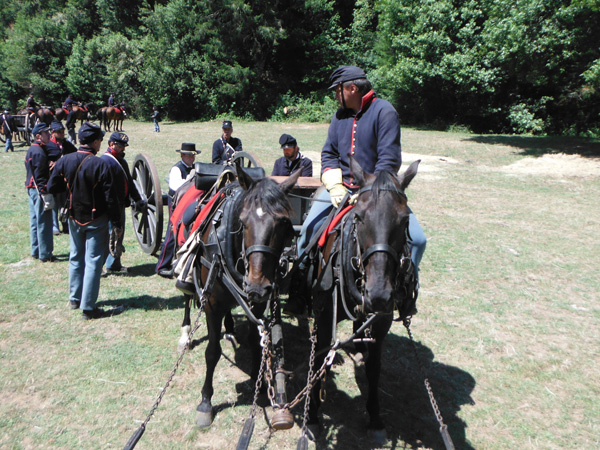 CHAS rescues Standardbred trotters from the Sacramento racetrack and retrains them as artillery horses
During the Civil War, the ideal artillery horse was between 15 and 16 hands high, strongly built, but had to be agile and quick. Field artillery was highly mobile and consisted of light cannons or howitzers that were attached to light two-wheeled carriages called caissons.
Many of the horses CHAS rescues have never been ridden, or even pulled in teams, so a lot of retraining must be completed to ensure the horses are safe and understand their new job. CHAS currently has 31 Standardbreds who live at "Camp Warhorse," a 40-acre facility in Salinas Valley, California. "Everything we do is really for the horses," says Murphy, "this is a totally non-profit organization."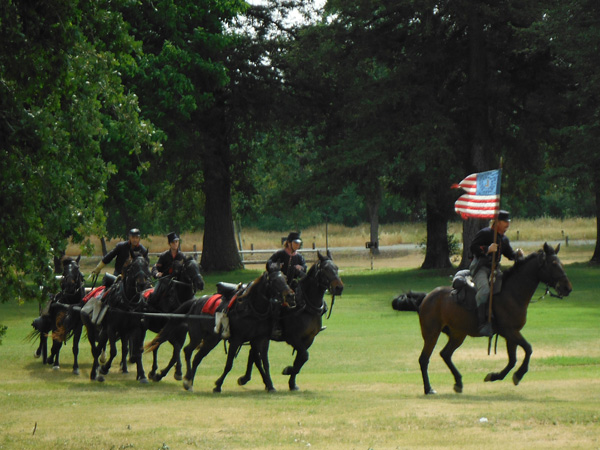 CHAS focuses on Civil War reenactments, but covers historical demonstrations from 1840-1920
CHAS normally uses three 6-ups (or a six horse team) with outriders or four 4-ups (a four horse team) with outriders. Among their collection are Ordnance Rifles, one 10 pound parrot rifle, and a 10 pound howitzer. They also have three limbers, a caisson, a supply wagon, and an ambulance.
Mounted Artillery Through U.S. History
One of the largest reenactments that CHAS participates is Civil War Days, held annually in July in Duncan Mills, California. Civil War Days includes people, horses, and cannons and has camps of Union and Confederate soldiers to show how civilians lived and served in 1863. Held at Casini Ranch in rural Sonoma County near the Russian River, Civil War Days is an educational and exciting experience for all attendees.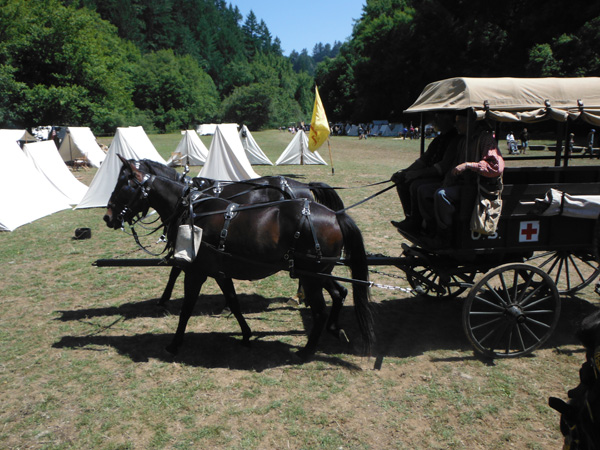 Horses were an essential component to the American Civil War, transporting cavalry troops, supplies, and artillery weapons
While CHAS's main focus in on the Civil War, they also present mounted artillery impressions from 1840-1920. They show reenactments from the Mexican American War Period, World War I, and soon hope to add the American Indian War Period of the 1870s to their roster.
CHAS also performs military funerals with horse drawn caissons, an honor only they and the Old Guard Caisson Platoon at the Arlington National Cemetery hold.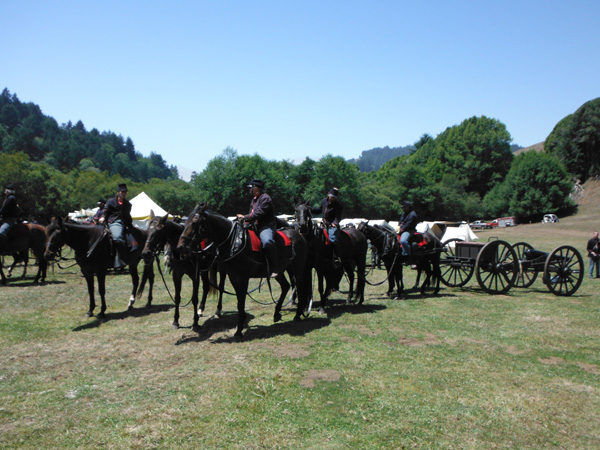 Civil War Days is a large Civil War reenactment in Duncan Mills, California and will be held July 19 and 20 in 2014
History buffs and horse lovers alike can enjoy these demonstrations while learning something about our past. Sponsor one of CHAS's rescued Standardbreds or simply donate to CHAS to help support their educational cause and horses.
About the Author: Jocelyn Pierce is an avid equestrian and lover of travel and photography. Her passion for adventure has led her on numerous excursions throughout North America and Europe. When she's not riding and competing her homebred mare, she enjoys hiking, camping, and snapping photographs.