American Standardbred Love Story- Life Lessons from a Horse
What I learned from an off the track American Standardbred named Homie and the kindness of strangers, who share a love for horses.
by Sarah Foisy

Hello, my name is Sarah. I have a story to tell, and I believe my story so important that I am willing to tell it to anyone who will listen. I currently am doing volunteer work for a horse adoption program called the American Standardbred Adoption Program (ASAP) located in La Crosse, Wisconsin. I am writing this article in the hopes to bring light to an undiscovered diamond in the rough, the American Standardbred.

This is a story about me and my horse, Homie. Susan Wellman, the director of ASAP, would say it's a love story.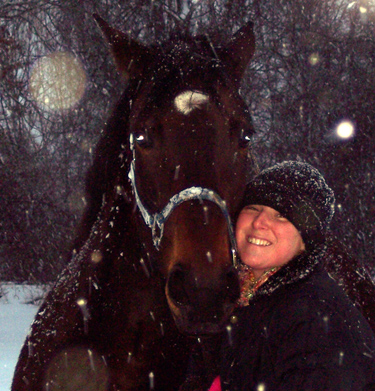 The author, Sarah Foisy, and Homie, an American Standardbred.
Horse Adoption Programs

I would first like to clarify what an adoption program is. Most horse adoption programs specialize in placing horses for owners who want a lifetime placement program for their horse where they will be tracked throughout their lifetime. People wishing to adopt horses placed in adoption programs must sign a legally binding contract. Since most adoption programs are 501 c 3, an owner may donate a horse to them in exchange for a tax write-off.

ASAP offers a tax write-off of up to $5,000 per horse without a certified appraisal. In some cases, high dollar eventing horses and polo horses have been donated that are worth much more than this, so a certified appraisal is done and ASAP keeps copies of it on file. ASAP has had some horses come through the program who were appraised at $60,000 - $100,000.

Adoption programs like ASAP work with placing owners to find out a complete history on their horse prior to them coming into the program. Vets are consulted, if needed, to determine the suitability of a horse for certain types of riding. Most adoption programs know a lot about the life of the horse, whereas rescues often may necessarily know about why a horse was put in a kill pen or neglected. Adoption programs work with people wishing to adopt, to assist them in matching the horses with the right people with the right level of experience.

Adoption programs also encourage communication and relationship between placing owners and adopters. Most adoption programs receive horses that are sound and healthy, and do not require much veterinary care. Adoption programs are a service to a certain industry. For example, ASAP being a service to the harness racing industry.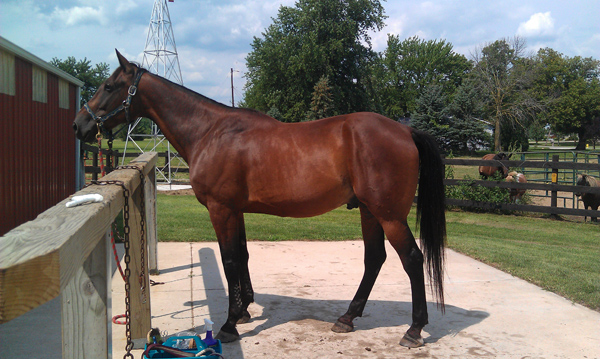 The American Standardbred Breed
The American Standardbred was developed in North America, and the Standardbred stud book was formed in United States in 1879. The horse was given the name Standardbred because he had to be able to trot a mile within the "standard" time of two minutes and thirty seconds.

They were bred from Thoroughbreds, Morgans, Hackneys, and Canadian Pacers and a couple other trotting breeds. Today the Standardbred horse is the one of the most common trotter breeds. These horses are said to make great riding horses after they are done racing because they are handled so much in their racing careers. Their personalities are widely known to be loyal, sensible, level headed, willing and capable of handling any new task. They are becoming more and more popular as show horses due to their athleticism and willing personalities.

Most Standardbred careers are short lived and they are essentially useless to their owners after their racing days are over. Many of them are under the age of ten. My personal belief is that these horses are a diamond in the rough, the undiscovered jewel in the equine industry. With that said I would like for you to read my story. My hope is there are people out there that come to know and love these precious horses and support my and ASAP in placing retired pacers in loving homes they deserve.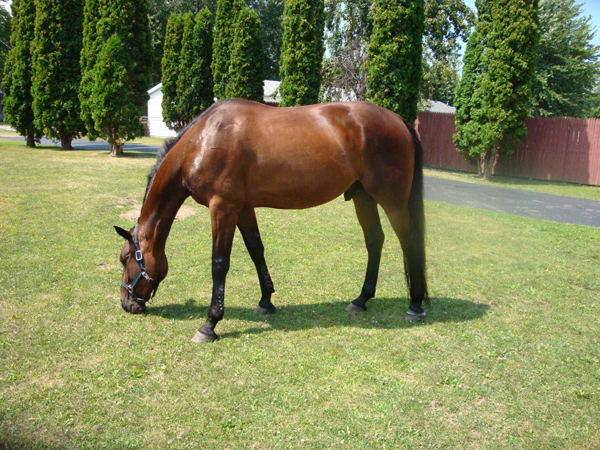 Me and My American Standardbred, Homie

I purchased Homie as a 9 year old retired Standardbred gelding. He was fresh off the track. This was my first encounter with the breed. I will never forget walking by his stall and just falling head over heels for that tall dark and handsome horse standing there.

The guy that was selling Homie got him second hand and insisted that he was "no good." Old trotters are for pulling buggies is what he told me. I asked him if he could be ridden and he didn't know. I said to the man, "If you can get a saddle on him I'll take him." Within 2 weeks not only did he have a saddle on him, but his 8 year old daughter was riding him!

I paid the man $300 He was asking for only $200, but since the man took the time to break him I paid him an extra $100. I asked him why he was priced so cheap and I was told $200 was the price the former owner would have received to send if he sent him to a kill lot.

When Homie arrived at my house he was gentleman from the second he stepped off the trailer. He was calm and receptive. It was like he knew he was being saved. Later, I would find out that being a gentleman is just who he is. He made himself at home. We had a miniature horse that became his best friend instantly. He was a joy to have.

I spent that whole summer giving the neighborhood kids horseback rides around my backyard. I would let Homie out of his pasture to eat grass in the unfenced part of my yard without a lead. He would stay right in my backyard like my dogs (better than my dogs actually). He was completely content lounging around and eating grass. I was always amazed at his patience, his kindness, and his willingness to do as I asked. On Halloween, I dressed him up like a giant bumblebee and let the kids ride him around the yard.

The following year I became pregnant and was no longer able to do the physical labor required to keep a horse on my property. I had to move him to a place where I paid board. I was no longer allowed to ride either so from then on I mostly just groomed him when I visited. After the birth of my son, the company I worked for went through some changes and they eliminated my position. I became a stay at home mother. I rarely was able to go see Homie after my son was born, but when I did it was like I never left him. We would go right back to riding just like before but this time, we had other horses with whom to ride.

We went on a two hour trail ride the first time I was able to go see him. At that point, he had not been ridden in about 18 months. Also, he had never been out on trails like this before, but you couldn't tell. I was so impressed! When my son was 9 months old, I realized I would not be able to return to work and I would be home permanently. My unemployment benefits were scheduled to be discontinued in 5 months. We would be living on one income and that meant we would no longer be able to pay for Homie. I was devastated.

The worst part about the whole thing was no one wanted an "old pacer" and no rescue would consider helping me. Homie was only 12, but his age was not what they were referring to, it was his breed. I was terribly upset and afraid. I went online and found ASAP. I emailed Susan Wellman, the director, thinking this was a shot in the dark. I emailed her before I went to bed and when I checked my email the next morning there was a response. She said, "Yes, I think we can help you." I honestly started crying. Just the thought of someone saying they would try and help me was more than I thought I was going to get. Little did I know…

Over the next several months, Sue kept in constant contact with me. She let me know when she found someone who may have been suitable and introduced me to a few of them that were interested. It took until the very last minute, but she did it. She found the perfect home for my horse. A man contacted her stating he was looking to foster a couple horses. We spoke via email and phone calls. I couldn't believe this was happening. I could not have even dreamed for a more perfect scenario. Now that we found a home for Homie there was one other to issues to conquer.

I live near Detroit, Michigan and his new home was located near Green Bay, Wisconsin. I had no way to move Homie myself, so we started looking for other resources. It took another month to find a ride. Initially, the new adopter was going to pay for transport through a professional transporter. It was now Christmas and getting rides from Detroit to Green Bay were not easy or cheap. Finally in the first week of January, a woman volunteered out of the kindness of her heart to drive from Wisconsin to Michigan and back all for the price of gas.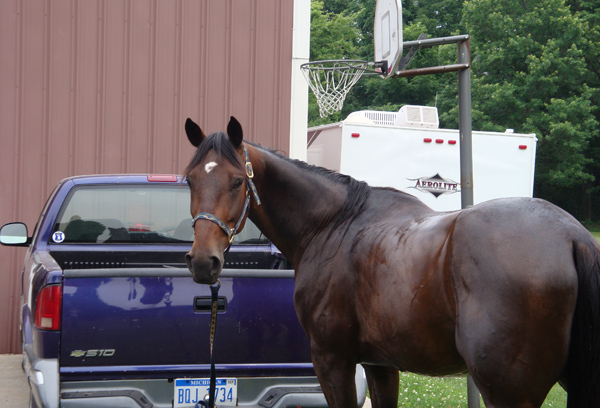 Life Lessons from a Horse
I want people to know there are still good people out there. People like the girl who volunteered her time and energy to transport a horse over 1000 miles. People like the man and his family who adopted Homie. He took my word that Homie was every bit as good of a horse as I said he was without question. Finally, people like Susan Wellman, a woman who has dedicated her life to those who can't speak for themselves, animals. Namely the American Standardbred, the undiscovered gems of the equine world. All of these people were complete strangers to me. They reached out to help a horse in need. I am forever touched by the kindness these people exhibited.

The reason I am sharing my story is because of the American Standardbred I took a chance on. Little did I know the value in the lessons that he would teach me. He taught me to listen to my heart. He taught me that sometimes things don't always work out the way you want them to, but it doesn't mean it wasn't for the best. He taught me how to be selfless. Mostly he taught me that you shouldn't count on hard work and faith. Homie is an amazing horse. He is an amazing advocate to his breed. I believe these horses should be given a chance at living their lives out to their full potential beyond the track. You would be amazed at what they will teach you.