Alberta Impressions- Day One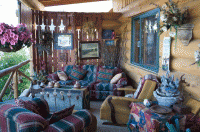 I am sitting on the porch of Idle Spurs B and B in Black Diamond, Alberta. The sun is shining. It's probably 65 degrees Fahrenheit and the clouds are rolling by in the sky as I sip fresh lemonade. I hope that it's this beautiful tomorrow when we film a ride into the high country.

The Calgary Airport screamed cowboy flavor today. It's Calgary Stampede week, so the city and airport are buzzing with people. There was a western band playing as we exited the gate and someone tried to lasso me, literally! It was funny.

We drove the start of the Cowboy Trail on the way to our first destination. It's really pretty outside of Calgary. The farms that we passed on the Cowboy Trail seemed well kept. There's a lot of open grass with cows and horses grazing. I had heard about cute towns and antique shops, and we passed a really cute antique store in Turner Valley.

We arrived to meet Beverly, the owner of Idle Spurs. She offered us her homemade oatmeal cookies and made us feel really welcome. I've been spending time just looking around at all of the Western art and antiques that she has collected. Beverly and her husband are having a BBQ tonight and invited us. I can't wait to try their grilled steaks!
Darley Newman is the host of the Emmy Award-winning Public Television series Equitrekking®, which takes viewers on horseback riding vacations around the world. Equitrekking is broadcast on PBS stations and on international networks in over 30 countries.

Watch the Equitrekking video promos and purchase Equitrekking DVDs in our Store. Learn about Alberta riding vacations including pack trips in Banff and Kanaskis and travel to a ranch and the Calgary Stampede. Book an equestrian vacation from EquitrekkingTravel.com