A New Kind of Equestrian Park for a New Kind of Rider- Part 1
Filling the void - A delightful suburban equestrian venue that offers après-riding amenities in a scenic garden park.
by Juliette Ober
This past weekend my husband, Brian, and I found a few minutes to catch a glimpse of the final round of the Masters Tournament and immediately our golfer envy began anew. We have nothing personal against golfers, of course - we love their sport and have certainly played a fair share of rounds in our life, albeit poorly. But, our jealously reared its ugly head on Sunday when the television presented, in high definition, the lovely rolling hills, the long, poetic afternoon shadows, picturesque stone bridges, the bright and dewy azaleas, and woodland groves in diverse varieties of flowering trees at Augusta National Golf Club. And Augusta isn't in any way atypical when it comes to the extraordinary loveliness one finds on a golf course. Golf courses, large and small, private and public around our country, spare no expense to beautify their grounds.
Redbud tree in bloom beside a meandering bridle path. Wouldn't you want to ride here? Photo from Sugar Creek Golf Course Blog.
Every April this golf tournament comes into our living room and causes us to silently pine for a similar recreational paradise and the associated après-amenities for our own sports - running, riding, cross-country skiing. Then the brainstorming discussions and internet searches commence for another year.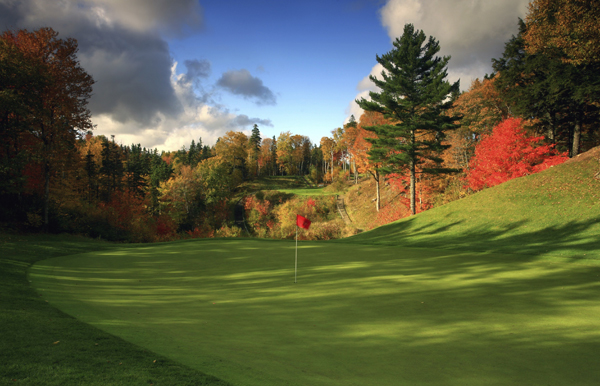 Sigh. Lovelier than most suburban parks, a golf course in autumn taunts me as the perfect place to ride a horse, take a run, stroll with a dog, and ride a bike with the family. Photo from www.ffbchamber.org.
To my way of thinking, golf courses are absolutely the most perfect place to ride a horse. Obviously, I have no interest in riding on an operational golf course where people are actually playing golf because of the inherent danger of being hit by a golf ball. In addition, I've been told the chemicals are horrific, so it is the framework of good golf course design that causes my envy. Cart paths and fairways lure riders, runners, and cross-country skiers. The gently rolling hills, groves of trees, ponds, bridges, stone walls and flowering shrubs are unique. Few other sports take the time to design and flower large expanses of land that are completely incidental to the actual action.
These very typical scenes, above, are only for golfers to enjoy. Why is that? Given the opportunity to stroll one of my barefoot off-track-Thoroughbreds through the pine groves and across gentle fairways, circling the ponds and walking over the bridges of Augusta, or any golf course really, I can promise I would look around and enjoy the beauty with just as much awe and grateful wonder as a golfer.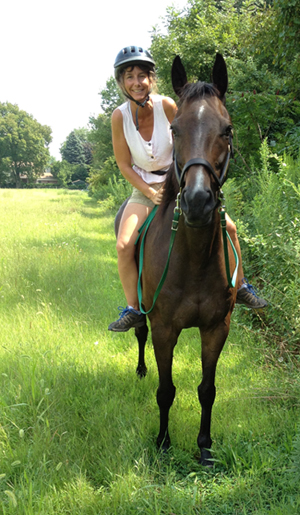 Sweet, adorable, off-track-Thoroughbred, Sovereign, takes me out for a typical hour-long ramble, bareback and in just his halter, August 2012. Photo by Sandra Renninger
I rescue and retrain off-track-Thoroughbreds (OTTBs) to be riding horses on our 40-acre Pennsylvania farm. No bits, lunging, or round pens are used in any training or riding. When I returned to riding after a seven year hiatus I was 40 years old and used my maturity to develop this new style of riding - one that was vastly different from my previous Hunter/Jumper and Dressage past. Two previous Equitrekking articles "A Bit to Bitless Journey" and "A Return to Riding After 40" chronicle the details of my new style of riding.
Happily, and in an amazingly short amount of time, my new approach to horses allowed me to easily ride our three young, rescued Thoroughbreds without fuss or fighting or fear - for me or, more importantly, for them. They remain calm and interested each day for an hour-long ramble - even in winter's wind - always without a bit and usually bareback. I never lunge or do ring work first before riding. Now, at 47 years of age, I wallow in the joy of finding a good solution, a good design that works for me and my horses within our large and varied equestrian world.
Yet there is one part of the journey that hasn't been resolved - venue. Because, as hoped, this style of riding strips away the non-essential elements (those time consuming peripheral tasks that I wasn't interested in doing) and allows an abundance of quality hours spent actually riding a relaxed, happy horse, I find myself constantly daydreaming about riding in a suitable equestrian park and gardens - full of bridle paths and appropriate, horse-friendly amenities that cater to the type of riding we are doing.


Off-track-Thoroughbred Max and I stroll through an equestrian park in Florida on a warm December day, 2011. Photo by Maizie Ober
I've "traversed" the globe many times in the last five years on the internet looking for THE equestrian park, municipal or private, that fully utilizes the benefits this style of riding affords, but I can say with certainty it doesn't exist. I've found snippets here and there - in fact, I've been fortunate enough to experience first hand a magical equestrian park in Florida that comes very, very close, but even there, the focus is on a different ideal.
What does exist in great numbers are venues catering to other equestrian visions - those of training, performance, showing, competition, or day-long/weekend trail riding. Googling "equestrian park" "equestrian center" "equestrian community" unearths fabulous locations with too many amenities to list. Some typical ones include:
Stadium jump arena w/competition level footing, full size dressage arena w/competition level footing, adjacent schooling arena area with grass footing and rolltop schooling jumps, 80' x 200' bright mirrored indoor riding arena with sand/rubber flake mix riding surface, 2 official size outdoor dressage arenas with sand/rubber flake mix riding surface, 2 inside heated wash / grooming stalls with sink and central grooming vac, loft level fully furnished private club room with kitchen and arena viewing area, over 6 acre fenced schooling area with natural footing designed to accommodate multiple disciplines, X-Country schooling complex designed by licensed FEI course designer, separately fenced area with improved footing for dressage and flat work training.
While these popular equestrian centers and parks are surely amazing and well-designed (probably most horse people are drooling after reading) they do not align with my idea of what "state of the art" equestrian facilities means to the horse experience I am enjoying now.
There is a need for a community equestrian space, much like a village or community green but on a larger scale and with relevant horse-friendly amenities. The fact that we do not really have village greens (or true villages for that matter) in this country makes discussion of them difficult. England and Europe both boast public bridle paths and foot paths that converge in villages, but does it exist in the United States?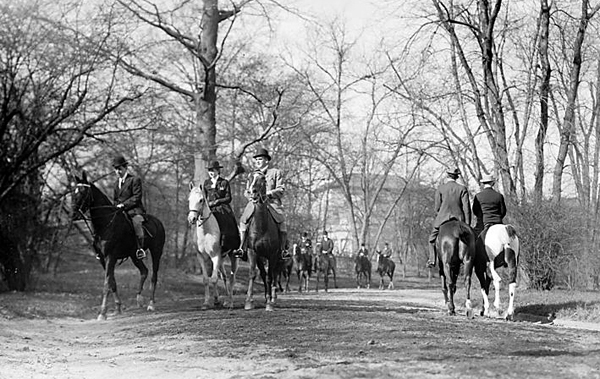 Riding in Central Park circa 1910.
New York's Central Park of today is a mediocre example, although I think it was probably very close to the ideal sometime during the last century. With almost six miles of bridle paths, trees and flowers, bridges and après-riding vendors, Central Park must have been a horse lover's paradise in the city. Christopher Gray captured the loss felt when the city's Claremont Riding Academy closed in his New York Times article, "Whinny if You Miss Central Park's Horses." Equitrekking's own Darley Newman had the unique opportunity to ride a Claremont horse to the park before they closed their doors forever in 2007.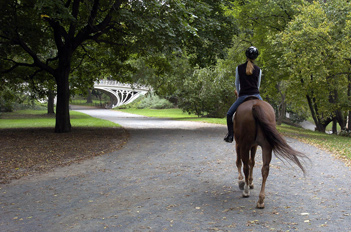 Darley Newman rides around and through Central Park when Equitrekking traveled to New York City.
Locally here in Pennsylvania, suburban community and municipal parks are full to the hilt with soccer fields and portable toilets. They are either too large to be quaint or completely devoid of flowering trees and small groves set among rolling hills. Most have cinder trails for runners, walkers and bikers but the trails are without character, subjected to full winds, and without associated après-activities in a lovely setting.
By contrast, golf courses look exactly like a space where strolling should occur. Strolling. This is the thing. Walking, jogging, or running quietly among the trees, not racing. Biking with a basket and flowers, not aerodynamic helmets and sponsored jerseys. Cross-country skiing for fresh air and exercise. And riding a horse around the grounds. Not to a ring, after the show, outside the arena, for twenty miles, or for a cool down, but as the intended destination - the hour-long stroll in a large, lovely, park full of horse friendly amenities. Amenities that are not typical in equestrian circles (yet) but oh, so desirable. More on them in a bit...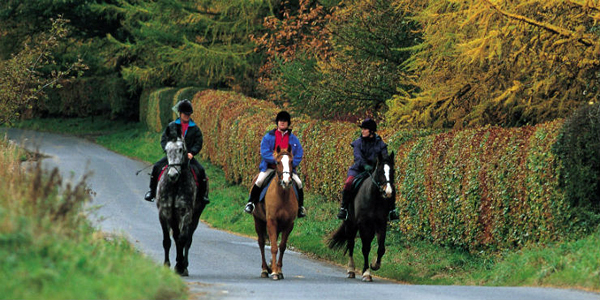 Three riders stroll down a picturesque country lane in Scotland that could easily be a bridle path on a repurposed golf course in our country. Photo from www.visitscotland.com.
How Large? Urban golf courses average 110-120 acres and courses at resorts are generally 170-190 acres. Most golfers walk 4-6 miles in an average round of golf. Riding at the walk on a perimeter trail or through winding paths for one to two hours would be optimal to promote healthy (for horse) rides for both the daily rider or for riders who can only get out to the barn on weekends. No more lameness from sporadic overwork - hooray!

About the Author: Juliette Ober retrains off-track-Thoroughbreds (OTTB) to be safe riding horses on her Pennsylvania farm. She rides her three rescued Thoroughbred geldings daily in a bitless bridle and usually bareback. When not at the barn, Juliette enjoys long distance running with husband, Brian, and daughter, Maizie. Her Thoroughbred retraining blog www.honeysucklefaire.com chronicles her bitless adventures. More stories about Juliette's style of riding can be read at www.foundinthefog.com.