4 Great Working Ranch Vacations
Want a ranch vacation at an authentic working ranch? Check out these diverse picks where you can join cattle drives, enjoy team penning, round-ups and more across the USA.
by Darley Newman
If you've always wanted to experience life as a cowboy or cowgirl, saddle up at one of these working ranches, where salting, gathering, working and moving cattle is just part of the fun. From Montana to California to Colorado, these ranches offer varied adventures and real-work experience... whether you need it or just want it!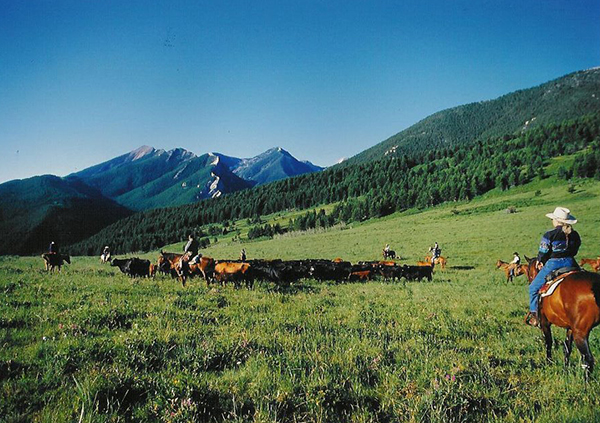 Moving cattle at 63 Ranch in Montana.
1. California Cool for Families at Historic Working Ranch
Join the Rankin Family deep in the Tehachapi Mountains at this longtime California ranch–– a working cattle ranch since the days of the Civil War. Rankin Ranch still raises White Face Hereford cattle just as their ancestors did 150 years ago. You'll enjoy home cooked meals (the Rankin family recently published a cookbook!) and "Western hospitality"... California style. This is a great ranch for families, especially those who want their kids to experience a farm and ranch. Kids get to enjoy interactive activities through a special children's program like feeding the animals and, of course, horseback riding.
2. Colorado Working Ranch for Adults Only!
If you want to visit Colorado Cattle Company & Guest Ranch, you'll have to wait untiil your 18th birthday! This Northern Colorado ranch in New Raymer is an adult only, as if you travel here, you'll be assisting true and professional cowboys. This Colorado ranch has a 1-5 guest ratio to ensure a personal experience and training. There is no nose to tail horseback riding and varied activites including branding and vaccination of calves, cattle drives, team penning, roping, and more.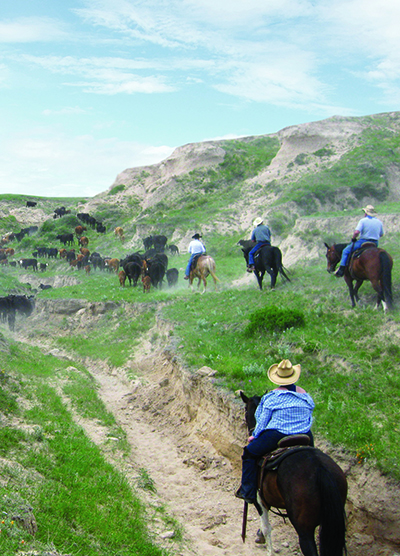 Herding cattle through Northern Colorado's rugged terrain with Colorado Cattle Company.
3. Kansas Cattle Drives- Watch out for those Longhorns!
A working longhorn cattle ranch located just 45 miles from historic Dodge City, Moore Ranch offers a super personalized experience for just one to five guests at a time. Join the Moore family for the unique experience of driving Longhorn cattle, learning to rope a calf, barrel racing, or even branding longhorns. Two day cattle drives are available when moving the Longhorns in the summer season. The herd is trailed 12 miles to new pasture across an open expanse of rolling prairie. The next day, ranch horses are ridden back to the ranch. Three day cattle drives are offered in April and October, traveling about 35 miles.
4. Montana Working Ranch and Traditional "Dude" Operation
Cattle Drives, fishing, scenic trail rides and ranch work are the main attractions to 63 Ranch, a Montana working ranch where horses outnumber guests by more than 2 to 1. Founded by Paul Christensen, the great grandfather of the present day owner Jeff Cahill, along with his brother and sister in 1930, 63 Ranch is still owned and operated by its founding family. Families, singles and international guests join cowboys in salting, gathering, working and moving ranch-owned cattle, as well as trail rides into the spectacular Absaroka Mountains.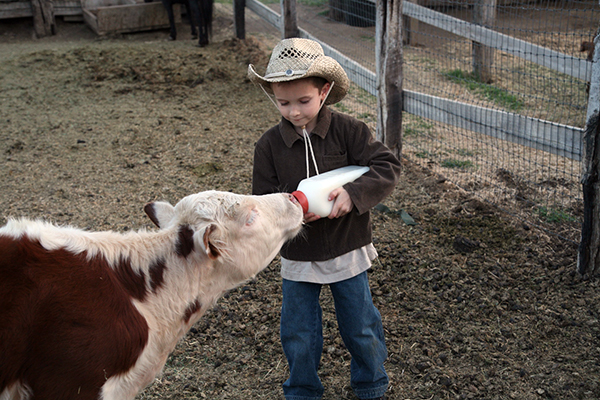 Kids can participate in farm and ranch life at Rankin Ranch in California.
Learn about more great choices for working ranch vacations in the Equitrekking Vacation Guide.