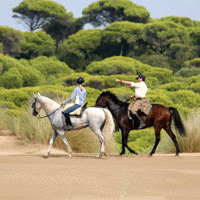 Spain
The romance and history of Spain comes alive as Emmy winning Equitrekking explore the beaches of Southern Spain, historic farms outside of Segovia and Seville, a performance of dancing horses at the Royal Andalusian School of Equestrian Art and nightlife in Seville.
Host and producer Darley Newman travels to Cortijo El Esparragal, an estate and working farm outside of Seville that dates back to the Bronze Age. Darley rides prize-winning Andalusians on the farm to learn about the purpose and history of the Spanish Vaquera style of riding, a style which influenced the American cowboy.
Next Darley enjoys a sunset ride outside of Segovia. Off horseback, Darley heads into the city of Segovia with its castles, Roman aqueducts and traditional Spanish food.
In the Southern town of Jerez de la Frontera, viewers learn about Andalusian horses through a performance at the Royal Andalusian School of Equestrian Art, a prestigious school for equestrian training. Darley visits Yeguada Real Tesoro, a premier sherry bodega, which also breeds rare black Andalusian Horses.
Next Equitrekking heads to Doñana National Park, a diverse National Heritage Site. Darley explores park's varied landscapes and wildlife. Riding along the pristine beaches and onto trails that pilgrims take to the shrine of El Rocio, viewers begin to understand why horses are a national treasure in Spain.
Watch the season one preview and purchase Equitrekking DVDs in our Store. Book an equestrian vacation at EquitrekkingTravel.com.