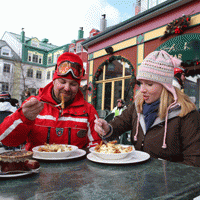 Southern Quebec
Equitrekking's Emmy nominated host Darley Newman explores the snowy trails of Southern Quebec on horses, skis and dogsleds in the Eastern Townships, St. Alphonse-Rodriguez and Mont Tremblant.
Through Darley and her interactions with local people, viewers learn about the French, British and American influences in the Eastern Townships by riding with Jacques Robidas. Jacques leads Darley through snow-covered trails on horseback, before teaching her how to drive a horse-drawn sleigh. As snow cascades down, viewers experience the picture perfect horse-drawn sleigh ride.

Next, Darley explores the city of Montreal, sampling some French pastries in Old Montreal and getting an insiders look at the Canadian horses in Mont Royal Park, akin to New York's Central Park. Darley meets Diablo, a stunning, black Canadian horse who patrols the park and the city.

In Mont Tremblant Darley takes a ski lesson, which ends in the picturesque village. She tastes poutine, a Québec comfort food consisting of French fries topped with a gravy of cheese curds, before experiencing an exciting dogsled adventure.

At Ranch Mont Tremblant, Darley rides in the backcountry, experiencing the thrill of sinking into powdery snow off the trails on horseback. Finally, Darley visits a family owned ranch, where she horseback rides and slides through the snowy hills of St. Alphonse-Rodriguez!
Watch the Equitrekking video promos and purchase Equitrekking DVDs in our Store. Book an equestrian vacation at EquitrekkingTravel.com.