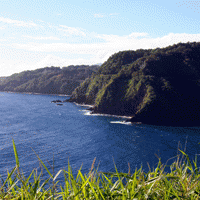 Maui
In Equitrekking Maui, host Darley Newman rides into the crater of a volcano at Haleakala National Park, explores the cowboy town of Makawao and nearby Piiholo Ranch, learns about ancient Hawaii in the rainforests of Kipahulu, and takes a sunset ride in the West Maui Mountains.
Where else can you ride into the crater of a volcano! On to the island of Maui, Equitrekking explores the unique geologic features of Haleakala Crater riding from the summit to the crater floor. Along the ride, Darley and her local guide pass flora and fauna that have managed to thrive in this harsh environment, including the rare Silversword, a flowering silver plant which stands out amid the deep red and brown cinders inside the crater.

In the remote region of Kipahulu, accessed by the winding road to Hana, Darley rides with natives into the rainforest, traveling by the sacred sites where her local guides grew up. Kipahulu is a rare place of pristine nature. The land and ways of life in Kipahulu are passed down to the Alaka'i or guides by their Kupuna or elders, who taught them how to survive and flourish off of the natural fruits of the land. Medicine and food are still gathered from the forest. After hearing the songs and prayers of native guides, who ask for permission to enter the forest, Darley travels up on the mountain trails. She snacks on mango and passion fruit, picked off of the trees, as she horse rides up the green trails, passing wild cows and beautiful waterfalls.

Next Darley explores the cowboy town of Makawao in Maui's Upcountry, before riding through deep gulches and green pastures with views of the ocean at Piiholo Ranch. Darley takes a zip line tour before a sunset ride in the West Maui Mountains.
Watch the Equitrekking season two preview and purchase Equitrekking DVDs in our Store. Book an equestrian vacation at EquitrekkingTravel.com.