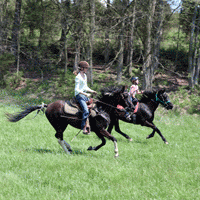 Kentucky
Equitrekking host Darley Newman takes on the great state of Ketucky trail riding at Shaker Village, Land Between the Lakes, the Big Red Stables in Harrodsburg, Barren River State Park and visiting the Kentucky Horse Park, a Thoroughbred rehabilitation center and the Rolex Three Day.
Kentucky is a state well known for its horses. Discover wildflowers, a historic mill site and rolling green hills on the trails at Shaker Village on horseback. With Shaker Village's naturalist, Emmy nominated host Darley Newman gets the rare chance to ride horses through the center of this well-preserved historic village.

Viewers learn about Kentucky's agricultural past as Darley rides smooth Tennessee Walking horses with a local resident, who is proud of her multi-generational farm and its heritage.

Next, take on the trails at Land Between the Lakes and Barren River State Park in Western Kentucky, imagining what this land looked like at a time when Native Americans and buffalo roamed the tall grasslands of Kentucky.

In Lexington, join Darley to meet diverse breeds at the Kentucky Horse Park and attend a fast-paced, world-class equestrian competition, the Rolex Three Day. Darley interviews Kentucky's First Lady Jane Beshear, an accomplished equestrian.

Next, Darley visits a Thoroughbred rehabilitation center, where horses from the racetrack are re-trained so that they may find new homes. Darley is introduced to a very special horse, King D, who has made a positive change and is on the road to adoption, as Equitrekking addresses the unwanted horse issue.

Watch the Equitrekking video promos and purchase Equitrekking DVDs in our Store. Book an equestrian vacation at EquitrekkingTravel.com.