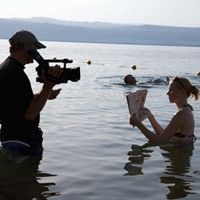 Jordan: Petra, Royal Stables & Dead Sea
Equitrekking Jordan highlights some of the best of classic Jordan, including Petra, the Dead Sea, Amman, Jordan's Royal Stables, Mt. Nebo and Madaba.
Darley begins this episode with a visit to the magical city of Petra, where she and her local guide Ibrahim explore by camel, foot and horseback, riding in the lesser visited suburb of Little Petra and passing through the siq to catch the Treasury, made famous in the film "Indiana Jones and the Last Crusade," in the morning light. Darley learns about the local legends surrounding the Treasury and its contents, as she rides a camel by the Treasury. Next, Darley meets a longtime Petra resident, Marguerite van Geldermalsen. A New Zealander who fell in love with a Bedouin and lived in a cave in Petra for over 20 years, Marguerite shares her unique insight on Petra and Bedouin culture from the eyes of an outsider who was let in to experience life in this historic place.
From Petra, Darley travels the Dead Sea Highway to the Dead Sea, where she floats in the mineral rich waters at the lowest point on earth. Next, Darley visits Madaba, a town known for its mosaics, before standing atop Mount Nebo, where Moses saw the Holy Land. In Jodan's capital city of Amman, Darley's local guide Ibrahim leads her downtown to a bustling local market and shopping district, where viewers gain a local view of Jordan's capital city. In an exclusive behind the scenes tour, viewers learn about the history and characteristics of the Arabian breed in Darley's interview with HRH Princess Alia at the Royal Stables in Amman. Award winning Arabian horses are showcased during this insiders tour.
Watch the Equitrekking video promos and purchase Equitrekking DVDs in our Store. Learn about EquitrekkingTravel.com's exceptional equestrian vacations.