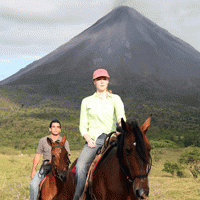 Costa Rica
Equitrekking's Darley Newman travels to Pacific Coast beaches and the fertile farmland and rainforests of the San Carlos Valley, exploring on horseback, by hot air balloon and more in Equitrekking Costa Rica.
Mixing horseback riding with tree climbing and hot air ballooning, Equitrekking captures the true spirit of adventure in Costa Rica. Riding gaited Paso Fino and Peruvian horses, Darley makes a trek to the famously furious Arenal Volcano, one of the most active volcanoes in the world. As smoke billows off the flowing lava, Darley and her local Costa Rican guides ride among lava rocks from the 1968 eruption.

Next, Equitrekking takes viewers to the beach, taking in Costa Rica's extreme biodiversity, spotting scarlet macaws, crocodiles and iguanas, right alongside the road. Darley lives every horse rider's dream by taking a sunset ride on the beach, before heading back to San Carlos to climb a ten-story tree! Next, Darley enjoys getting in touch with the local culture, by riding in a Cabalgata, a horse festival where hundreds and sometimes tens of thousands of local Costa Ricans open up their farms so that riders can pass through them in a wild trail ride. Darley visits a frog sanctuary to view rare frogs, like the red-eyed tree Frog, and rides horses to a spot where howler monkeys make their home in the trees. Finally, Equitrekking takes viewers to hear the rainforest wake up, flying above it in a hot air balloon at dawn.
Watch the Equitrekking video promos and purchase Equitrekking DVDs in our Store. Book an equestrian vacation at EquitrekkingTravel.com.