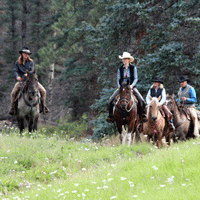 Colorado
Equitrekking's Emmy nominated host and producer Darley Newman rides championship-cutting horses at a working cattle ranch in the rolling plains of Northern Colorado and explores the high mountain peaks of Durango in Equitrekking Colorado.
At the Colorado Cattle Company in Northern Colorado, Darley participates in "Dream Week," learning to ride championship-cutting horses with cutting horse expert Teddy Johnson.
In Southern Colorado, Darley rides up to over 12,000 feet with native Anne Rapp, who has been leading riders through the San Juan National Forest for over 25 years. The Engineer Mountain ride takes viewers through alpine meadows, steep mountain passes and open expanses, where the views stretch all the way to New Mexico. Darley survives the changes in weather that come with high altitudes, including a hailstorm, before heading back down the mountain.
At Wilderness Trails Ranch, a family oriented dude ranch, Darley takes trail rides to Vallecito Lake and learns more techniques for working with cattle. Finally, Darley rides the rails and experiences the past on the Durango & Silverton Narrow Gauge Railroad.
Watch a season one preview and purchase Equitrekking DVDs in our Store. Book an equestrian vacation at EquitrekkingTravel.com.