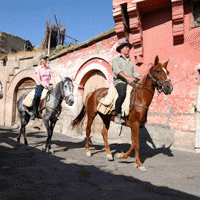 Central Turkey
In Cappadocia in Central Turkey, Equitrekking host Darley Newman and local Ahmet Diler explore underground cities, ancient churches, unusual rock formations called fairy chimneys and historic villages on horseback.
Horseback riding is a great way to get from village to village in Central Turkey. Darley and Ahmet ride through the bizarre fairy chimneys of Cappadocia, stopping at historic sites as they travel. In the village of Guzelyurt, Darley meets a local family and tries ayran, a popular Turkish drink. She then rides horses to an underground city. Darley learns about how Christians escaping persecution hid underground. Next, Darley and Ahmet head to the town square to soak in the village culture by playing backgammon and drinking piping hot tea. On foot, they trek through Avanos, buying fresh foods at the colorful Avanos market and visiting a master potter.
Watch the Equitrekking video promos and purchase Equitrekking DVDs in our Store. Book an equestrian vacation at EquitrekkingTravel.com.