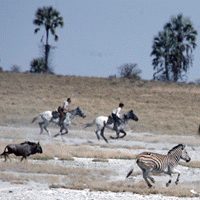 Botswana: Tuli, Makgadikgadi and Maun
Equitrekking host Darley Newman travels to Botswana, Africa to explore local villages, ancient cultures and wildlife on safari.
Starting in Tuli an area known as the "Land of the Giants" because of its larger than life natural attractions, Darley stays in eco-friendly safari camps and rides horses to view the zebra and wildebeest herds that dot these wild savannahs.
In the nearby village of Motlhabaneng, Darley gets a locals tour of traditional homes and meets the village chief, who gives the production crew permission to film with one of Botswana's top basket weavers.
Hopping aboard a small plane, Darley travels northwest to one of the largest salt pans in the world, the Makgadikgadi Pans. There, she follows in the footsteps of 19th century pioneering explorers, like David Livingstone, to discover desert adapted wildlife and have a harrowing gallop with a herd of zebra and wildebeest. Visiting an area landmark, Chapman's Baobab, and camping under the stars, viewers are taken far away from technology and civilization for a brief respite from the modern world.
Finally, in the frontier village of Maun, Darley visits a lodge and private game reserve accessible to all levels of riders, even kids, and visits a new, sustainable cultural center that's allowing the arts to thrive in Maun.