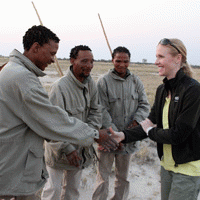 Botswana: Okavango Delta and Makgadikgadi Pans
Equitrekking host Darley Newman brings viewers on a journey through one the last great wilderness areas, Botswana's Okavango Delta, and the lunar-like Makgadikgadi Pans, meeting the wildlife and people, which make Botswana such a special Southern African nation.
In the Okavango Delta, one of the largest inland deltas in the world, Darley rides horses with the locals to view giraffes and wildebeests and gets charged by an elephant. You never know what's around the bend while island hopping and horse riding through the waterlogged highways of the Okavango, making horses one of the best ways to explore this natural area.
Out of the saddle, Darley goes fishing in a hippo pool and tries the freshest fish she's ever tasting, immediately cooking what she's captured on a secluded island under one of Africa's majestic and legendary baobab trees. Next, Darley takes a jeep and boat tour to discover more area wildlife and get up close to elephants, watching them go about their daily routine in the Delta.
After taking a peaceful trip in a mokoro, a long slender canoe that's great for getting around the Okavango Delta, Darley travels to the vast, dazzling Makgadikgadi Pans, an ancient lake the size of Switzerland. Researchers believe that it was once one of the biggest inland lakes in Africa, but it dried up, likely because of climate change or a seismic shift.
Darley lets viewers in on a once in a lifetime trek with our distant ancestors, hiking with the San, an ancient tribe from which some scientists believe all people are descended. Finally, Darley visits a local meerkat colony, learning how these fascinating creatures survive using teamwork and ending her journey through Botswana.