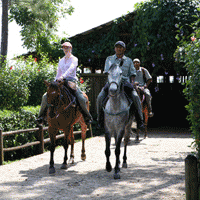 Belize
Maya caves, eco-lodges, hidden waterfalls, rainforest remedies and jungle cabanas. Darley experiences this Central American country's contrasting eco-friendly resorts and Belizean nature and culture.
Who knew that you could find a horse ranch in Belize? This small country has surprisingly diverse attractions. Darley rides horses at a farm and ranch near the capitol city of Belmopan, with former Montana resident John Carr. Next Darley takes on the jungle with Albert Garbutt, a local who points out medicinal plants that Belizeans use to treat everything from diabetes to sunburns.

Next, Darley climbs high at the ancient Maya city of Xunantunich, near the border of Guatemala, before exploring Rio Frio Cave, where the Maya sacrificed everything from precious stones to humans.

Blancaneaux Lodge, owned by famous director, Francis Ford Coppola, welcomes guests to experience an eco-friendly, self-sustaining resort in the Mountain Pine Ridge Forest Reserve. At Blancaneaux, fruits and vegetables are grown in an organic garden, the Privassion River provides hydroelectric power to the resort and horses are born and raised. Darley takes a ride to Big Rock Falls, where she escapes the heat of the jungle by taking a dip under a cool waterfall. Then, Darley hikes to a Maya cave, to learn more about the history of Belize.

At Mountain Equestrian Trails, Darley treks into the jungle to a wide field of wildflowers and a small, secret waterfall. At night, Darley falls asleep to the sounds of nature in eco-friendly jungle cabanas.