Zumbro Bottoms Horseback Riding, Minnesota
Learn about the Zumbro Bottoms Horse Campground in the Richard J. Dorer Memorial Hardwood State Forest, where you can camp and ride, part of the Equitrekking 50 State Trail Riding Project.
by Barb Partington
Zumbro Bottoms is located in the beautiful bluff country of Southeast Minnesota, close to the Mississippi River in the Theilman, Plainview, Kellogg area. It is a 4000+ acre multi-use state forest area with the Zumbro River flowing through it. It is part of the Richard J. Dorer Memorial Hardwood State Forest. There are three horse camps giving access to 44+ miles of trails. From river bottoms to scenic overlooks, trails vary from wide and easy to narrow and challenging - something for everyone. Directions to the camps and maps of the trails are available at dnr.state.mn.us/state_forests.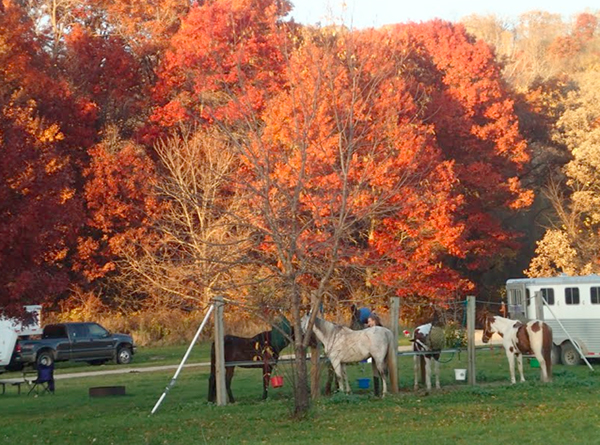 In 2013, a group of trail riders formed Zumbro Bottoms Equestrians. Our focus is to help maintain and expand the trails and protect this treasure for future generations of equine riders. We work with three DNR entities that have jurisdiction over the camps and trails in this state forest.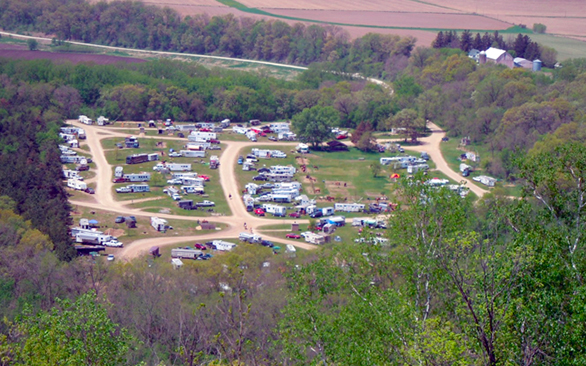 At the West campground, there is plenty of room for big rigs.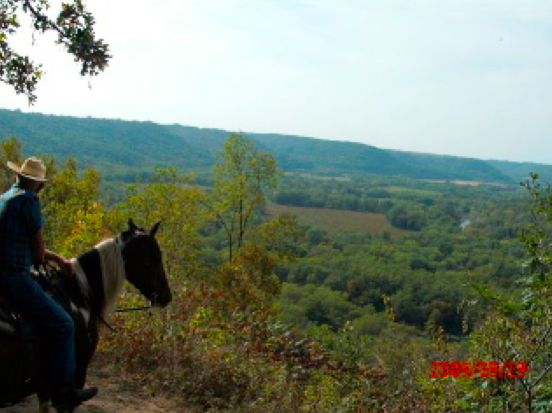 Beautiful overlooks.
The multi-use trails are shared by hikers, horseback riders and hunters. By special permit only, motorcycles are allowed two weekends a year, typically the weekends before Memorial Day and after Labor Day. The Zumbro River offers fishing, canoeing, kayaking and tubing.

Trails are open to horses May 1 – Oct 31. The best times to ride are in the spring when the flowers are blooming and in the autumn for the fall colors. You will need a Minnesota horse pass.

The camping is primitive. All 3 campgrounds have picnic tables, fire pits, pit toilets, water, manure bunkers and high ties. Overnight camping is first come first served.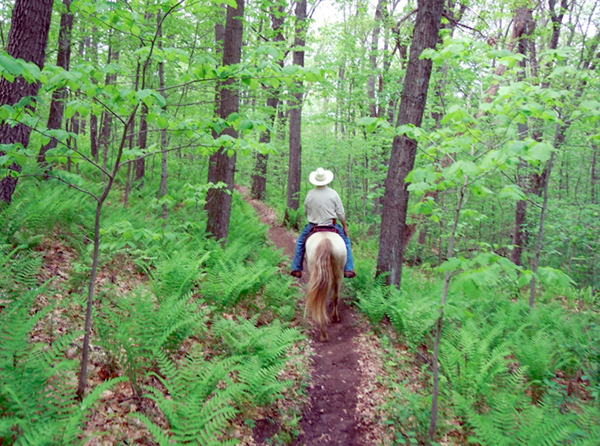 Single Track Trails.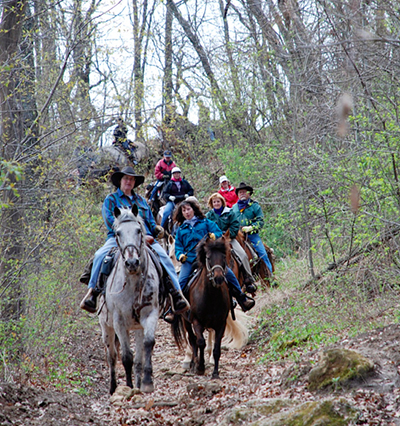 Some Challenging Trails.
About the author: Barb Partington is the Zumbro Bottoms Equestrian Board Chair, a group charged with promoting recreational equestrian use of Zumbro Bottoms Management Unit of Richard J. Dorer Memorial Hardwood State Forest of SE Minnesota. Learn more about supporting this group and keeping equine trails open to riders.