YQA - Great Places for Horseback Riding on the Beach
Great Places for Beach Horseback Riding in Ireland, Spain, the United States and South America
In our quest for the ultimate beach for horse riding, we've ridden beaches all over the world, from Georgia's Coast to the coast of Southern Spain and from Uruguay to Northern Ireland. A question we get often at Equitrekking is "what's a great beach where I can saddle up?"
While we haven't tried them all... yet. Here are some good choices for beach gallops.
Ireland
We tried three great beach rides in Ireland on the wide, dramatic beaches of Donegal in Northwestern Ireland, the quiet coves of Connemara and the stunning Ring of Kerry.
The thing that ties these beaches together is the wonderful compact sand and long stretches of open beach with few people. Let's face it, for a great beach ride, you don't want to be dodging beach chairs and attempting to get your horse past a colorful beach umbrella.
In the above and below photos, you can see the beaches of Donegal in Ireland, where we did some awesome canters and gallops through water and by, bright green cliffs with stellar views of mountains in the distance.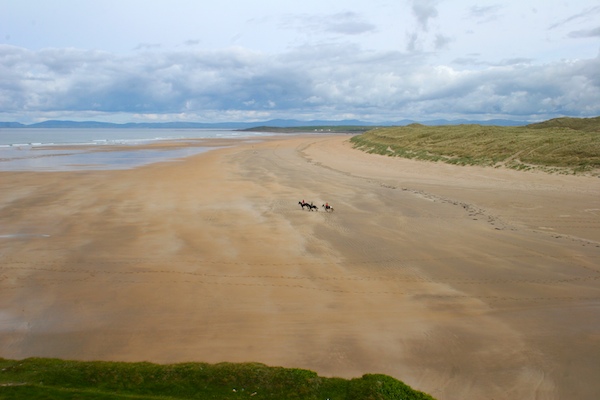 The below two photos are along the Ring of Kerry's Rossbeigh Beach in Ireland. In this designated natural heritage area, mountains meet the shore of the powerful Atlantic Ocean.
My strong Irish mount Aladdin and I cantered sandwiched between high sand dunes and dramatic waters with mountains on the horizon. We passed over an area of small, smooth emerald green, purple and deep grey rocks.
The beaches where we rode in Connemara are arranged in coves. We would canter and gallop along one beach and then progress over bright green grassy dunes dodging sheep, or dip briefly into the ocean to get to the next area for faster riding.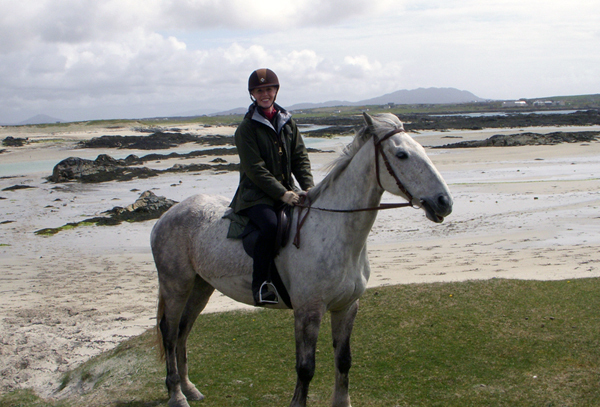 The clear water is spectacular to ride through, especially on a sturdy Connemara Pony. If you're galloping on the beach, you'll probably have a wide grin on your face. If you're riding in a group like my Swiss crew and want to smile, keep the lead. At one point, a little girl passed me on her pony and kicked up a mound of wet sand, which swiftly flew into my mouth.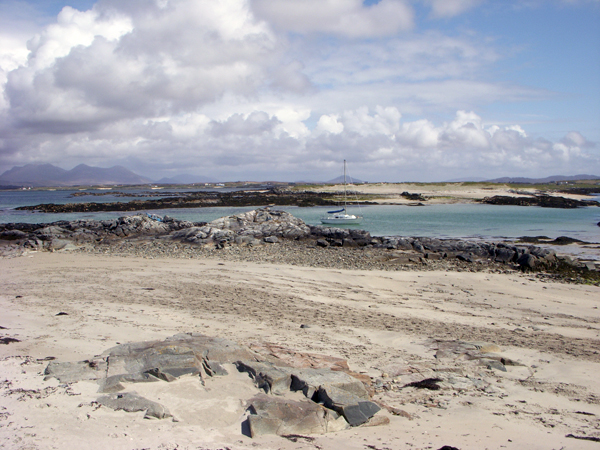 Costa Rica
Maybe it's the laid back vibe in Costa Rica or my smooth Paso Fino horse, but I felt true freedom riding Costa Rica's Pacific Coast beaches at sunset.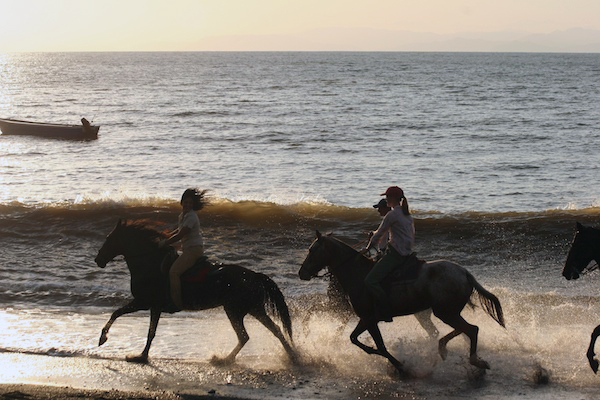 The beaches where we rode horses, north of the popular beach town of Jaco, though not long, were beautiful. We were in a cove surrounded by tropical trees.
Georgia
A barrier island off the coast of Georgia, Sea Island is known as one of Georgia's Golden Isles. Cantering along the shore there are pods of dolphins to be seen, loggerhead turtle nests and a wealth of seashells for collecting.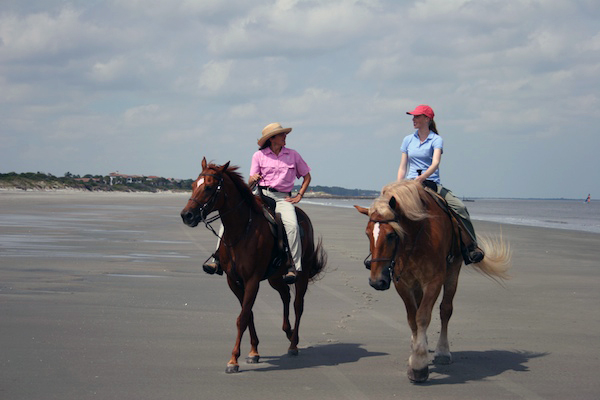 On wide, secluded beaches and a wide, five-year-old Belgian draft horse, we cantered back and forth on nice, compact sand, breathing in the salty air.
Jekyll Island's reputation as a vacation getaway began in 1886, when the wealthy and powerful Rockefellers, Pulitzers, Morgans and Vanderbilts used the island as their exclusive winter vacation getaway. This barrier island off the Georgia Coast still welcomes vacationers, but today anyone can enjoy this former millionaire's playground.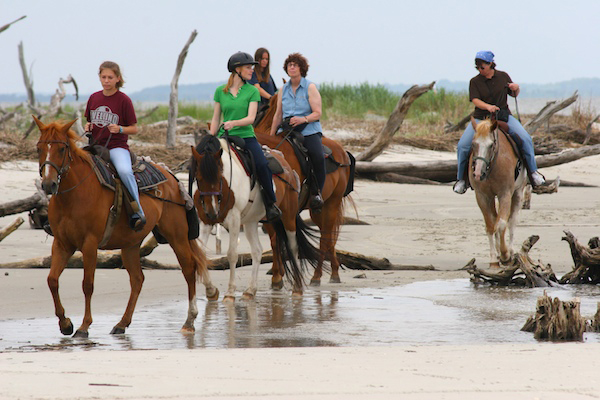 We took a leisurely ride on Driftwood Beach at the Northern end of the island, navigating among giant roots and limbs left behind by live oaks and pine trees. These skeletal remains create a hauntingly beautiful setting for a beach ride.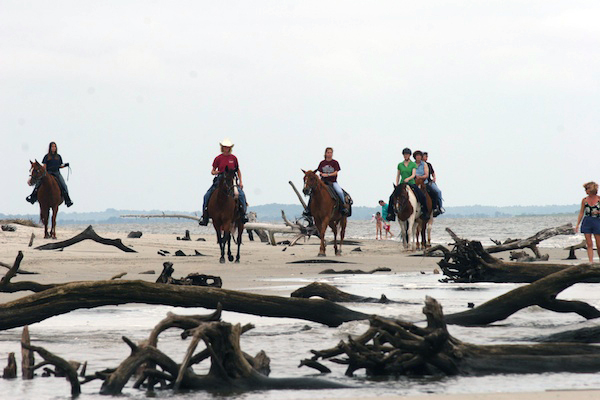 Spain
Doñana National Park is located on the coast of Southern Spain, where the Atlantic Ocean meets the Guadalquivir River Delta. It is a truly wild and varied destination. With three different ecosystems, visitors can venture through marshes, forests and vast sand dunes, all within a few hours.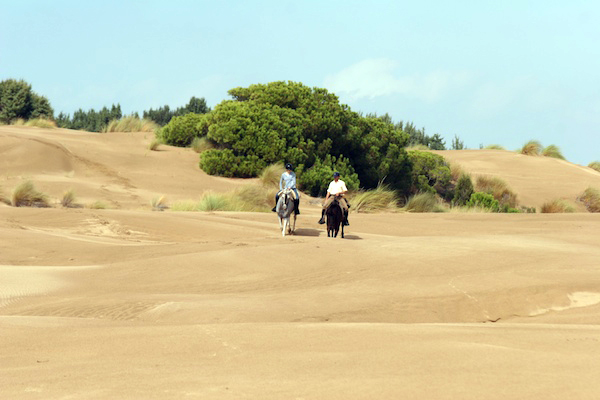 In the 13th century, part of the park was set aside as a hunting reserve by the Kings of Castille who were attracted by the area's abundance of game. The park is named after one of the duchesses of Medina, Sidonia, Doná Ana de Silva y Mendoza, who built a residence in the park. It was because of her that the area would be known as 'the forest of Doná Ana' or Doñana. It was turned into a national park in 1969.
Though tourists are welcome to visit the park, much of it is off-limits in order to protect the environment. This means, that when you ride the beaches here, you won't see a lot of people, a common theme with our favorite beaches for horse riding.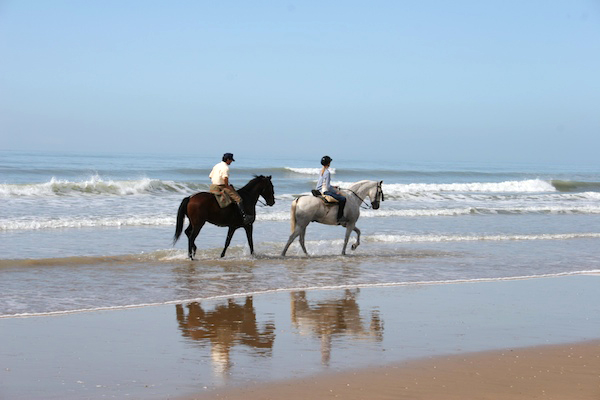 Uruguay
It's not everyday that I see a gaucho on the beach, but in the small South American country of Uruguay this is not so uncommon an occurrence. There are miles of dramatic beaches, lagoons and marshland to discover on horseback in the Rocha Province of Uruguay and many colorful birds to listen to and look for as you ride.
Again, the footing was spectacular, and you could ride on and on, passing over some dunes and then dropping down onto another long stretch.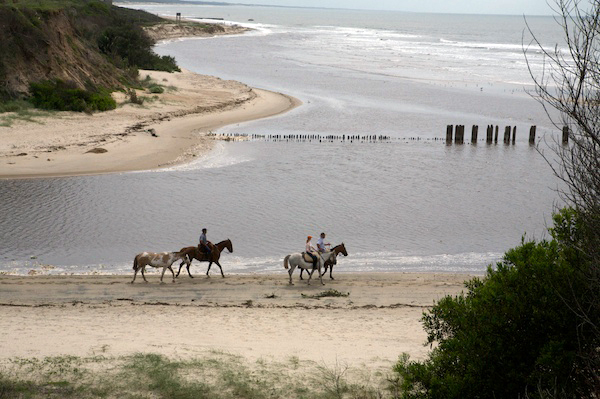 If you ride in Rocha, you may also see the remnants of shipwrecks both on the beach and in the homes of residents in the area. At Guardia del Monte, an over 100-year-old estancia in Rocha, the owner Alicia cooks meals on a grand wood burning stove recovered from a English ship that wrecked off the coast in the 1870's.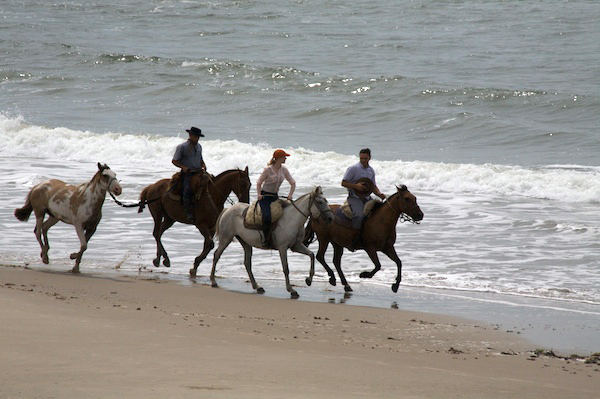 Wales
Galloping along Three Cliffs Beach, a vast beach backed by tall mossy cliffs topped with a castle ruin, on the Gower Peninsula in Wales, we really pounded the surf riding fun Welsh ponies. Can you see us in the distance in the below photo? We were having so much fun riding, that I didn't want to stop for our film crew, who was filming the ride for the Equitrekking Wales episode.
We rode straight from Olive Edwards' Parc le Breos, a Victorian hunting lodge with about forty Welsh ponies, through rugged dunes and down a pathway that weaved to the ocean floor. We were able to ride quite a ways down the beach to reach an old church with a graveyard that's reputed to be haunted. I had no problems riding back from there before sunset!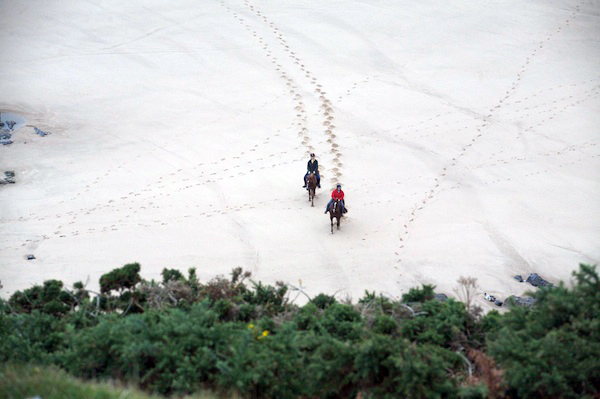 YQA stands for Your Questions Answered. Every Monday, TV host and travel expert Darley Newman answers viewer questions right here in Darley's Blog. Contact us with questions.
Enjoy horse riding on the beach on an equestrian vacation. Search the Equitrekking Vacation Guide and EquitrekkingTravel.com for great places to ride horses on your next vacation.