YQA - Global Equestrian Fashion & Style
Global equestrian fashions we've photographed on the road... Equitrekking!
In our travels filming for Equitrekking, we like to fit in with the locals, which sometimes means picking up or borrowing some equestrian clothing and riding gear.


From bombachas in Uruguay to keffiyehs in Jordan, here are a few equestrian styles that folks are wearing horse riding around the world in this edition of Your Questions Answered.

Jordan Bedouin Style
Now this is something that you don't see everyday. I was intimidated enough to ride with the Bedouin in Jordan's Wadi Rum Desert. Imagine my surprise when I arrived to find they'd be riding their Arabian horses in sandals!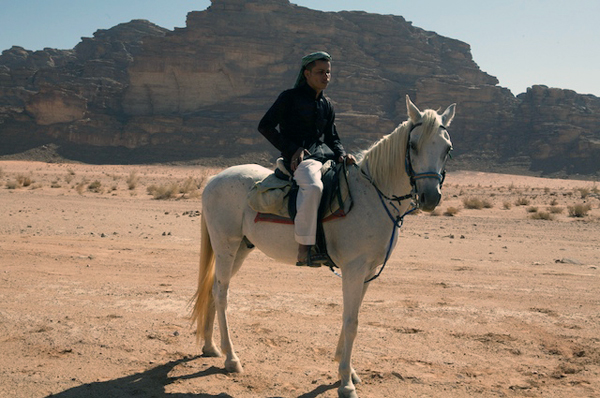 In Jordan, many women wear a headscarf called a hijab.
Many Jordanian men wore a keffiyeh or kufiya. This traditional headdress can be tied a variety of ways using a scarf made from cotton or a cotton/ wool blend. The scarf protects your head from the sun, can protect your eyes and mouth from dust. Its uses are simliar to an American cowboy's bandana.
In Jordan, you'll see many men wearing a keffiyeh with the popular woven red-and-white check pattern. There are many colors and patterns.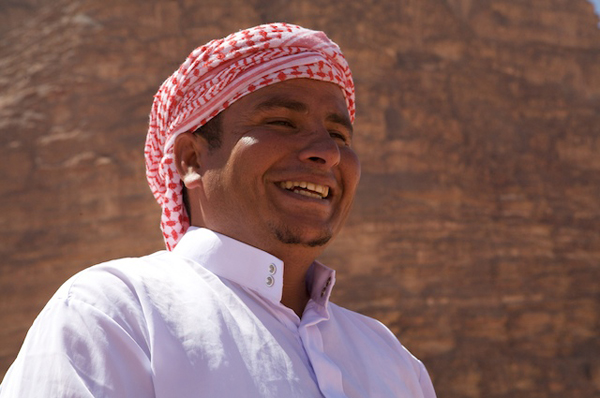 I wore a headscarf riding, as it protected my head and neck from the sun and even though at first, I thought it would make me warmer, it actually kept me cool.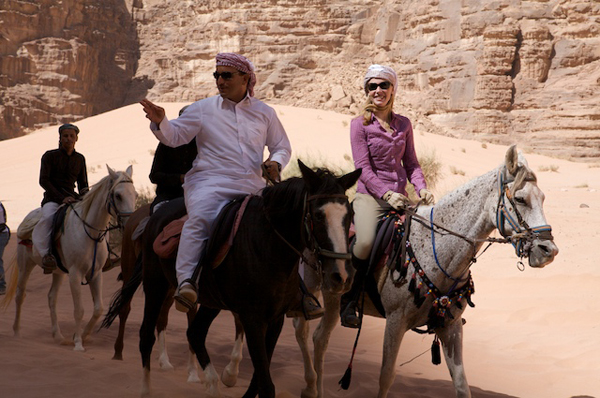 OK, I had to add this into the mix, as it's one of the most interesting fellows I've seen on my travels.
We were in the historic village of Dana by the Dana Nature Reserve in Jordan. I definitely recommend visiting and either camping on the edge of the Dana Biosphere Reserve, run by The Royal Society for the Conservation of Nature, like we did, or staying at the Dana Guest House, the only hotel in town.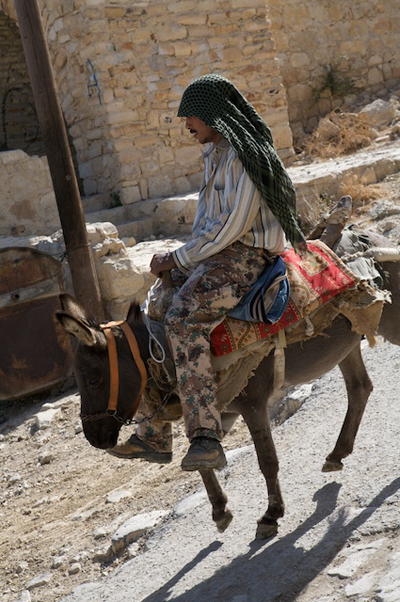 Uruguay Gauchos
In Uruguay, I brought a pair of bombachas, comfortable, wide legged pants made of strong cotton. They have pleats in the front and the bottoms are tapered, giving you a heart-shape from the waist down. Bombachas along with knee high soft leather boots is the combo that the gauchos wear, because it's comfortable and practical for long days in the saddle.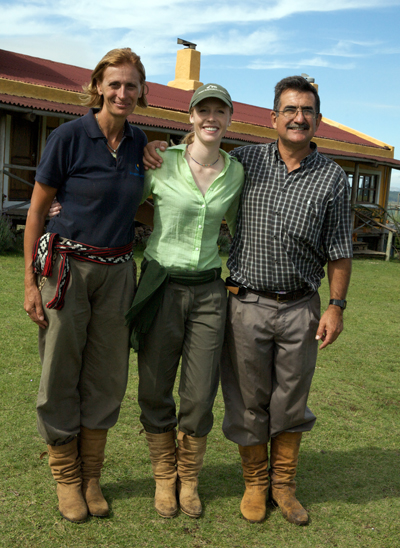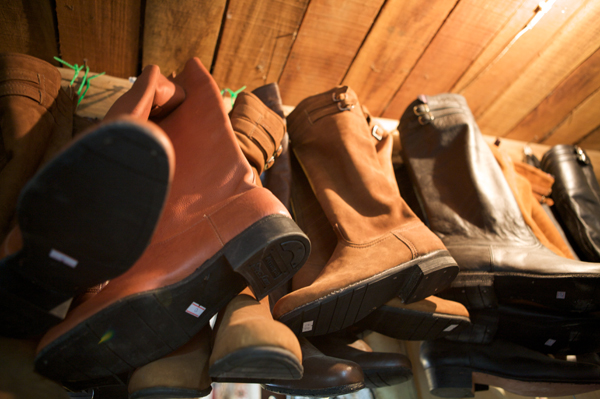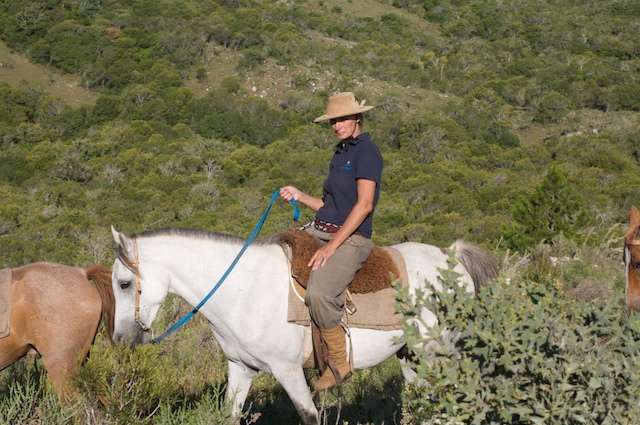 Wool ponchos were also popular in Uruguay. It rained really hard on me the day I wore mine, but the wool did dry out really quickly and kept me relatively warm.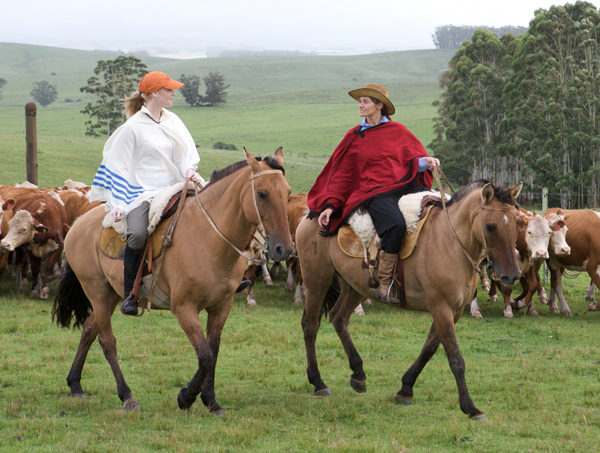 Great Britain Equestrian Style
We saw a lot of equestrians wearing traditional velvet riding helmets in the United Kingdom. From Ireland to Wales, riders donned classic velvet caps in blue, brown and black.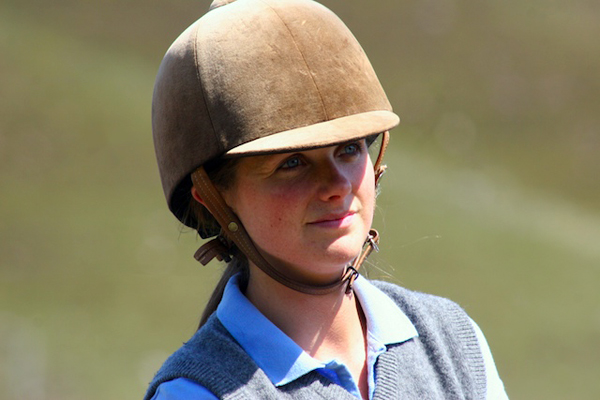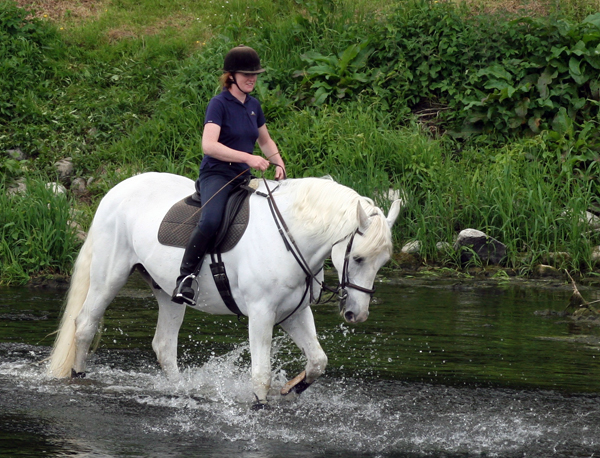 Iceland Layered Styles
Icelanders love their horses. In a country where there are a lot of regular horse riders, I wasn't surprised to find some new, different equestrian styles. Wind proof layers of modern fleece materials were worn by all.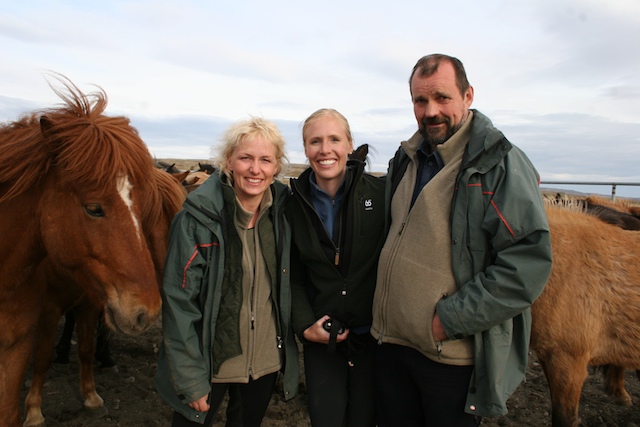 Many people had special Icelandic made riding pants with a slight flare at the base and they didn't necessarily wear half chaps with them.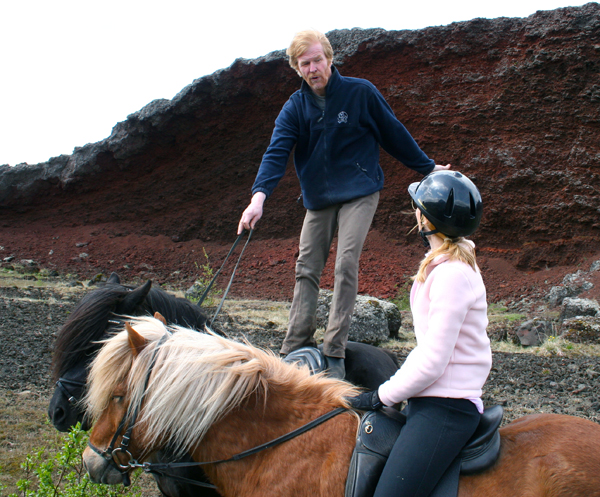 I actually wore fleece insulated Icelandic clothes, made specifically for riders, including a pair of matching pants and a jacket with these handy cuffs with thumbholes to keep sleeves in place. I'm told the jacket looks like a jacket a biker might wear. I like it and wear it back home in the USA today.
YQA stands for Your Questions Answered. Every Monday, TV host and travel expert Darley Newman answers viewer questions right here in Darley's Blog. Contact us to with questions that you want answered in Your Questions Answered every Monday in Darley's Blog.

Learn more about exploring your world on an equestrian vacation through EquitrekkingTravel.com, which features horse riding vacations based on the Equitrekking team's experiences around the world, and in Equitrekking.com's Vacation Guide, a comprehensive resource for dude ranches, riding holidays, cattle drives and equestrian escapes.