A Young Rider Reports on the Washington International Horse Show
My experience as a Junior Committee Member for the 2012 Washington International Horse Show.
by Alexis Mozeleski
For years, I have attended the Washington International Horse Show (WIHS) at the Verizon Center as a spectator, and I have supported friends who have competed in the past. I have also participated in the Thursday Night event, Barn Night, with my stable and in WIHS's costume contest.
Earlier this year, I submitted my application to be considered for the Youth Ambassador position for the 54th Annual Washington International Horse Show, which is this week, October 23 - 28, 2012. The youth Ambassador leads the Junior Committee and works to ensure kids from the D.C. area, who may otherwise not get to experience equestrian sports, can enjoy the fun of the show.
The selection team had many great riders to consider and although I was not selected to be the Youth Ambassador for 2012, I was one of the 15 finalist selected for an interview out of approximately 100 or so candidates. Later on, I was asked to join the Junior Committee for this year's show.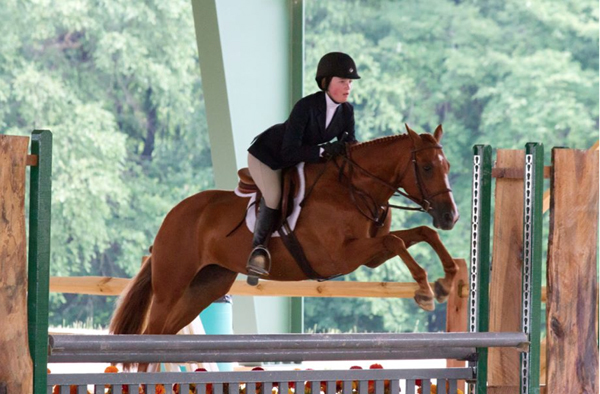 Alexis Mozeleski jumping and wearing Ariat, an Equitrekking sponsor.
The Junior Committee works with the horse show staff to give a younger perspective on everything horse related. We started planning in early summer, having monthly meetings and conference calls with the team, planning special events and discussing charities. The main role of the Junior Committee is Kids' Day, a rain-or-shine, free event that takes place
throughout the Verizon Center and in tents set up on the street. WIHS invites all kids under the age of 12 to participate in pony rides, grooming stations, face painting, and cupcake eating. This year the Junior Committee added a new event to the day called a "horse-less horse show" which includes a series of jumps for the kids to jump through much like the event taking place inside the Verizon Center.
My personal role on the Junior Committee was to contribute ideas for the Barn Night Video Contest. The contest invites anyone to submit a video related to the theme that I helped to come up with, "What's Your Dream?" Some examples would be going to Olympics or maybe wanting to jump higher.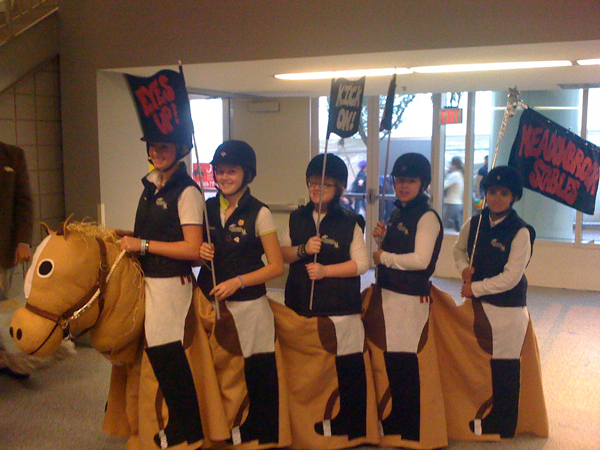 Alexis Mozeleski (second from the left) in the costume contest at WIHS 2010 Barn Night.
Throughout the week of the show, the Youth Ambassador and the rest of the Junior Committee will have many responsibilities. For example, presenting awards to the winners and escorting press and important persons. In addition to these duties, each member of the committee is given their own personal task for the week. My responsibilities will be going around the show with one other committee member and my camera and interviewing some of the riders and winners, collecting photos on Kids' Day and people enjoying the show, and riders competing.
One bonus enjoyed by the Junior Committee–– we'll be dining with a Reed Kessler, a member of the 2012 London Olympic show jumping team. WIHS will also be welcoming two time Olympic Gold Medalists, Beezie Madden and McLain Ward as well as many other world-champion riders from all over the world.
Barn Night at the Washington International Horse Show. Photo credit Diana DeRosa/ Washington International Horse Show.
Overall, this planning experience has been great. I have much in common with the other members of the committee and have made a lot of new friends. I am so grateful to be a part of such a great show with such great goals and messages to send to riders, as well as great people with whom I'm working hard and learning a lot.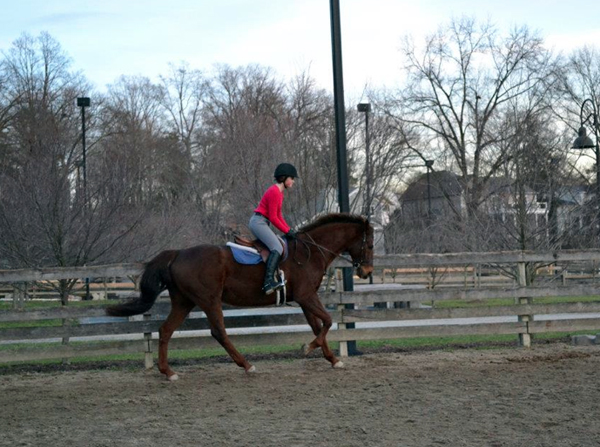 Alexis Mozeleski riding at her home stables, Meadowbrook Stables.
About the Author: Alexis Mozeleski is a sophomore in high school and lives in Washington, D.C. Alexis has been riding and competing since the age of seven and currently rides at Meadowbrook Stables in Maryland. As captain of the Meadowbrook upper school riding team, Alexis is currently competing in the Interscholastic Equestrian Association (IEA) Varsity Open level.
Alexis has been a junior rider, reporter, and equestrian consultant for Equitrekking since 2010.

Equitrekking's Donation to the WIHS Silent Auction
Be sure to check out this year's silent auction with more than 50 wonderful products and services are available for bid, including Equitrekking's donation too! Equitrekking is excited to team up with Utah outfitter Pat Kearney of Hondoo Rivers & Trails to donate a dream riding vacation to the Washington International Horse Show's (WIHS) Silent Auction. Learn more about this Utah riding adventure.

About Ariat, an Equitrekking Sponsor
Ariat International, Inc. is the leading manufacturer of innovative performance equestrian footwear, apparel and accessories, including English riding boots and authentic Western boots and they are a sponsor of Equitrekking on PBS and Equitrekking.com. Learn more about Ariat products and get outfitted for your next compeition, riding vacation or trail ride.