Wyoming- UXU Ranch Spectacular Ride
Today I rode Tiny, a Paint Horse, at UXU Ranch, a dude ranch in Wapiti, Wyoming, which is 22 miles outside of Cody. The area is reported to have been called the most scenic 52 miles in America by Teddy Roosevelt. As Tiny and I climbed to the top of a point to take in the snow peaked mountains in the distance, I could see why.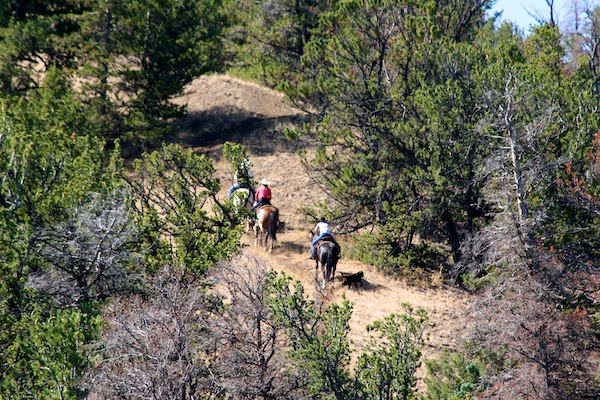 UXU Ranch takes about 30 to 37 guests at a time and offers spectacularly scenic riding. Being between Yellowstone National Park and Cody, Wyoming, it also offers other attractions. You are close enough to take in the Cody rodeo, wild horses, the Buffalo Bill Historical Center, downtown Cody, as well as the wonders of Yellowstone.
During my stay, I have already feasted on elk, melt-in-your-mouth muffins, organic vegetables, parmesan risotto and other tasty meals. Healthy portions are vital when you are riding all day.
Tara and Tuff took our crew out for an all day ride in the Shoshone National Forest. The terrain here is dramatic and picturesque. The finger shaped, sand colored peaks that rise up into the sky from the Absoraka Mountain Range were formed during a volcanic eruption thousands of years ago.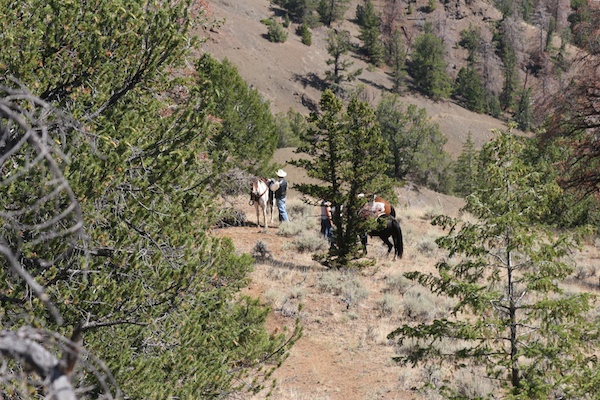 We've ridden through meadows of wildflowers, where we could do a bit of loping, but also steep mountain trails, where it's best to let Tiny pick his footing. Tuff led us up to a mountain top that looks out to snow covered mountains in the distance and 360 degrees of stunning views.

We crossed the North Fork River at one point and went into a lope in a meadow. Tiny danced a little when Molly, Tara's dog, passed too closely in front of us. This is not unusual, but I vowed later to watch the dance on film.


We covered about 10 miles today, which took us all day, as we were constantly getting off and on to stop and film. We also stopped for lunch out on the trail. We didn't have sandwiches packed into our saddlebags. Instead, we enjoyed grilled kebabs, couscous, Rice Krispy treats and grilled cheese sandwiches. This was one of the best parts of the ride, as we were hungry coming into camp and got to enjoy a hot and hearty meal before heading onward.

The remainder of the day's ride was a mix of beautiful landscapes, bright blue skies, and some walking, trotting and loping on beautiful land that's wide open, pristine and really spectacular.