Working Cattle Ranch for Families with Kids Age Seventeen Plus
This Colorado cattle ranch is a top pick for families with children ages seventeen and over, regardless of their horse background!
by Kristin Shawd
As your kids grow into adulthood (17 to early 20s) their individual interests begin to branch off into new and different directions. As parents you long to plan trips that will fully engage them and create long-lasting memories. But how? How do parents get their burgeoning adult kids to fully abandon their pocket technology and other distractions and simply hang out as a family…and love it?
These questions popped up regularly in our house as my husband and I considered where to spend our family vacations. We wondered if a dude ranch might hold some answers but, as a family of four from Ohio with mixed horse experience and knowledge, we had some reservations.


Our family: Brian (20), Emily (18), Bill, and Kristin (left to right).
We were concerned that our 20-yr-old son, and complete non-horseman, would not enjoy it. We didn't worry about out daughter (18) as she is our resident equestrian, riding English since third grade. My husband grew up in rural Ohio with a "pet" horse but no formal training and no continued riding experience as an adult, while I had what I termed horse familiarity as a "barn mom" – but no actual riding experience.
Well, after a number of years of cautious consideration we finally pulled the trigger and booked at Colorado Cattle Company and Guest Ranch, owned and operated by Tom and Darcy Carr in New Raymer, Colorado.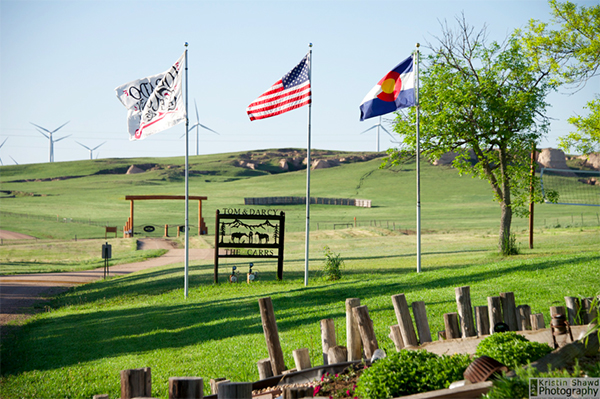 Looking toward the main ranch gate–nothing but pastures, rolling hills, and bluffs for miles and miles and miles, in all directions.
What can we share? First and foremost, we shouldn't have waited so long! If you're on the fence about booking a similar trip with your "emerging adult children," Go For It! And Colorado Cattle Company and Guest Ranch would be an excellent option.
Perhaps sharing some highlights from our trip will help you envision your "family of cowboys" on a working cattle ranch.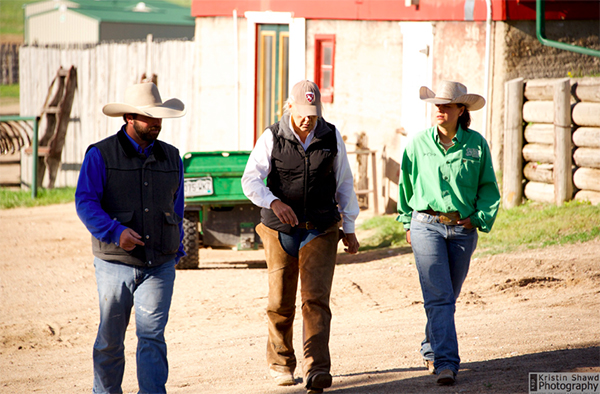 Three of our wranglers for the week: Scotty (Hawkeye), AJ, and Sandra.
Our days began early (7:00-7:30) with grooming and tacking followed by a full, buffet-style breakfast. (Monday morning was an exception when we gathered after breakfast for a review of basic horse skills, riding assessments and a kick-off to cowboy school with indoor games.)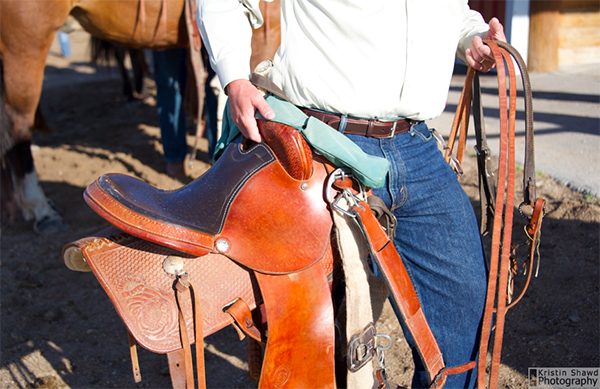 Tacking up for the day.
All meals were served in the main-house casual dining room where the guests ate together with Tom, Darcy and the wranglers at rustic pine picnic tables. Meals were a time of community and friendship and definitely added to the success of our trip. It gave everyone, including the five young adults at the ranch during our stay, a chance to make connections and enjoy each other's company. The adults and staff fully engaged the younger set.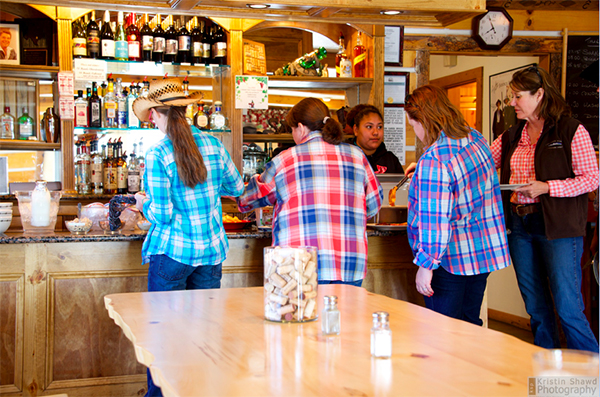 All meals are buffet-style with options for the particular eater. In fact, Sheila who runs the kitchen, noticed our son doesn't eat potatoes and she insisted on preparing fettuccine for him as a personal substitute.
Guest rooms at the ranch are separate from the main house (there are multiple cabins and a bunkhouse). But the CCC staff went above and beyond to ensure that we felt at home everywhere on the property, even in the kitchen while they were working to prepare meals, in the small gift shop where purchases were made via the honor system by simply writing down what you took on a clipboard, or on the front porch where Tom liked to enjoy his morning coffee.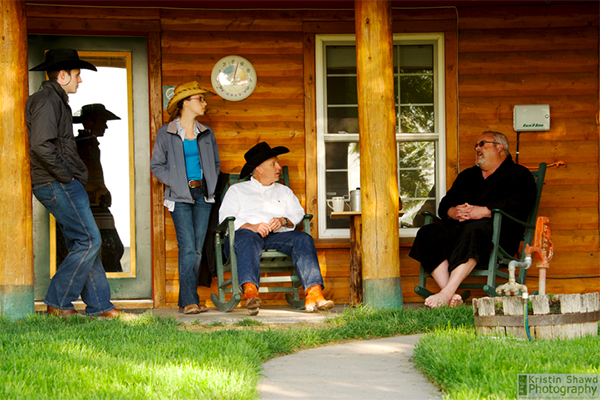 Owner Tom enjoys his morning coffee on the front porch where he can chat with guests. A favorite spot after dinner as well.
Once appetites are satisfied, guests and wranglers a-like head back up to the horses to mount and head out for the morning's work.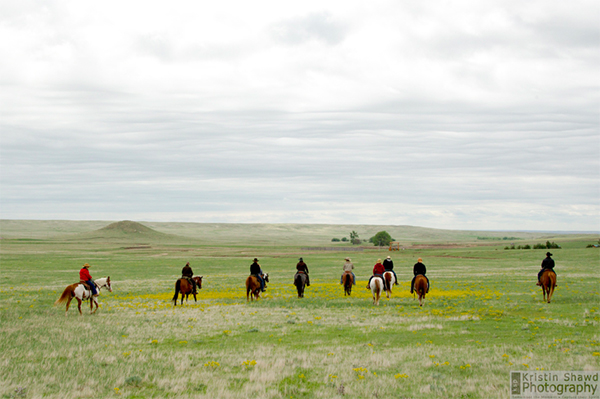 Heading out to check cows in one of the many pastures.
Our first "wow, that was cool" cowboy task occurred Tuesday morning. We had set out to check the cows and calves in one of the ranch's six pastures and weren't five minutes into it when a limping calf was spotted. That calf needed to be cut from the herd and roped in order to be checked and then doctored, if necessary.
Our three wranglers shouted out instructions, directing us (guest cowboys) to form a big circle around the calf, without chasing it, so that one of them could rope it. They were hoping we'd be successful so they could show us up-close how to inspect a calf and determine what ails it.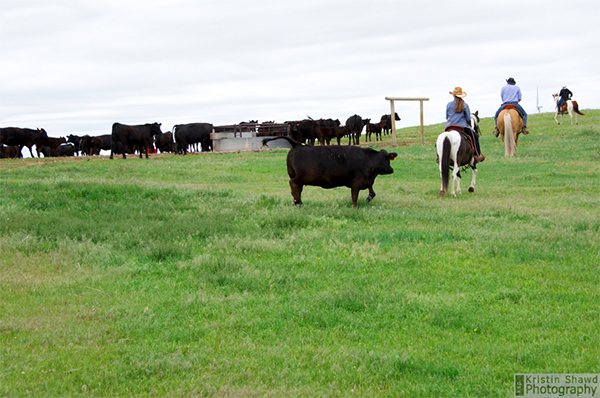 Spreading out around the cows to entrap the hurt calf.
Surrounding one lame calf certainly sounded easy enough but the next thirty minutes proved that we weren't bona fide cowboys just yet. A guest from Maryland was heard quipping, "what with two [wranglers] would be easy, with 20 [guest cowboys] becomes impossible!" While that was certainly true, we all had a blast trying to encircle that calf, not to mention it was a great way to break the ice and draw us all together as a team.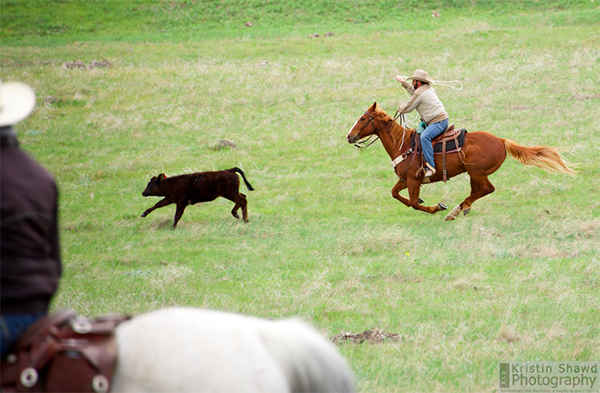 Wrangler Scotty decides he needs to go it alone.
When it became obvious that failure was inevitable, wrangler, and former pro rodeo rider, Scotty (Hawkeye) took matters into his own hands and chased that calf down, roped him, found he had hoof rot, and simply took care of things. It was awesome to watch him work!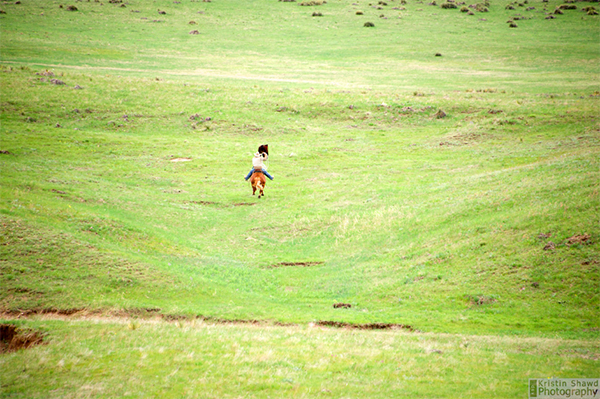 Surprisingly, that lame calf could still run, but not fast enough to escape Scotty's rope.
If you want to engage your "adult kids," give them a challenge like cornering a calf followed up by an authentic spectacle like watching Scotty work and you'll see them dive headlong into the experience. Our kids were hooked! Great stories to share and memories to keep began at this moment.
Later that afternoon we were back at cowboy school, which we needed! Our individual skills were challenged with cutting and our ability to work as a team was sharpened with team penning. Again, the cooperative nature of team penning got all of us intermingling and making connections.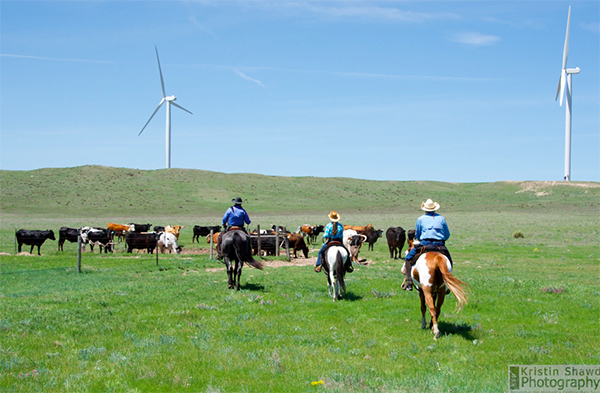 Working as a team to drive cattle to a different pasture.
As the week went on we continued to check the herds, drive them between pastures, enjoy the scenery of Colorado Cattle Company's 10,000+ acres, visit the ranch's haunted house, and learn about cows and life on a ranch, which included some tough realities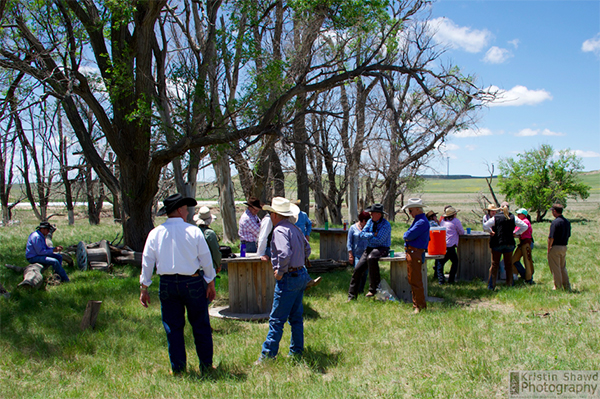 Picnic lunch in the Haunted House Pasture during our all-day ride.
We learned about what conditions and health issues wranglers check for including injuries specific to bulls that can be career ending. In fact, one afternoon we had to drive an injured bull from its pasture back up to the ranch for a visit with the vet, who took the time to explain the animal's condition to us and patiently answer all of our questions.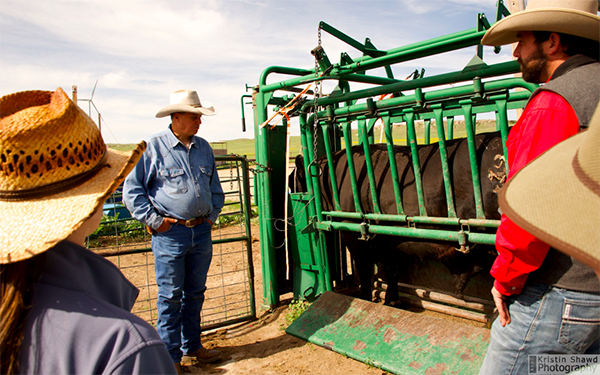 The vet inspects a bull with an injured shoulder and career-ending broken penis.
We trotted to check far-off cows, we cantered in the sandbar, we received riding lessons (if desired), we drove cattle, we rode at dusk and at dawn and camped in between, and we learned to shoot three types of firearms.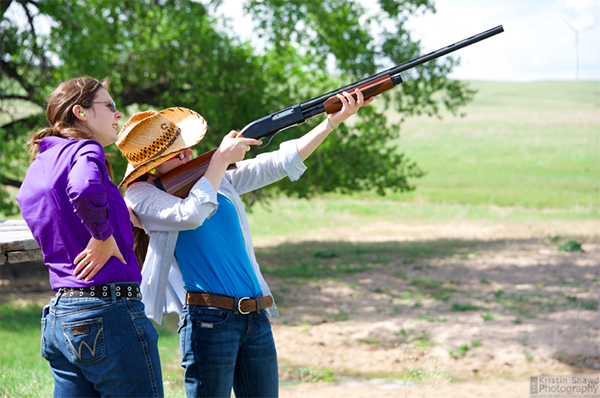 Jackie of CCC teaches Emily how to handle a shotgun.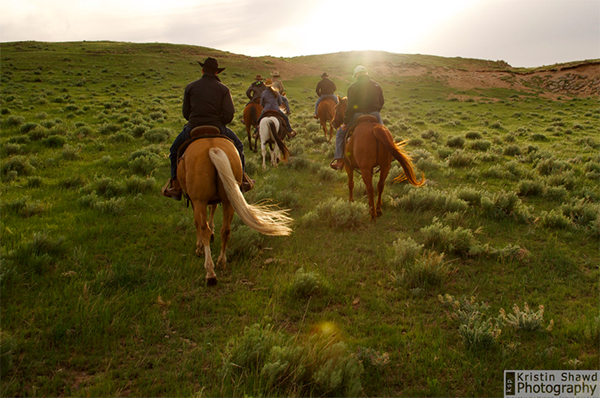 Enjoying the rising sun during our early morning return ride after camping.
But the highlight for both our son and daughter was learning to rope a live calf from horseback. The first time we tried roping it consisted of standing on our own two feet and simply learning to manipulate the rope overhead in preparation for the throw and then trying to rope a plastic steer head mounted on a saw horse.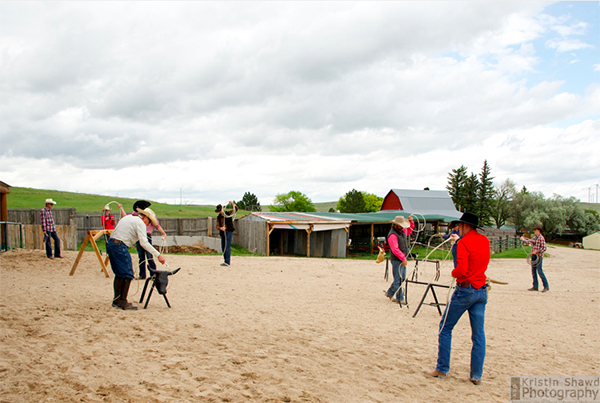 Roping practice.
I caught an early glimpse of our daughter, whose rope seemed at war with her, accomplishing little more than tangling it into a mess. The wranglers saw this too and were quick to offer helpful tips. By the end of the week she was confidently controlling that rope on horseback and chasing down calves, with Scotty cheering her on every step of the way!


Roping day was a highlight.
It's clear that kids this age thrive on challenge and accomplishment so it was little surprise that roping was the highlight for our city slicker son as well. He, who had no horse experience but was game to try at the start of the week, succeeded in roping six calves at the close of the week. He fell short of managing to complete his dally though, which is where you wind the rope around the saddle horn after the calf has been caught. So, that's next year's goal!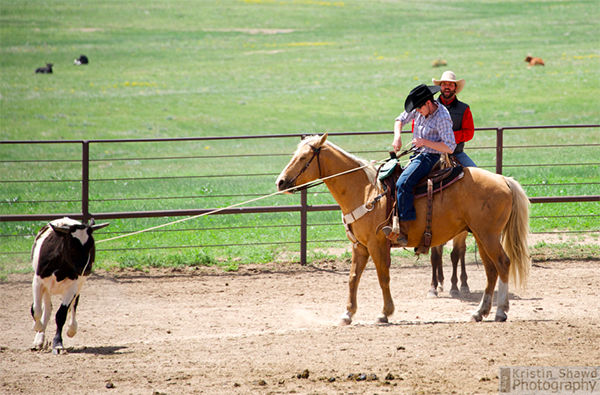 Calf caught and trying to dally.
Would your family's cattle ranch experience exactly mirror this one? Probably not, but I hope by peaking into ours you can see the beauty and potential that I believe is intrinsic to this type of vacation experience. At a working ranch, everything isn't head-to-tail, tightly controlled, or fully predictable, which is great because it's this inherent quality that leads to spontaneity, unexpected surprises, and ultimately…authenticity.
So if you've been on the fence like we were, I recommend you pull the trigger and just go for it!
About the author: Kristin Shawd is first and foremost a wife and mom. After spending nearly two decades focused on home and family, she is striking out on her second career and pursuing her personal passions–photography, travel, and writing. Drop her a note of encouragement on her personal Facebook page Kristin Shawd as she gets the kinks out of her website KristinShawdPhotography.com and blog.