Working as a Wrangler at The Hideout Lodge and Guest Ranch in Wyoming
Equitrekking contributor Anna LoPinto describes life working as a wrangler at The Hideout Lodge & Guest Ranch in Shell, Wyoming.
Wyoming is a state synonymous with the cowboy. Many characters of the West--from showman Buffalo Bill Cody to the outlaws of Butch Cassidy's Wild Bunch, called Wyoming home. It is a state with a rich ranching history and a distinct working cowboy culture. It is a place with fascinating other-worldly landscapes like Yellowstone and Devil's Tower. It is the home of the mighty Grand Tetons and the Absaroka Range. It is a state with few people, yet much sagebrush. If you are looking for pure, unadulterated land, you will find it here.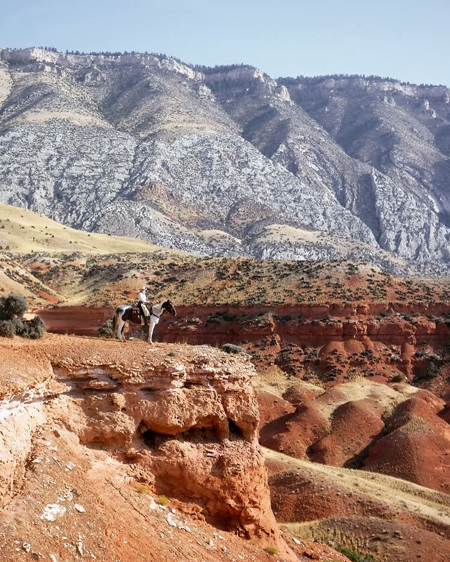 Five Fingers Ride --Shell, WY. Photo Ethan Salwen.
Wyoming is my favorite state. Wild, wide-open spaces awaken me. Hard-working hands & horses inspire me. Small towns with big characters intrigue me. These are the things that overflow in abundance in The Cowboy State. Especially in Shell, Wyoming. Shell makes its home an hour east of Cody. It is located in the least populated county in the least populated state in the country. With a population of 83 people, it is easy to be outnumbered by horses and even easier to be outnumbered by cattle.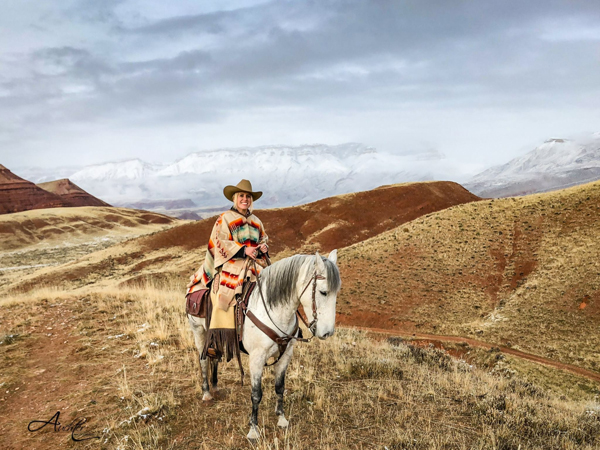 Author Anna LoPinto at the base of The Bighorn Mountains. Photo by Auchter Photography.
Shell, WY is a special place, there is no doubt. The town is dramatically met by The Bighorn Mountains, a stunning and wonderfully stark piece of Wyoming landscape. Lesser known than the Tetons and Yellowstone to the West, The Bighorns see much less trudging by the masses, unless of course, you speak of the elk and Bighorn sheep. Shell also features The Hideout Lodge & Guest Ranch, an exceptional working guest ranch that is as diverse as the landscape that surrounds it.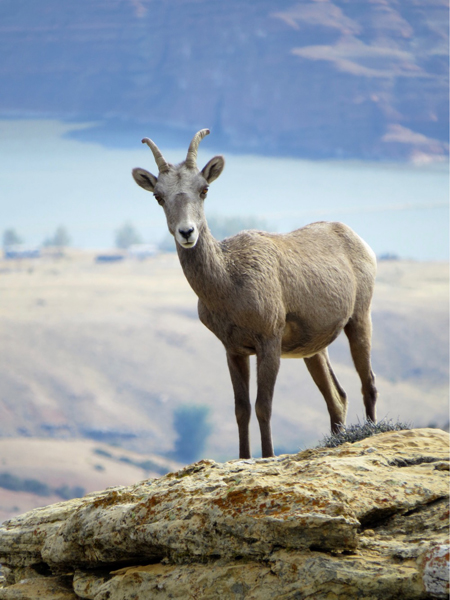 Bighorn sheep at the nearby Bighorn Canyon. Photo by Anna LoPinto.
The Hideout is a place that fosters the guest ranch dreams of avid horsemen and women. It prides itself on time-honored natural horsemanship. It challenges its guests while rewarding them in the bounty of a hard day's ride. The owners' (Peter De Cabooter & Marijn Werquin) passion for the ranch is evident when you see them in the saddle, giving a tour of their impressive 650,000 acres of riding, or serving spirits at the daily cocktail hour. Much applause is also owed to head wrangler Tom Bercher, whose tireless work ethic resonates with true cowboy character--and Rebecca Bercher, who is a personable and capable office manager. It is a family affair, and you're a part of it. This is the kind of commitment that can only be executed by people who cherish the western lifestyle and revere and respect the land and animals around them.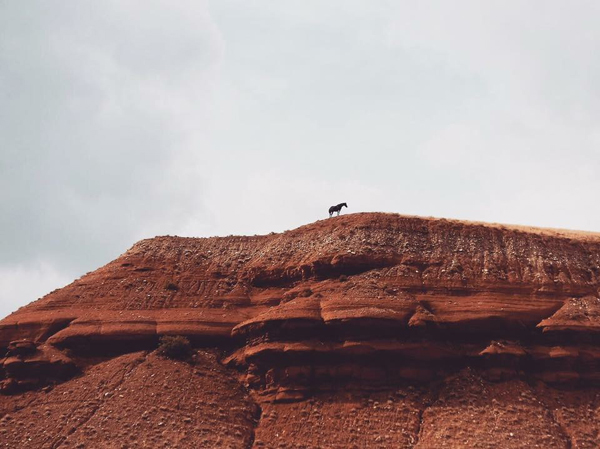 Horse on top of a plateau - Shell, WY. Photo by Anna LoPinto.

How did I have an opportunity to form these opinions?

I spent 3 months this past fall season working at The Hideout as a wrangler, riding and living this lifestyle. I have been fortunate to have worked as a wrangler several seasons previously in both Wyoming and other states in the American West. I can say with full confidence that the caliber and sheer beauty of the riding offered at The Hideout are unequaled.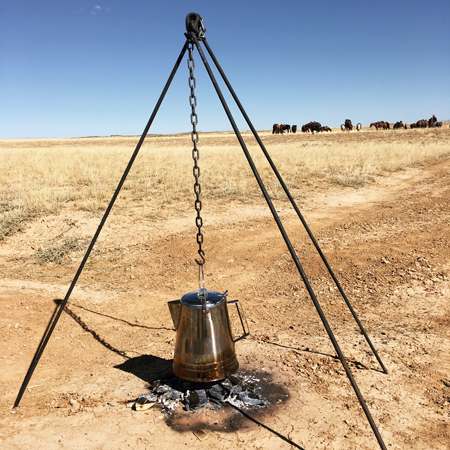 Cowboy coffee break on a ride at McCullough Peaks. Photo by Anna LoPinto.
The diversity of the terrain in The Bighorn Mountains is impressive, especially from the back of a hardy Wyoming horse. The typical structure for rides at The Hideout includes half-day rides and full day rides. In addition, there are cattle work days as well as opportunities for horsemanship clinics. The customizable nature of The Hideout program gives the unique opportunity of riding in a multitude of landscapes, as well as a chance to hone riding skills. The majority of all rides are trailered to giving guests access to 650,000 acres and an elevation varying from 4,000-12,000 feet. In a week's riding, it isn't unusual to ride in sweeping canyons through painted deserts, on high mountain alpine meadows, or among towering rock formations. The beauty of this country is overwhelming, and solitude is an easy companion to find.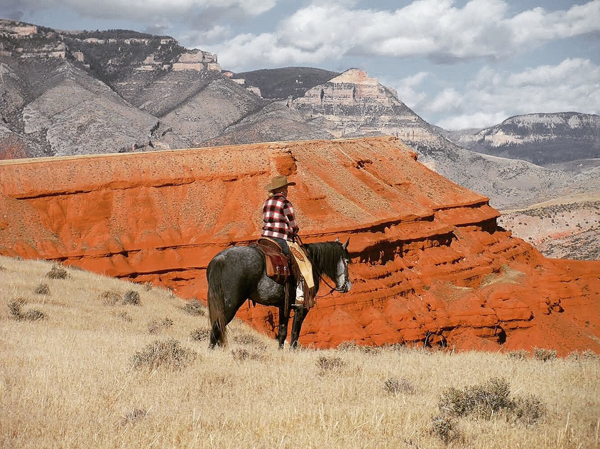 Sedona Ride. Photo Ethan Salwen.
Those wanting to delve deeper into the cowboy culture of the American West can also partake in cattle work. Cattle days at The Hideout can vary in difficulty or time, as you are truly joining in on the work of a genuine working operation. Horsemanship clinics are frequently offered, as well as occasional rodeos in Cody, fly-fishing, trap-shooting, 4x4 driving tours, and hiking. However, the appeal of The Hideout doesn't cease at gorgeous rides. Discerning travelers will delight in the tasteful accommodations offered at the ranch, including gourmet meals, a refined western aesthetic, and comfortable lodging.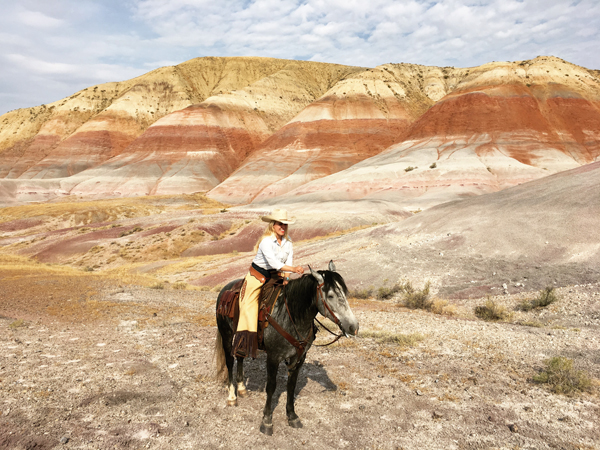 Painted Desert Ride. Photo Adency Start.
If you wish to ride a fine horse in new country, you will find it here. If you want to retire in the evening to generous upscale amenities, you will find it here. If you're ready to get your boots a bit muddier and your heart a bit more full, you will find it here. If you desire, as I do, to experience a bit of our world as it once was, but embraced in a new light--you will find it here. If this is the West of the 21st Century, I will gladly saddle up.
About the Author: Anna LoPinto works seasonally as a wrangler at ranches across the American West. She resides in Nashville, TN with her musician husband and horse. She spent the last summer and fall at The Hideout Lodge & Guest Ranch in Wyoming. Follow her adventures on Instagram @annalopinto.