Winter Sleigh Rides at Dude Ranches
Looking for a quintessential winter ranch experience... a cozy winter sleigh ride? Here are five great dude ranches that offer winter sleigh rides.
Want your own Currier & Ives postcard moment in a horse-drawn sleigh? With a little snow and the right destination, you can have it all. Ranches and stables across the nation offer horse drawn sleigh rides complete with hot cocoa, sleigh rides to get your Christmas tree and even multi-course country meals. At many American dude ranches out West, you can combine horse drawn sleigh rides with skiing, horse riding and culinary delights.
Below are five dude ranches with winter sleigh rides.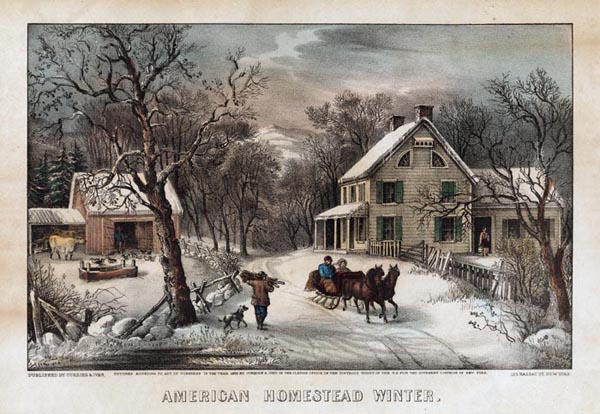 Dashing through the snow with Currier & Ives in this 1869 print, part of the popular "American Homestead" series.
Lone Mountain Ranch- Big Sky, Montana
A historic Montana summer and winter guest ranch near Yellowstone National Park in Big Sky, Lone Mountain Ranch offers Day Sleigh Rides and Sleigh Ride Dinners, which combine snowy mountain scenery and the sounds of sleigh bells with food and blankets to keep you warm. Both take guests up to North Fork cabin, where an old wood stove inside or a campfire outside warms guests. For the dinner ride, travelers feast on a multi-course, locally sourced meal at the cabin and listen to live music amid mountain ambience. Learn more at www.lonemountainranch.com.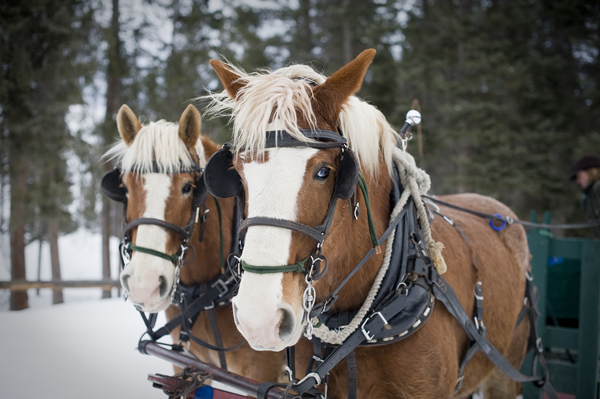 The draft horses at Lone Mountain Ranch in Montana.
C Lazy U Ranch- Granby, Colorado

Sleigh rides are available daily at C Lazy U Ranch, a Colorado dude ranch, that offers special champagne sleigh rides in addition to hot chocolate and the chance for horse enthusiasts to ride along to feed the horses on the feed sleigh. During Christmas, Santa pays a visit to the ranch in a horse-drawn sleigh! There are lots of winter activities at this Colorado dude ranch, including hockey and ice skating on the pond, private snowcat skiing on site, snowmobiling, hay meadow tubing, luge style sledding, cross country skiing and snowshoeing. Learn more winter ranch vacations at www.clazyu.com.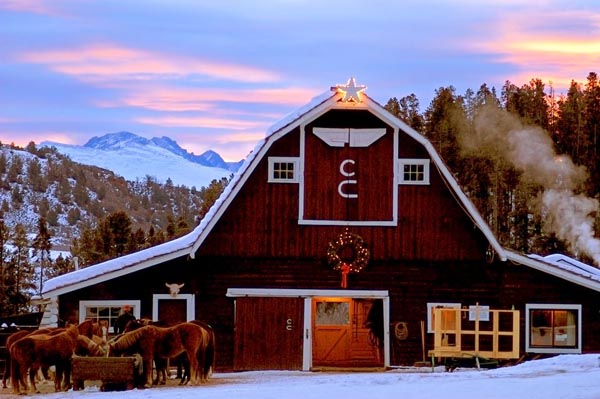 The horses have a snack at the barn at C Lazy U Ranch, a Colorado dude ranch.
Bar W Guest Ranch- Whitefish, Montana
Take a horse drawn sleigh ride through snowy fields and forests with Duke and Dutch at Bar W Guest Ranch, located in the resort area of Whitefish, Montana. Hop aboard for warm coco, the chili dinner ride or a more complete dinner feast. All the rides include a hot beverage, essential for dashing through the snow. Bar W Guest Ranch also offers winter horseback riding, skiing at nearby Whitefish Mountain Resort, snow shoeing, ice skating, ice fishing and other winter sport activities. Learn more at www.barwguestranch.com.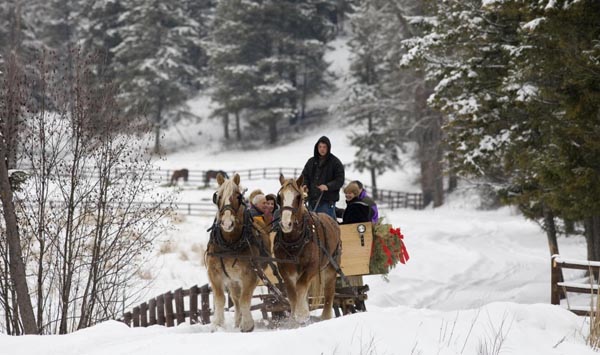 The Bar W Guest Ranch is nestled at the base of Spencer Mountain with views snow covered ridges, Spencer Lake and Montana wilderness.
Western Pleasure Guest Ranch- Sandpoint, Idaho
A year-round guest ranch near the winter ski resort of Schweitzer, Western Pleasure Guest Ranch accommodates five, ten or 12 of your closest friends in a variety of horse drawn sleighs. This year, Western Pleasure Guest Ranch offered a horse drawn sleigh ride to a tree lot, where you could pick out your Christmas tree, a memorable Christmas activity. The ranch also offers a romance ride for couples in a one horse open sleigh built just for two passengers. Back at the ranch, sip a warm drink, snack on popcorn or stay for a country ranch dinner. Learn more at www.westernpleasureranch.com.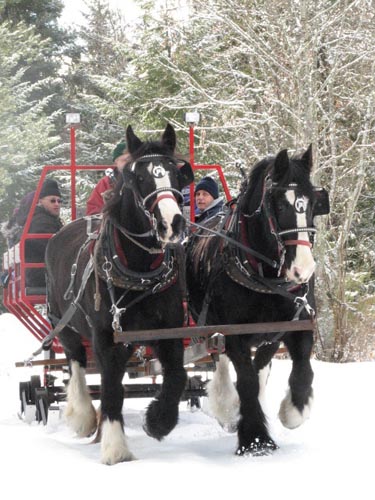 Take a ride with Bud and Velvet, Bill and Larry, Jet and Justice, or Lady and Abbie, draft horses at Western Pleasure Ranch.

Vista Verde Guest Ranch- Steamboat Springs, Colorado
This luxury guest ranch located near the Steamboat Ski Resort offers an intimate one horse open sleigh ride or group rides in a big sleigh pulled by a team of strong Percherons. Want to see a herd of horses frolicking in the snow? You can even head out in the sleigh to feed the ranch horses. In addition to sleigh rides, winter ranch vacations include cross country skiing, snowshoeing, horseback riding, and downhill skiing. Learn more at www.vistaverde.com.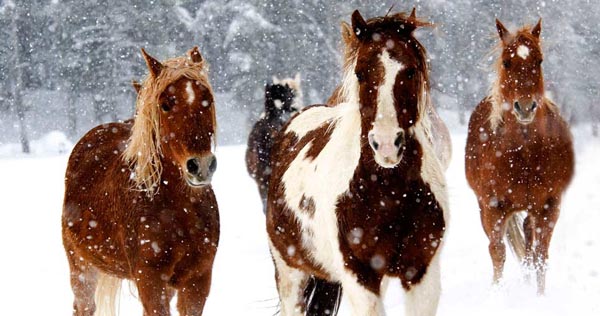 Horses you might meet if you opt to help feed the horses during your horse drawn sleigh ride.

Learn more about winter dude ranches and ranch vacations in the Equitrekking Vacation Guide, a global resource for guest ranches, cattle drives, working ranch vacations and riding holidays.